The Fast And The Frustrated: Get Your Content To Market Faster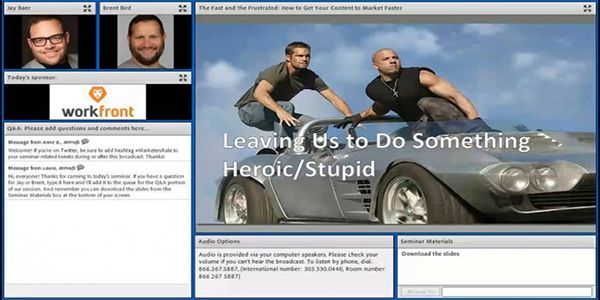 ---
Marketing is all about competition. In today's fast-paced world of marketing and winning over customers, speed and predictability matter. The problem many find is that the more they push on the accelerator, the more they fall behind. The pressure is on, and systems are failing because working in an environment of scattered or non-existent processes is causing an unmanageable workload. These challenges make it impossible to stay on track and enable your team to do their best work.
Join both Jay Baer, business strategist and New York Times best-selling author, and Brent Bird, the Director of Solutions Marketing for Workfront, in this webinar where you'll learn how to:
Ensure quality work through the standardization of 4 key "must-dos"
Take back your time for creativity and innovation by implementing the right course corrections
Decreasing time-to-market and increasing on-time delivery by implementing steps to help you manage the end-to-end workflow from idea to delivery
Please share your contact information to get the webinar.