Tus clientes quieren que los conozcas-personalmente.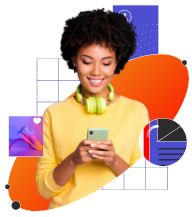 El reciente estudio, Hazlo personal, muestra que estamos cerca de un importante cambio en la orientación a los clientes. Consultamos a más de 6000 personas en tres países de EMEA. Los resultados son sorprendentes. Estos son algunos:
Las personas ya no consideran relevantes ni útiles los estereotipos que se les asignan por edad ni las características que se les presuponen.
La edad no importa. Prefieren marcas que les comprendan, interactúen con sus gustos e intereses y les traten como individuos.

Los participantes de la encuesta señalaron que los comportamientos, las preferencias y los gustos cambian a menudo - y que las marcas que no comprenden esto no generan un impacto en ellos.

Descarga el informe Hazlo personal y descubre la creciente importancia que tiene para las empresas replantear el enfoque generacional generalizado de la orientación al cliente.



Rellena el formulario para descargarte el informe.
Adobe, the Adobe logo, Creative Cloud, and the Creative Cloud logo are either registered trademarks or trademarks of Adobe in the United States and/or other countries. All other trademarks are the property of their respective owners.
© 2023 Adobe Inc. All rights reserved.