Descubre tendencias digitales que ofrecen experiencias deslumbrantes.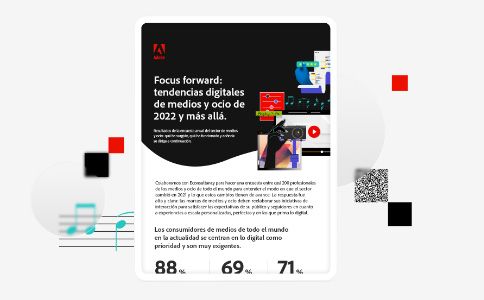 La competencia por captar y mantener la atención del público, fans y suscriptores es dura. Para tomar el pulso al modo en que responden las marcas de medios y ocio, Adobe y Econsultancy han entrevistado a profesionales líderes del sector para saber la respuesta con sus planes para el próximo año.
Rellena el formulario para ver la información y las tendencias digitales que necesitas para ofrecer experiencias personalizadas y fluidas que te permitan destacar sobre los demás. Además, aprende cómo te harán brillar una sola visualización de clientes, la creación de contenido acelerada, y los datos optimizados y la activación creativa.
Adobe, the Adobe logo, Creative Cloud, and the Creative Cloud logo are either registered trademarks or trademarks of Adobe in the United States and/or other countries. All other trademarks are the property of their respective owners.
© 2022 Adobe Inc. All rights reserved.