D2C: The Next Growth Wave for Food & Beverage Brands
Changing Landscape of the Food & Beverage Industry
While food & beverage is still relatively new to the digital space, consumers are not. The expectations they have for other industries—apparel, beauty, home goods, electronics—will also be expected when they are shopping directly with a food & beverage brand. 75 per cent of online food shoppers stick with the first online store they tried which means two things: early movers have the advantage and there's a small window of opportunity to attract and retain a customer.
This new eBook from Adobe and Blue Acorn iCi details why it's time for food and beverage companies to make the switch to a D2C business model and how to offer the most convenient, streamlined and personalised shopping experiences. Plus, learn from brands who are doing it right.
Going D2C will result in the following and much more:
Higher margins and profits by eliminating the middleman
Improved speed to market
Ownership over customer data and full control over the customer experience
Enhanced loyalty programmes and content strategies to drive lifetime value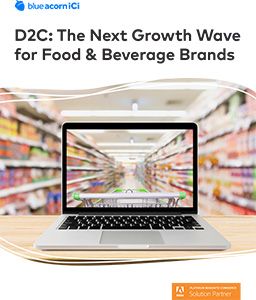 Please fill in the form below to view to this Guide.