B2B Playbook for Launching eCommerce
Did you know that 93 percent of business-to-business buyers prefer to purchase online, with self-serve information, direct from vendors? In today's crowded B2B marketplace, buyers demand an easy, intuitive online buying and account management experience that's so good it feels like B2C. And if you can't meet these demands, your competitors will.
Vertex, Guidance, and Magento have come together to help merchants understand the B2B eCommerce landscape and how this will impact their companies long term strategy.
Dive in and explore:
How to determine when your business is ready for B2B 
The challenges of determining the correct sales tax on B2B transactions
Implementation considerations
How to choose the right implementation solution partner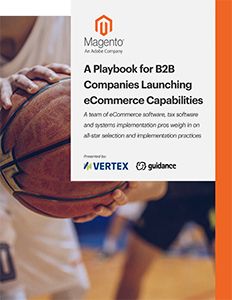 Please share some contact information to download the Guide