The best financial advice?
Increase your customers' trust.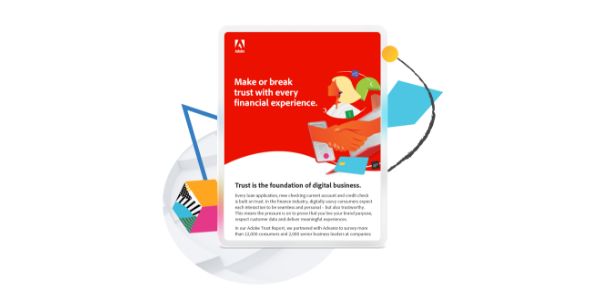 Today's digitally savvy customers expect financial companies to step up to maintain their trust. From respecting customer data to delivering valuable experiences, this is how their trust is earned. We broke down the Adobe Trust Report in this infographic to specifically address the needs of financial services. In it, we found:
How personalised content inspires customers' trust
The ways trust impacts consumer spending
Strategies for keeping trust intact and winning more of it
Please share your contact information to download the infographic.
Adobe, the Adobe logo, Creative Cloud, and the Creative Cloud logo are either registered trademarks or trademarks of Adobe in the United States and/or other countries. All other trademarks are the property of their respective owners.
© 2023 Adobe Inc. All rights reserved.