Adobe experience cloud for healthcare
Personalize healthcare experiences to enhance consumer engagement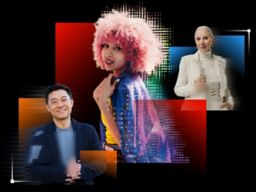 Catch up on the 2023 digital trends.
Learn why a creative approach will help you keep up with the ever-changing needs of customers and how it's done in the 2023 Adobe Digital Trends report.
The changing face of Medicine
Deliver individualized experiences when it matters most
Healthcare expectations are changing. Today's consumers expect you to deliver the same degree of personalization they experience in other industries like retail and hospitality. Meeting this standard requires a technology solution that engages consumers with real-time digital experiences, empowering them to actively manage their health and wellness.
Adobe has a solution on the way.
A digital experience solution that will meet modern medicine's needs
Adobe Experience Cloud will be expanding its capabilities to improve outcomes throughout the healthcare sector by helping medical organizations activate healthcare data, create new service offerings, and personalize patient, member, and provider experiences.
Key features of our upcoming HIPAA-ready healthcare offering include:
Data-driven responsiveness
The Adobe Real-time Customer Data Platform (CDP) will enable deep analysis of healthcare data so you can surface real-time insights and use them to continually improve the consumer experience.
Adherence to industry standards
Adobe Experience Platform provides proprietary privacy, security, and data governance capabilities based on healthcare regulatory requirements, allowing standardized use of data for the right purpose, at the right time.

Adobe Experience Cloud for Healthcare
Integrations with our technology partners will enable seamless data and workflow management, helping you to improve patient outcomes, reduce operating costs, and raise consumer satisfaction.

Digital Trends 2021 Report: Healthcare in Focus
Read our report and learn how COVID-19 circumstances put the healthcare and pharmaceutical industries in a position to quickly innovate and initiate fundamental change.

Modernize your approach to consumer care
Patients and plan members expect to be informed and empowered about their healthcare choices. The ability to leverage health data sets helps modernize your entire approach to satisfying their experience demands.
Providers and health care systems
Using real-time updates to consumer data, you can deliver meaningful engagement and improved outcomes through notifications, reminders, and recommendations personalized to each individual's unique healthcare needs.
Actionable data and valuable insights streamline your member management through automation, leading to healthier populations and reduced cost of care.

From accelerating trial recruitment and increasing retention to improving treatment adherence through connected care programs, the ability to activate real-world data can transform your approach to patient and healthcare professional engagement.

Exceed patient expectations by unifying your online and offline engagement across any channel, using automation to power personalized experiences like program notifications and prescription reminders.