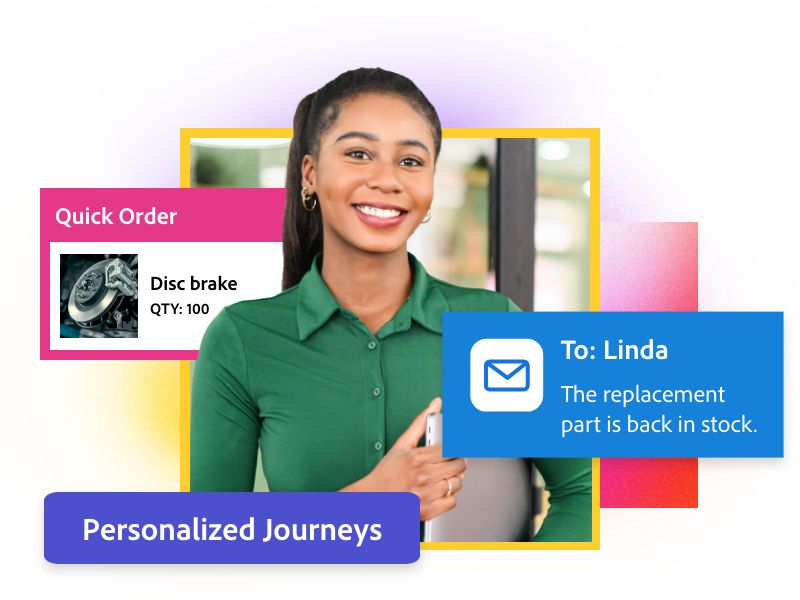 Generische Erlebnisse sind Gift für Conversions.
Die Kundschaft hat wenig Zeit und ist nur begrenzt für Inhalte aufnahmefähig. In Zeiten, in denen fein abgestimmte Erlebnisse der Standard sind, können generische Commerce Journeys schnell zu Frustration führen. Ein Mangel an Personalisierung hat Auswirkungen auf eure Kundschaft und wird letztlich euer Wachstum bremsen.
Sowohl B2B- als auch B2C-Unternehmen müssen jeden Moment der Customer Journey personalisieren, um die Conversions zu optimieren. Doch viele können diesen Grad der Personalisierung aufgrund von veralteter Technologie, isolierten Daten oder einer unvollständigen Sicht auf die Kundschaft nicht bereitstellen. Einige wissen nicht einmal, wo sie ansetzen sollen.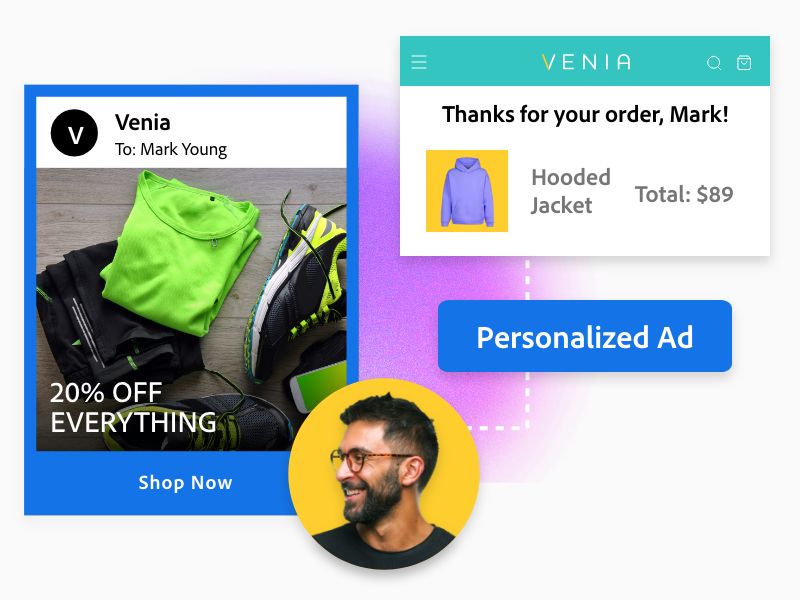 Adobe Commerce ist die Lösung.
Mit intelligenten, benutzerfreundlichen und anpassbaren Tools bringt Commerce alles mit, was ihr für die Personalisierung jedes einzelnen Schritts in den Customer Journeys eurer Kundinnen und Kunden benötigt. Und da 69 % der Verbraucherinnen und Verbraucher bei Marken mit personalisierten Erlebnissen eher einen Kauf tätigen, ist es wichtig, diese umzusetzen.* Nutzt die KI-gestützten Features in Adobe Commerce, um eure Kundendaten zu aktivieren und die Produktsuche, den Content und eure Promotions zu personalisieren.
Mit Adobe Commerce könnt ihr Erlebnisse personalisieren und unter anderem folgende Features nutzen, um die Conversions zu verzehnfachen und den durchschnittlichen Bestellwert zu verneunfachen†:
Mit diesem leistungsstarken KI-gestützten Tool könnt ihr eurer B2B- und B2C-Kundschaft schnell intelligente Suchergebnisse bereitstellen.
Mit KI-gestützten Ranking-Algorithmen könnt ihr die Produktreihenfolge in Suchergebnissen für jede Person individuell optimieren.
Bietet sofort individuelle Produktempfehlungen basierend auf Einkaufsverhalten, Beliebtheit und weiteren Kriterien an.
Segmentspezifische Inhalte und Promotions.
Erstellt regelbasierte Kundensegmente, die zielgerichtete Inhalte und Promotions auslösen.
* "Embrace Meaningful Personalization to Maximize Growth", Deloitte Digital, Juli 2022 †"Failure to Scale: The State of Personalization in Retail and Travel", Incisiv und Adobe, Juli 2021.
Die Zahlen sprechen für sich.
Globale Marken wachsen mit Adobe.
Nur Adobe bietet Integrationen für noch stärkere Personalisierung.
Befreit eure Daten aus den Silos, entwickelt personalisierte Customer Journeys und analysiert zahlreiche Tests, indem ihr zum Beispiel folgende Programme aus Adobe Experience Cloud nutzt:
Adobe Real-Time CDP zur Bereitstellung personalisierter Website-Inhalte und Promotions in Echtzeit
Adobe Target für Optimierung und Tests jedes Bestandteils eures E-Commerce-Erlebnisses
Adobe Journey Optimizer zur Erstellung individuell personalisierter Customer Journeys auf allen Kanälen und Geräten
Adobe Customer Journey Analytics für fundierte Erkenntnisse zu euren Customer Journeys mit benutzerdefinierten Analysen
Unsere Empfehlungen für euch.