DOOR AI GESTUURDE INZICHTEN
Kunstmatige intelligentie. Echte inzichten.
Zet onbewerkte klantervaringsdata snel om in waardevolle inzichten met geïntegreerde AI-services die onder andere voor een betere segmentatie en attributie zorgen.
Zie Customer Journey Analytics in actie
Bekijk een overzicht van de analytics-applicatie die elk team real-time, cross-channel inzichten geeft.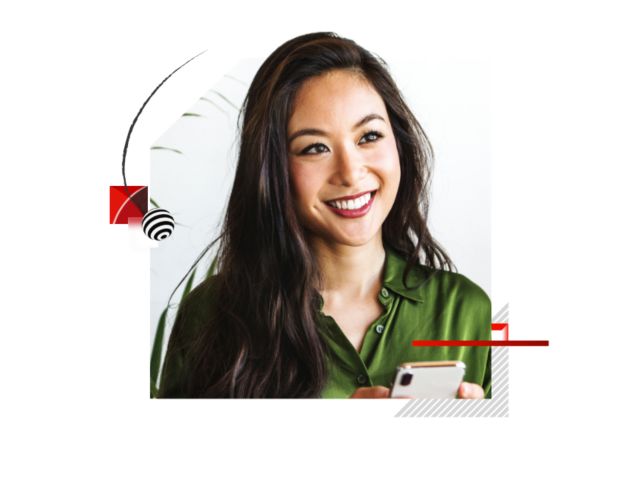 Alle data van de wereld is van weinig waarde als je er niets mee kunt.
Succes in de digitale economie is afhankelijk van data. Maar dat is niet het hele verhaal. Inzichten zijn de daadwerkelijke kracht achter interessante, gepersonaliseerde klantervaringen. Om die inzichten te vinden, moet er een speciaal team worden opgezet met datawetenschappers die de bergen data doorpluizen om waardevolle trends of afwijkingen te vinden, waarna marketingteams op basis van die bevindingen acties aanbevelen. Het nadeel is dat je al snel achter de feiten aanloopt, omdat digitale gebeurtenissen elkaar in rap tempo opvolgen. Niet elk bedrijf heeft echter een team datawetenschappers tot zijn beschikking. Bovendien, als teams van elkaar afhankelijk zijn, vertragen ze niet alleen elkaar, maar ook de time-to-market voor de volgende geweldige klantervaring.
Om concurrerend te blijven, hebben bedrijven een manier nodig om, zonder een groot aantal onderling afhankelijke teams, klantdata uit te kammen op zoek naar inzichten, afwijkingen en trends.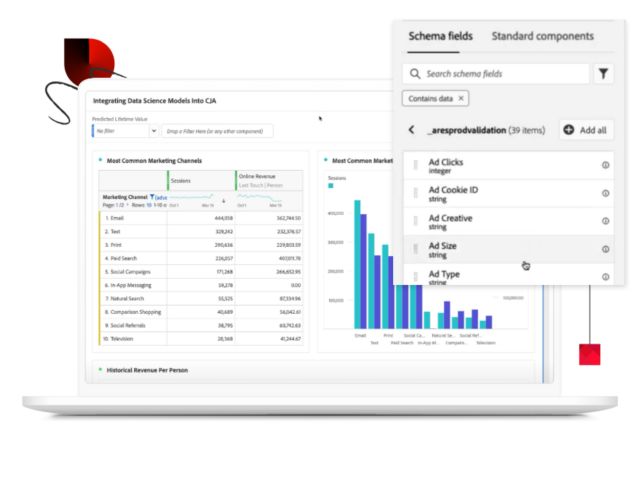 Adobe Customer Journey Analytics maakt gebruik van geavanceerde voorzieningen op het gebied van machine learning (ML) en AI om langs het hele klanttraject – van het eerste contact tot en met de uiteindelijke conversie – inzichten aan het licht brengen. Met services die speciaal voor marketeers, analisten en contentmakers zijn ontworpen, kun je eenvoudig AI inzetten voor dagelijkse taken, zoals attributie, het optimaliseren van de advertentie-uitgaven en het toekennen van wegingsfactoren. Met AI ben je minder tijd kwijt aan het doorspitten van data en heb je meer tijd voor het ondernemen van actie op al die nieuwe inzichten.
Dit is hoe AI je kan helpen om al je data te doorgronden:
Verbeter de segmentatie – Gebruik AI om 'vergelijkbare' doelgroepen in verschillende fasen van het klanttraject te vinden en nieuwe, waardevollere doelgroepsegmenten aan te leggen.
Evaluatie van actieplan – Test hoe specifieke veranderingen in verschillende kanalen, plaatsingen of doelgroepsegmenten van invloed zijn op je algehele bedrijfsdoelstellingen.
Marketingoptimalisatie – Vind snel voorspellingen van de doeltreffendste kanalen en contactpunten en wijs het budget daaraan toe om de waarde daarvan te maximaliseren.

"Klanten waren het meest onder de indruk van Adobe's robuuste datavisualisatiemogelijkheden. Adobe heeft onlangs Customer AI, een AI-service op Adobe Experience Platform, geïntroduceerd, waarmee gebruikers zonder code hun eigen neigingenmodellen kunnen bouwen."

Zet hem op 11! Tips en trucs voor Customer Journey Analytics
Voeg omnichannel inzichten aan je analytics-repertoire toe. Laat een Adobe-productmanager je praktijkvoorbeelden geven van hoe klanten met Customer Journey Analytics waardevolle, cross-channel inzichten ontdekken.
Please make sure that the "dexter.base.react.umd" and "dexter.base.consonantcardcollection" clientlibs have been added to the template's Page Policy
Laten we kijken wat Customer Journey Analytics voor jouw bedrijf kan betekenen.