ADOBE EXPERIENCE PLATFORM QUERY SERVICE
Wil je nauwkeurigere inzichten? Meer betrokkenheid? Voer dan query's uit op je klantdata.
Ontdek en haal het maximale uit je klantdata met Adobe Experience Platform Query Service. Leid krachtige signalen af uit ingevoegde gedrags-, CRM- en verkooppuntdatabronnen en meer.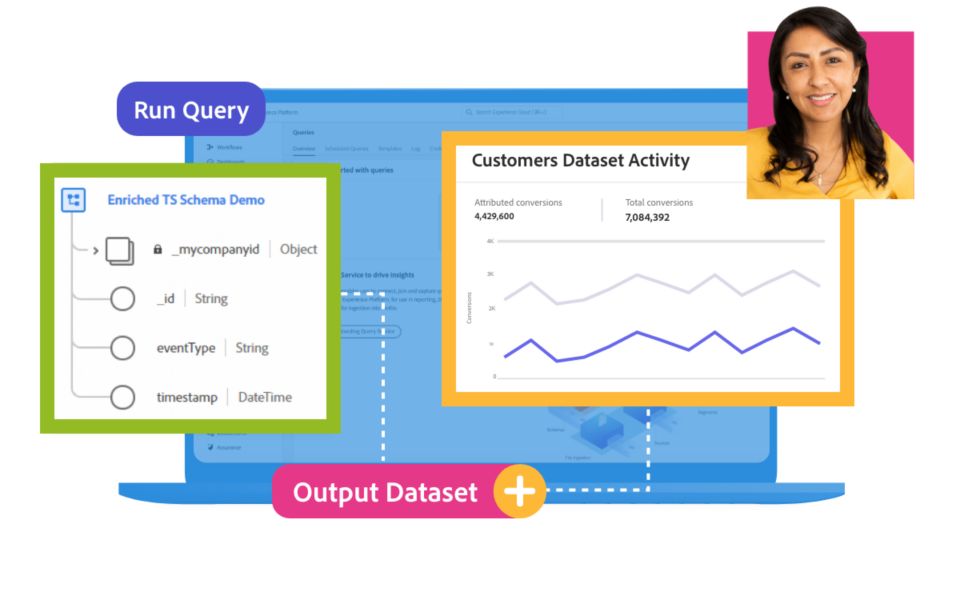 Schonere, rijkere en meer actiegerichte data is binnen handbereik.
Vergroot de impact van de klantdata in je door Experience Platform aangestuurde applicaties en daarbuiten. Onderzoek en verfijn data in verschillende systemen om betere signalen aan het licht te brengen voor meer betrokkenheid, inzichten en personalisatie.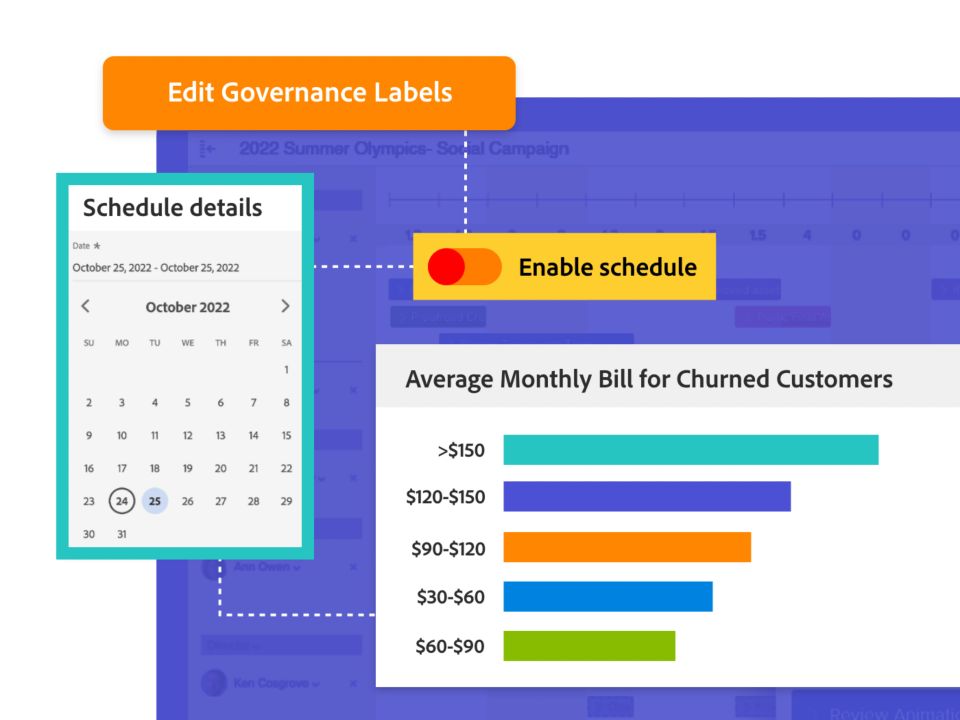 Onderzoek omnichannel klantdata.
Voer ad-hoc-query's uit om steekproeven van klantdata te nemen en klantdata te onderzoeken. Zo kun je je data valideren en krijg je inzicht in de kenmerken van je data.
Verfijn data en leid signalen af om betere acties aan te sturen.
Plan batchgewijze query's om continu waardevolle data en kenmerken te vinden en zet die aan het werk in downstreamsystemen en -workflows voor betrokkenheid.
Stuur geavanceerde dashboards aan op basis van je behoeften.
Gebruik je geselecteerde inzichten als basis voor door de gebruiker gedefinieerde dashboards in Adobe Real-Time CDP en verschillende standaard BI-tools met PSQL-integraties, zoals Microsoft Power BI, Excel, Tableau, Qlik en Looker.
Werk moeiteloos in een high-performance-omgeving.
Gebruik op SQL gebaseerde tools – onze gebruikersinterface voor vrije-vormquery's of je favoriete PSQL – en een schaalbare infrastructuur om grootschalige dataverwerking te ondersteunen met API-toegankelijkheid en PSQL-integraties.
Houd altijd rekening met dataprivacy en -governance.
Pas het beleid voor consumentenprivacy en toegangsbeheer naadloos toe op datasets die worden onderzocht of gegenereerd met Query Service.
Geavanceerde queryfuncties om data centraal te stellen in de klantervaring.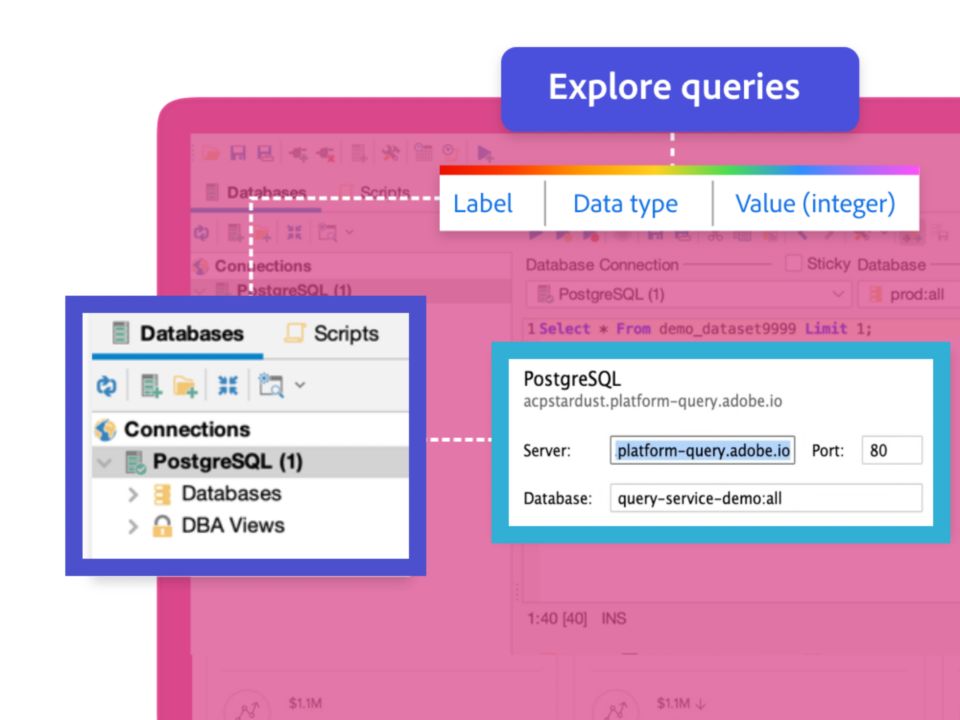 Verifieer, valideer en experimenteer met data met behulp van op SQL gebaseerde ad-hoc-query's.
Gebruik ANSI SQL voor krachtige analyses.
Werk binnen een gebruikersinterface voor vrije-vormquery's waarbij je query's kunt schrijven en een voorproefje van de query-uitvoering kunt zien om de analyse te versnellen.
Profiteer van PSL-integraties in externe clients.
Maak verbinding met Query Service vanuit verschillende desktopclientapplicaties door een geverifieerde verbinding in te stellen. In onze gids wordt uitgelegd hoe je PostgreSQL-tools (zoals DbVisualizer) en stuurprogramma's kunt gebruiken om verbinding te maken en query's te schrijven.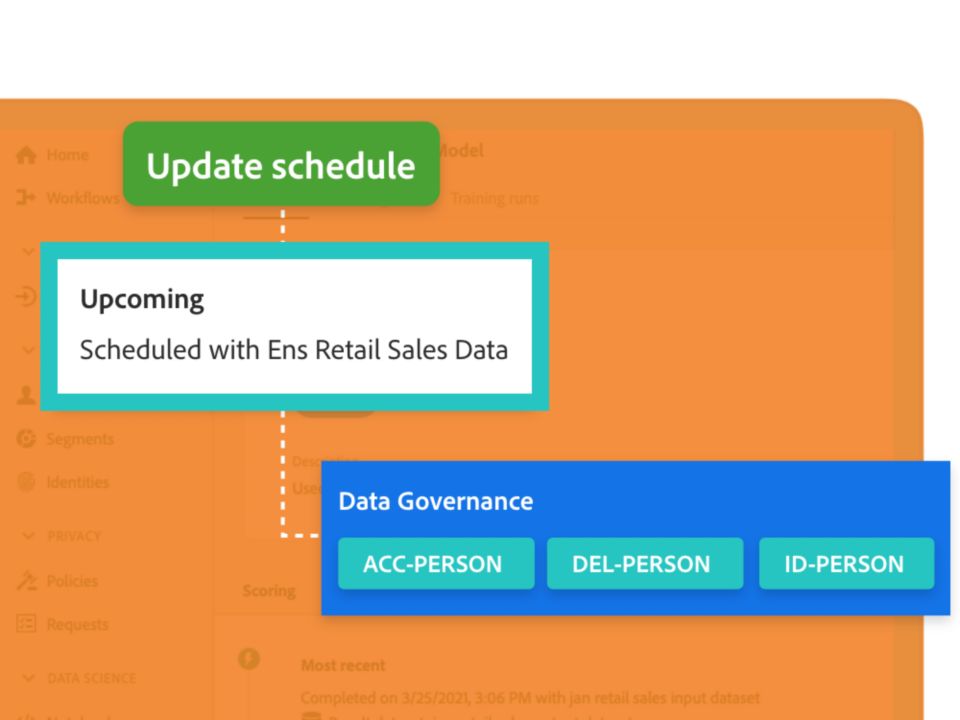 Met behulp van op SQL gebaseerde batchgewijze query's kun je klantdata opschonen, indelen, manipuleren en verrijken.
Gebruik de krachtige dataverwerkingsengine voor op SQL gebaseerde batchgewijze query's en profiteer van:
Schaalbare rekeninfrastructuur
Productiviteitsverhogende functies, zoals sjablonen, anoniem blok, verwerking van incrementele momentopnamen en steekproefneming
SQL-functionaliteit die is afgestemd op aangepaste zakelijke gebruiksscenario's – zoals standaard Spark-functies, door Adobe gedefinieerde SQL-functies – voor manipulaties van tijdreeksen, zoals paden en vensterfuncties
 
Geautomatiseerde planning, meldingen en bewaking.
Operationaliseer workflows voor dataverwerking en data-governance om databeveiliging, -gebruik, -privacy en -controles te beheren.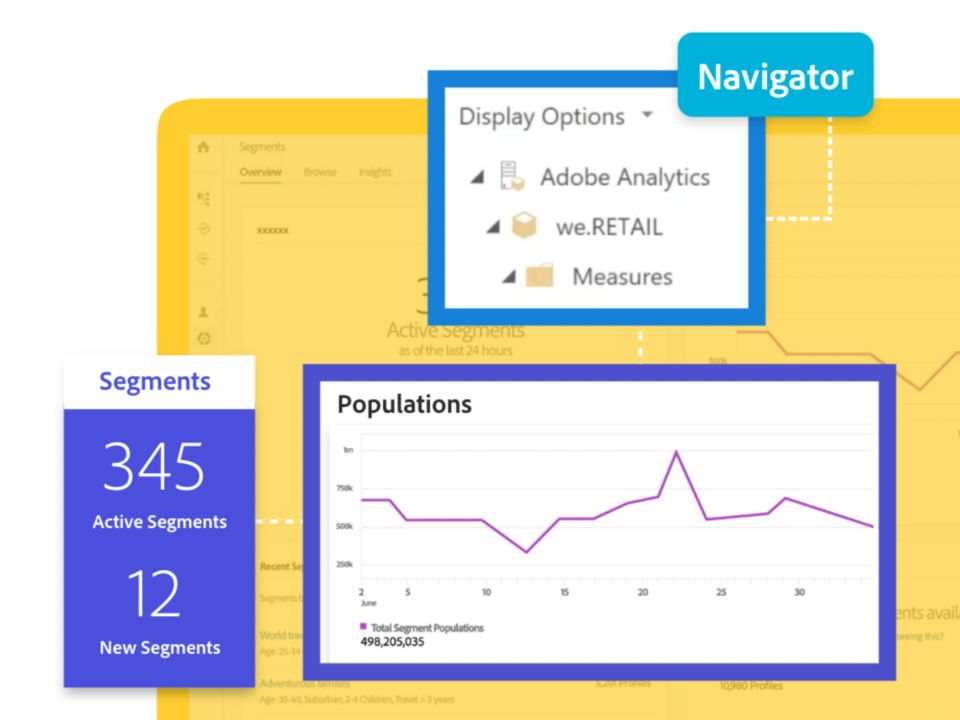 Gebruik workflows en verbindingen om uitgebreide inzichten te genereren en te visualiseren.
BI-connectiviteit
Verbind Query Service met business-intelligence-tools, zodat je dashboards kunt aansturen met geselecteerde rapportagedata die is gegenereerd met Query Service.
Breid rapportagedatamodellen van Real-Time CDP uit
Bouw aangepaste datamodellen om door de gebruiker gedefinieerde dashboards in Real-Time CDP aan te sturen of om ze in te sluiten in je favoriete rapportageframework met behulp van rapportage-API's.