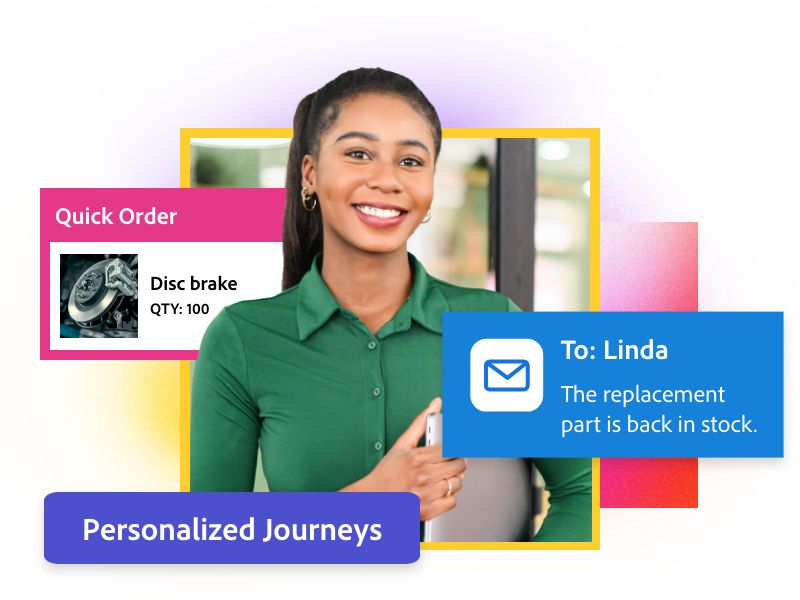 Generieke ervaringen zijn funest voor je conversiecijfers.
Klanten hebben maar weinig tijd en kunnen lang niet alle content bekijken. In een wereld waarin ervaringen op maat de standaard zijn geworden, kunnen klanten gefrustreerd raken door generieke commercetrajecten. Als je geen gepersonaliseerde ervaringen biedt, kost je dat niet alleen klanten, het gaat uiteindelijk ook ten koste van je groei.
B2B- en B2C-bedrijven moeten elk moment in het winkeltraject personaliseren om meer conversies te realiseren. Veel bedrijven kunnen deze mate van personalisatie niet bieden vanwege verouderde technologie, datasilo's of een onvolledig beeld van de klant. Sommige bedrijven weten zelfs niet eens waar ze moeten beginnen.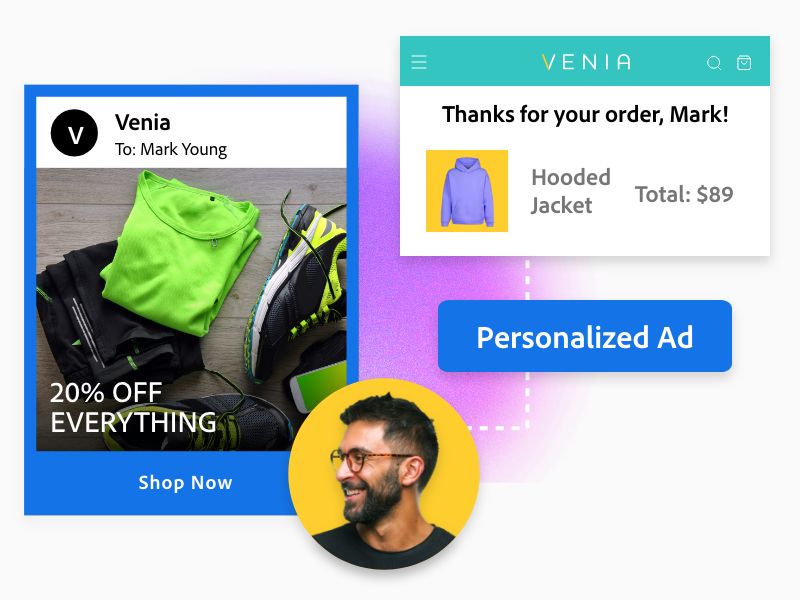 Adobe Commerce kan je helpen.
De intelligente, gebruiksvriendelijke en aanpasbare tools van Commerce bieden alles wat je nodig hebt om elke stap van het kooptraject van je klanten te personaliseren. En omdat 69% van de consumenten eerder geneigd is iets te kopen als merken gepersonaliseerde ervaringen bieden, is het belangrijk om daarvoor te zorgen.* Gebruik AI-gestuurde functies in Commerce om je klantdata te activeren en productontdekking, content en promoties te personaliseren.
Met Adobe Commerce kun je ervaringen personaliseren om het aantal conversies met een factor 10 en de gemiddelde orderwaarden met een factor 9 te verhogen† dankzij functies zoals:
Gebruik deze krachtige, AI-gestuurde zoektool om snel intelligente zoekresultaten weer te geven voor B2B- en B2C-shoppers.
Gebruik AI-rankingalgoritmen om de productvolgorde in de zoekresultaten voor elke klant te optimaliseren.
Bied snelle productaanbevelingen op basis van het gedrag van de shopper, de populariteit van producten en meer.
Segmentspecifieke content en promoties
Maak op regels gebaseerde klantsegmenten die gerichte content en promoties triggeren.
*'Embrace Meaningful Personalization to Maximize Growth', Deloitte Digital, juli 2022 †'Failure to Scale: The State of Personalization in Retail and Travel', Incisiv en Adobe, juli 2021
De cijfers spreken voor zich.
Wereldwijde merken groeien met Adobe.
Alleen Adobe biedt integraties die personalisatie nóg verder opschroeven.
Haal data uit silo's, ontwerp gepersonaliseerde trajecten en analyseer talloze testen door Adobe Experience Cloud-applicaties toe te voegen, zoals:
Adobe Real-Time CDP om in real-time gepersonaliseerde content en promoties op websites aan te bieden.
Adobe Target om elk onderdeel van je commerce-ervaring te optimaliseren en te testen.
Adobe Journey Optimizer om één-op-één gepersonaliseerde trajecten te ontwerpen voor alle kanalen en apparaten.
Adobe Customer Journey Analytics om meer inzicht in de trajecten van je klanten te krijgen met behulp van aangepaste analytics.