KI-GESTÜTZTE ERKENNTNISSE.
Künstliche Intelligenz. Reale Erkenntnisse.
Verwandelt Rohdaten von Customer Experiences in wertvolle Erkenntnisse mithilfe von integrierten KI-Services, die die Segmentierung, Attribution und vieles mehr verbessern.
Erlebt Customer Journey Analytics in Aktion.
Hier erhaltet ihr einen Überblick über das Analyseprogramm, das allen Teams Cross-Channel-Erkenntnisse in Echtzeit liefert.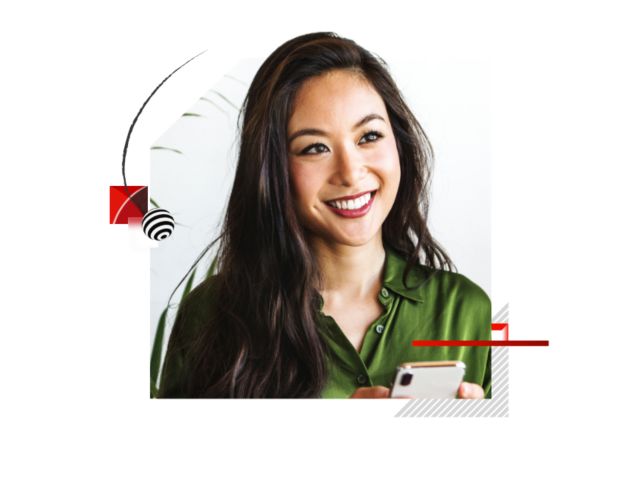 Alle Daten dieser Welt sind nutzlos, wenn ihr sie nicht verwerten könnt.
Wer in der digitalen Wirtschaft Erfolg haben möchte, benötigt Daten. Aber damit ist es nicht getan. Um ansprechende, personalisierte Kundenerlebnisse zu ermöglichen, braucht es Erkenntnisse. Um diese Erkenntnisse zu erhalten, muss ein spezielles Datenwissenschafts-Team Berge von Daten durchforsten und wichtige Trends oder Anomalien aufspüren. Auf der Grundlage dieser Erkenntnisse empfehlen dann Marketing-Teams entsprechende Maßnahmen. Leider sind diese Arbeitsschritte aufgrund des enormen Tempos digitaler Ereignisse schon bald nicht mehr aktuell. Außerdem steht nicht jedem Unternehmen ein Datenwissenschafts-Team zur Verfügung. Zusätzlich verlangsamt die gegenseitige Abhängigkeit der Teams beide Seiten und führt letztlich zu einer langsamen Bereitstellung von Kundenerlebnissen.
Um wettbewerbsfähig zu bleiben, benötigen Unternehmen eine Möglichkeit, diese aufwendigen Aufgaben – Kundendaten durchforsten, Erkenntnisse gewinnen, Anomalien und Trends ermitteln – zu meistern, und zwar ohne eine Fülle von gegenseitig abhängigen Teams.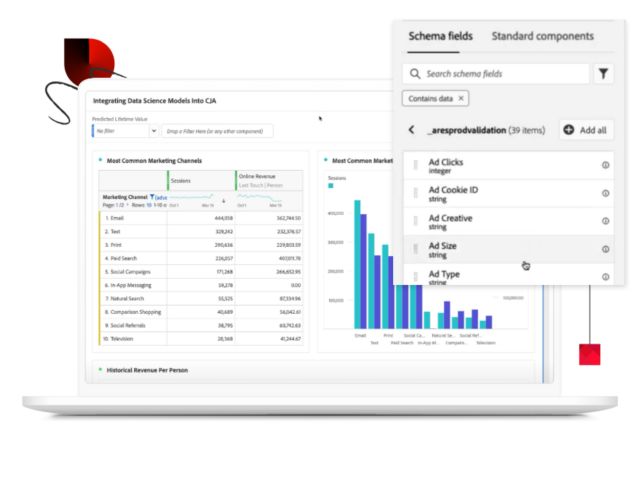 Adobe hat die passende Lösung.
Adobe Customer Journey Analytics nutzt fortschrittliche Funktionen für maschinelles Lernen (ML) und KI, um während der gesamten Customer Journey Erkenntnisse zu gewinnen – vom ersten Kontakt bis zur Conversion. Die integrierten Services wurden speziell für das Marketing, die Analyse und die Content-Erstellung entwickelt. Deshalb ist es besonders einfach, KI auf alltägliche Aufgaben wie Attribution, Optimierung von Werbeausgaben und Gewichtung von Metriken anzuwenden. Dank KI verbringt ihr weniger Zeit damit, Daten zu durchsuchen, und habt mehr Zeit, um auf Basis neuer Erkenntnisse zu agieren.
So tragen KI-Funktionen dazu bei, Daten zu verstehen:
Verbesserte Segmentierung – Nutzt KI, um ähnliche Zielgruppen in verschiedenen Phasen der Customer Journey zu identifizieren und neue, lukrative Zielgruppensegmente zu erstellen.
Evaluierung von Sofortmaßnahmen – Prüft, wie sich spezifische Änderungen in Kanälen, Platzierungen oder Zielgruppensegmenten auf eure allgemeinen Geschäftsziele auswirken.
Marketing-Optimierung – Ermittelt schnell und vorausschauend die effektivsten Kanäle und Touchpoints und lenkt euer Budget auf diejenigen Maßnahmen, die die besten Ergebnisse erzielen.

"Die Referenzkunden waren am meisten von den leistungsstarken Datenvisualisierungsfunktionen von Adobe beeindruckt. Adobe hat vor Kurzem seinen neuen KI-Service auf Adobe Experience Platform – Customer AI – präsentiert, mit dem Anwendende ganz ohne Code benutzerdefinierte Tendenzmodelle erstellen können."

Steigt um auf Version 11! Tipps und Tricks zu Customer Journey Analytics.
Erweitert euer Analyse-Repertoire um Omni-Channel-Erkenntnisse. Seht zu, wie ein Adobe-Produkt-Manager anhand von Beispielen aus der Praxis zeigt, wie Kunden Customer Journey Analytics nutzen, um wertvolle Cross-Channel-Erkenntnisse zu erlangen.
Please make sure that the "dexter.base.react.umd" and "dexter.base.consonantcardcollection" clientlibs have been added to the template's Page Policy
Finden wir gemeinsam heraus, wie Customer Journey Analytics eurem Unternehmen helfen kann.