Personalización del comercio con Adobe. Porque no hay una solución que valga para todo
Cada cliente tiene características exclusivas, por eso, tus experiencias de compra también deberían tenerlas. Con Adobe Commerce, la personalización resulta sencilla gracias a la potente IA y a las funciones listas para usar.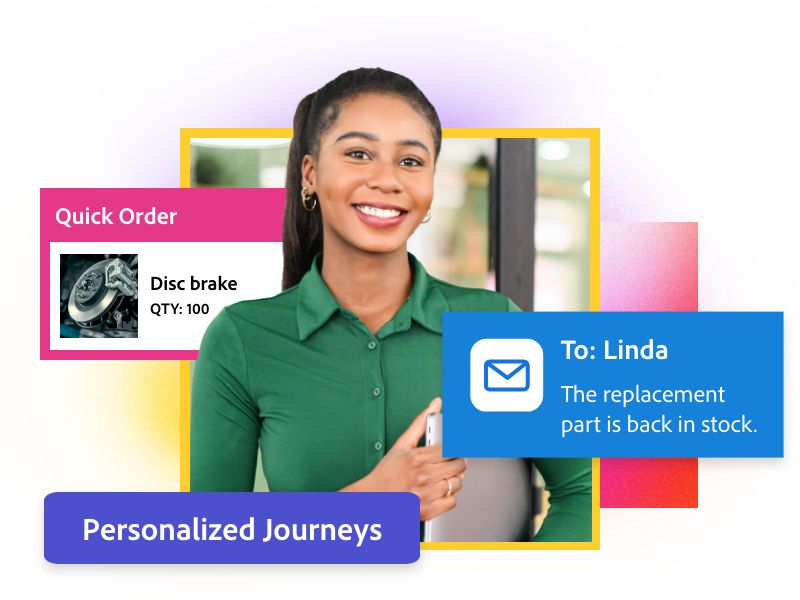 Las experiencias genéricas arruinan la conversión
Tus clientes disponen de poco tiempo y tan solo pueden consumir cierta cantidad de contenido a la vez. En un mundo en el que las experiencias perfeccionadas se consideran la norma, los recorridos de comercio genéricos pueden generar frustración a tus clientes. No ofrecer personalización afecta a tus clientes y, a la larga, también afectará tu crecimiento.
Es imprescindible que las empresas B2B y B2C ofrezcan personalización en cada paso del recorrido de compra para impulsar las conversiones. Muchas empresas no pueden ofrecer este tipo de personalización debido a que disponen de una tecnología obsoleta, de datos aislados o de una imagen parcial de sus clientes. Algunas no saben ni por dónde empezar.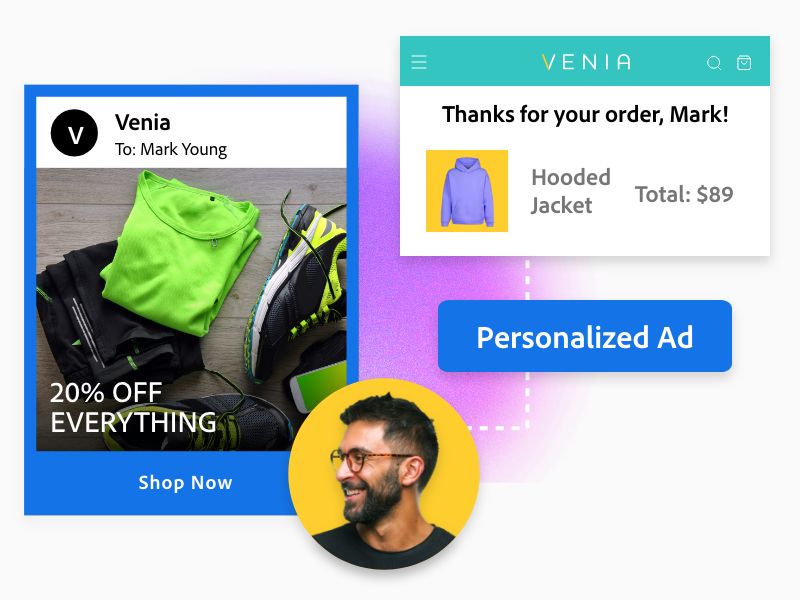 Adobe Commerce puede ayudarte
Con herramientas inteligentes, intuitivas y personalizables, Commerce te ofrece todo lo que necesitas para personalizar cada paso de los recorridos de compra de tus clientes. Además, dado que es un 69% más probable que la gente haga una compra si las marcas le ofrecen experiencias personalizadas, es importante dárselas*.Utiliza las funciones potenciadas por IA que se incluyen en Commerce para activar los datos de tus clientes y personalizar el descubrimiento de productos, contenidos y promociones.
Adobe Commerce te ayuda a personalizar experiencias para multiplicar por 10 las conversiones y por 9† el valor medio de cada pedido con funciones tales como las siguientes:
Utiliza esta potente herramienta de búsqueda potenciada por IA para ofrecer resultados de búsqueda inteligentes con rapidez a todas aquellas personas que hagan compras B2B y B2C.
Utiliza los algoritmos de clasificación de la IA para optimizar el orden de los productos en los resultados de búsqueda para cada cliente.
Ofrece recomendaciones de productos personalizadas y al instante en función del comportamiento de compra y de la popularidad, entre otros factores.
Promociones y contenido de segmentos específicos
Crea segmentos de clientes basados en reglas que impulsen el contenido dirigido y las promociones.
* "Embrace Meaningful Personalization to Maximize Growth" (Adopción de una personalización significativa para maximizar el crecimiento), Deloitte Digital, julio de 2022. † "Failure to Scale: The State of Personalization in Retail and Travel" (Incapacidad de ampliación: el estado de la personalización en el comercio y el turismo), Incisiv and Adobe, julio de 2021.
Las cifras hablan por sí solas.
Las marcas internacionales crecen con Adobe
Solo Adobe dispone de integraciones que permiten una mayor personalización
Agrega las aplicaciones de Adobe Experience Cloud que se enumeran a continuación para sacar tus datos de los silos, diseñar recorridos personalizados y analizar innumerables pruebas:
Adobe Real-Time CDP, para distribuir contenidos y promociones personalizados del sitio en tiempo real;
Adobe Target, para optimizar y probar cada parte de tu experiencia de comercio;
Adobe Journey Optimizer, para diseñar recorridos personalizados de clientes en todos los canales y dispositivos;
Adobe Customer Journey Analytics, para entender mejor los recorridos de cliente mediante análisis personalizados.