Intelligence artificielle. Insights authentiques.
Transformez rapidement les données brutes sur l'expérience client en précieux insights grâce aux services d'IA intégrés conçus pour améliorer la segmentation, l'attribution et bien plus encore.
Découvrez Customer Journey Analytics à l'œuvre.
Regardez cette présentation de notre application d'analytics qui permet à chaque équipe de disposer d'insights cross-canal en temps réel.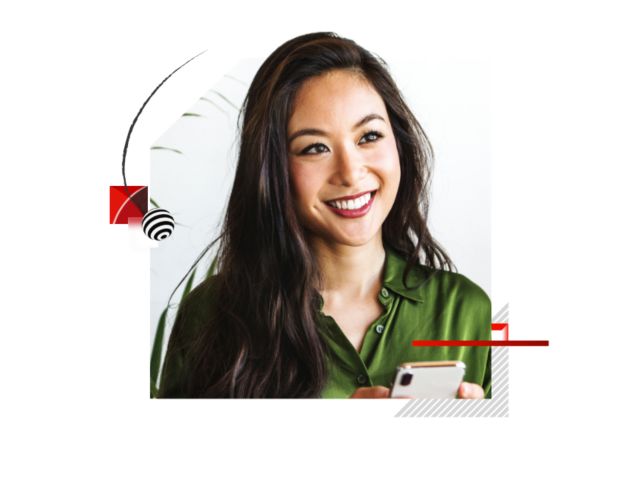 Toutes les données du monde ne valent rien si vous ne parvenez pas à les exploiter.
Votre réussite dans l'économie digitale est tributaire des données, mais pas seulement. Ce sont surtout les insights qui permettent de proposer des expériences client personnalisées et attrayantes. Pour les obtenir, vous devez faire appel à une équipe de science des données chargée de passer vos innombrables données au peigne fin à la recherche de tendances ou d'anomalies, puis à une équipe marketing formulant des recommandations en fonction de ses conclusions. Malheureusement, le digital évolue à un tel rythme que le fruit de ce travail devient rapidement obsolète. En outre, les entreprises n'ont pas toutes des spécialistes de la science des données à disposition, sans compter que l'interdépendance des équipes ralentit le rythme de travail de part et d'autre et que le déploiement d'une expérience client de qualité prend donc du temps.
Pour rester compétitives, les entreprises doivent trouver un moyen d'effectuer le gros du travail d'analyse des données client afin d'identifier les insights, les anomalies et les tendances qui leur seront utiles, sans avoir à se reposer sur des équipes dépendantes les unes des autres.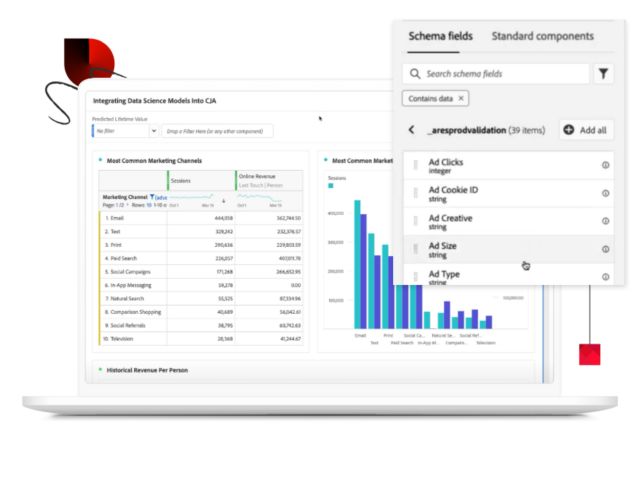 Adobe Customer Journey Analytics exploite des fonctionnalités avancées de machine learning (ML) et d'intelligence artificielle (IA) pour mettre au jour de précieux insights tout au long du parcours client, du premier point de contact à la conversion. Grâce à des services spécialement conçus pour les responsables marketing, les analystes et les spécialistes de la création de contenu, vous pouvez appliquer facilement l'IA aux tâches quotidiennes telles que l'attribution, l'optimisation des dépenses publicitaires et la pondération des mesures. L'IA vous libère des tâches d'exploration des données et vous laisse ainsi plus de temps pour agir en fonction des insights.
Voici comment l'IA vous aide à interpréter l'ensemble de vos données :
Amélioration de la segmentation - Exploitez l'IA pour identifier les audiences similaires à différentes étapes du parcours client et créer ainsi des segments ciblés plus intéressants.
Évaluation d'un plan d'action rapide - Mesurez l'incidence sur les objectifs globaux de votre entreprise des changements intervenus sur différents canaux, placements ou segments ciblés .
Optimisation marketing - Procédez à une analyse rapide et prédictive des canaux et points de contact les plus efficaces, et réallouez votre budget pour les valoriser au maximum.

« Les entreprises clientes de référence ont été surtout impressionnées par les puissantes fonctions de visualisation des données offertes par Adobe. Adobe vient de lancer l'IA dédiée aux clients, un service d'IA reposant sur Adobe Experience Platform qui permet d'élaborer des modèles de propension personnalisés sans programmation. »

Dépassez le champ des possibles ! Bénéficiez de conseils et astuces pour Customer Journey Analytics.
Ajoutez les insights omnicanal à votre répertoire d'analytics en vous inspirant de cas d'usage concrets ayant permis à nos entreprises clientes de bénéficier de précieux insights cross-canal à l'aide d'Adobe Customer Journey Analytics.
Please make sure that the "dexter.base.react.umd" and "dexter.base.consonantcardcollection" clientlibs have been added to the template's Page Policy
Voyons comment Customer Journey Analytics peut aider votre entreprise.