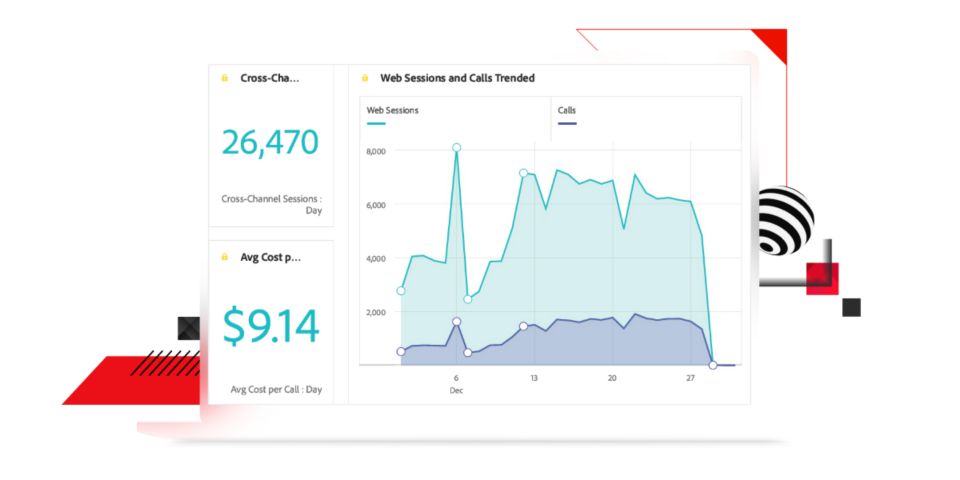 ADOBE CUSTOMER JOURNEY ANALYTICS
Adobe Customer Journey Analytics features.
Our advanced capabilities give teams across your organization the real-time, cross-channel insights they need to create better customer experiences.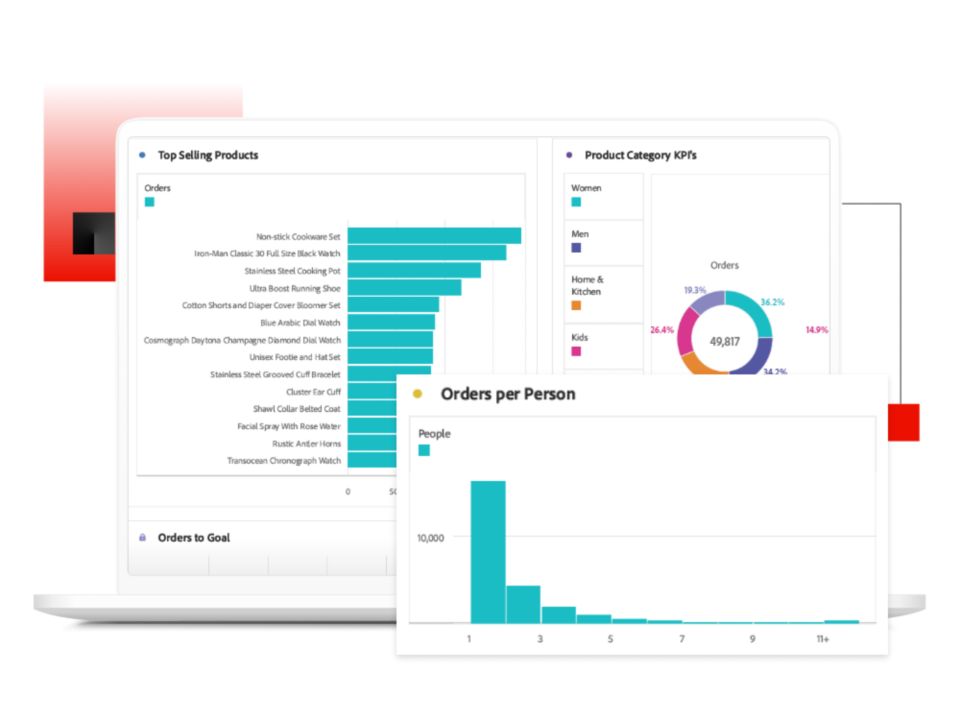 Collect unlimited variables, events, and unique values without props, evars, or rigid data schemas. Open API's allow for data streaming ingestion and large-scale computing that scales with your data.
Integrate data from your existing CRM or any other offline enterprise data system or source, like loyalty program levels, for added analysis dimension.
Field-based stitching combines IDs from multiple channels and devices and assigns them a single person ID with the ability to restate data.
Explore raw data using SQL and perform ad-hoc analysis, modify datasets, or improve data quality on the fly.
Transform data from multiple sources with standard XDM and get more with a flexible data model that's not bound to the hit-visit-visitor model.
Capture key data points for voice assistants, like frequency of use, intent, user authentication, slots, parameters, and session length to understand how users are interacting with your voice assistant app.
Apply rules to remove bots, or non-human traffic, from reporting to get a more accurate view of user activity on your website or app.
Easily change analysis with data manipulation tools and maintain customer privacy and meeting organizational and regulatory policy obligations with patented data governance.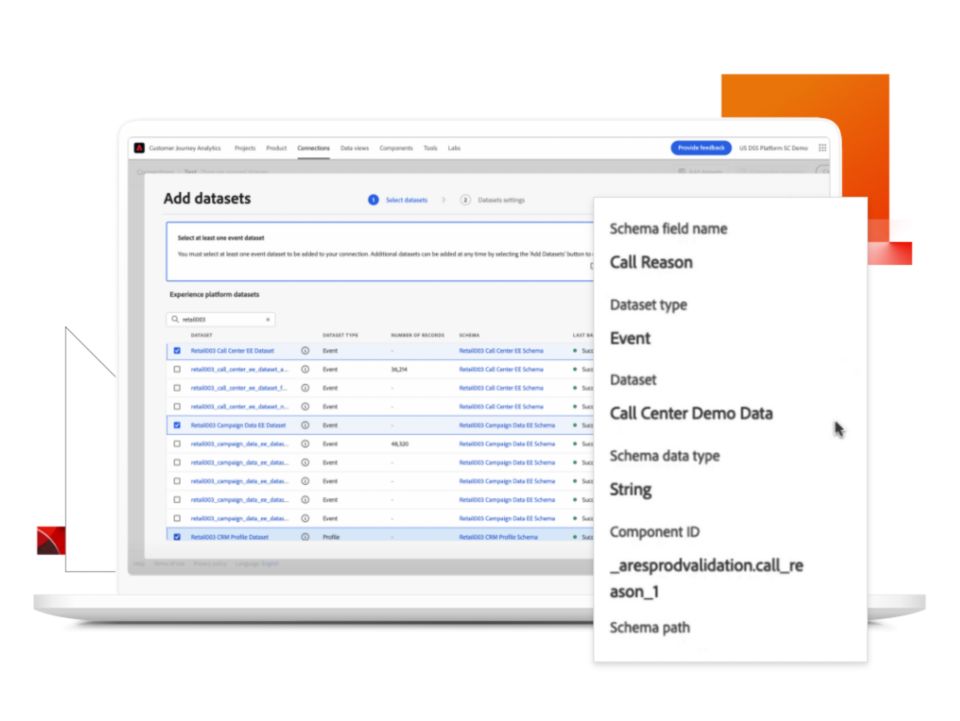 Combine metrics to create unique mathematical operations that become new, more valuable metrics to match with audience segments.
Non-destructively redefine a "visit" without having to make any implementation code changes or altering the data. For instance, you could redefine a mobile app "visit" as a visit of at least 5 minutes.
Easily manage and cleanse sensitive data, significantly reducing the time and cost of data processing and deletion.
Review and enforce data governance labels and policies to manage and adhere to data restrictions and regulations.
Privacy and data protection controls help you meet GDPR and CCPA regulations using the patented tools of Adobe Experience Platform.
A data governance framework solution with patented features to help Adobe customers keep their data secure with data source labeling, policy creation to ensure compliance, and automated enforcement to prevent policy violations.

Provide users of Customer Journey Analytics a way to make sophisticated updates to the data, restatement and retroactive, so that it is usable, accurate, and actionable.
Artificial intelligence (AI), Generative AI (GenAI) and machine learning (ML)
Workflow automations make sophisticated analysis available to non-technical team members, opening up insights to marketers, customer service, and sales teams.
Get access to attribution and propensity modeling for deeper analysis and insight discovery with Customer and Attribution AI.
Augment attribution rules with best-fit algorithmic models to discover and solve for unique attribution use cases across paid, earned, and owned marketing activities.
Automatically find statistically significant, unexpected trends in your data.
Allows anyone to leverage natural language to query the data for simple ad-hoc questions like – "What are my top 10 pages?" and "Which products have the highest revenue?"

Simplify analysis and insights in Analysis Workspace by providing high level takeaways using natural language GenAI to analyze the key trends and important events in the data.
It's hard to know what your customer's journey is when major landmarks are missing from your map. Customer Journey Analytics collects touchpoints from online and offline channels and presents them in context so you can create experiences that really matter.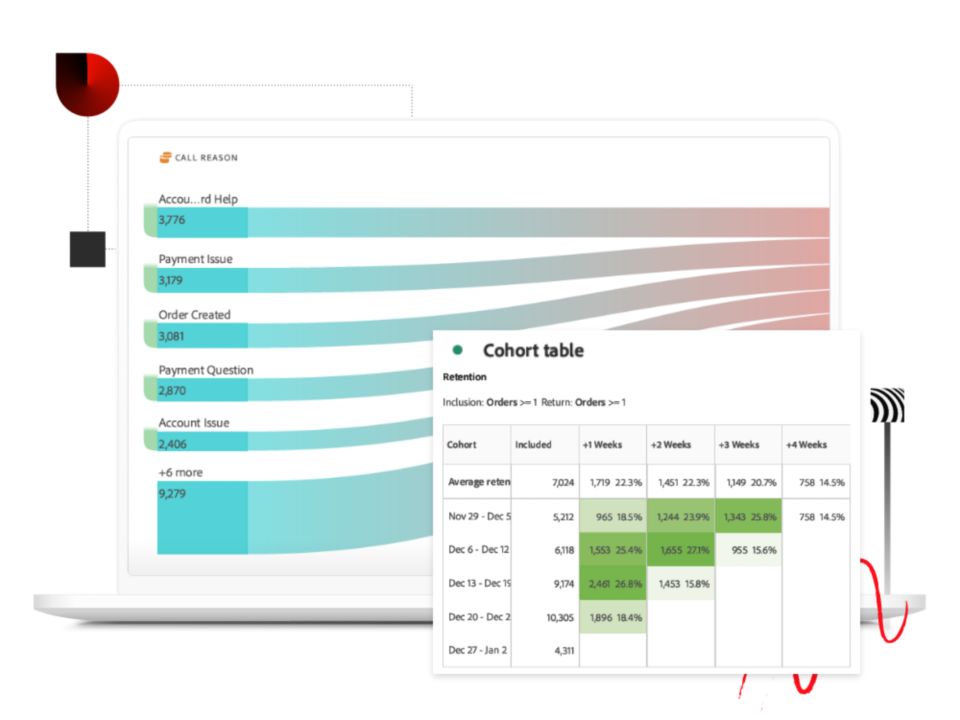 Explore customer movements through your sites and apps quickly in order to understand customer journey. View entry, exit, and sub-flow activities to create unique segments based on user journeys.
Build a funnel quickly with drag-and-drop tools and rearrange funnel steps on the fly in order to analyze customer conversion and compare fall-out across touchpoints and segments.
Create and compare groups of customers with shared characteristics and over time to help you recognize and analyze significant trends. Discover engagement or churn trends that help you understand customer lifetime value.
See distributions of users across any success event and customize the buckets of events to identify high and low value users.
Advanced data governance and data sharing tools protects customer privacy while getting the right information to the right team members. These tools let every member of your organization contribute to the customer experience and makes it easy to remain compliant.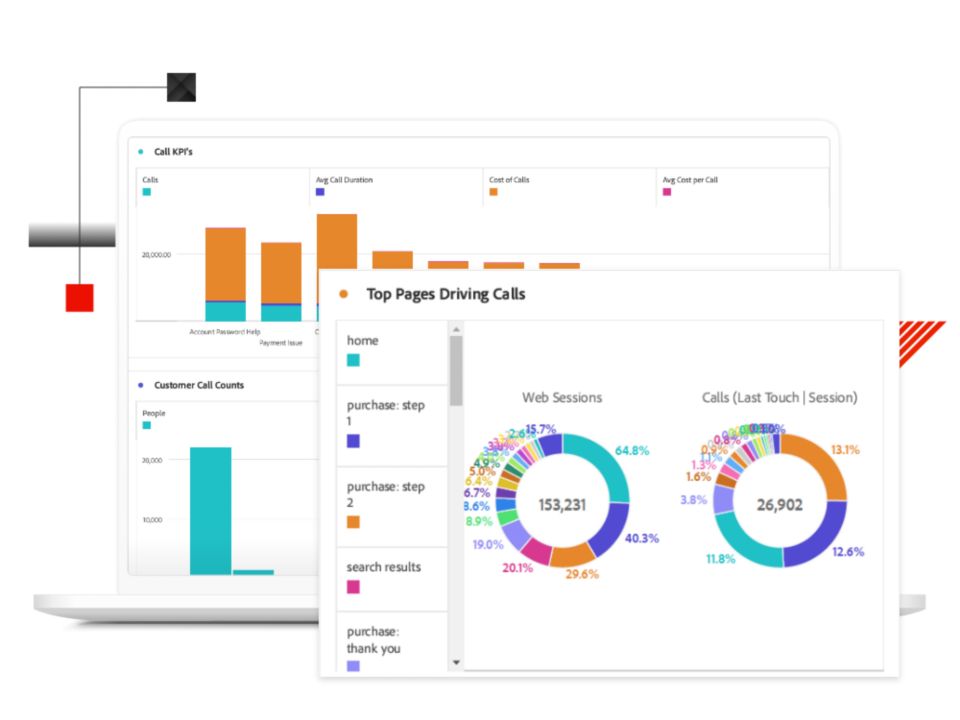 Monitor your business using key metrics and mobile-ready scorecards and apply breakdowns and segments directly from your phone. (Available for iOS and Android.)
Curate and share projects to make analysis easy for everyone. Teams can also share reports and subsets of data based on their needs and business goals.
Create and refresh reports using Customer Journey Analytics data in Excel for Windows, MacOS, and WebOffice.
Democratize cross-channel insights by downloading or sharing project reports in PDF or CSV versions. Schedule one-time or recurring report distribution, and set expiration statuses.
Monitor your company's server call consumption with a pre-built dashboard and get alerted when you're getting close to your committed server call volume.
Allow users access to read-only Workspace projects without the need to login or have a Customer Journey Analytics account.
Audience behavior and segmentation tools
A unified omnichannel profile gives you insights to make more refined, valuable segments while also finding new customers.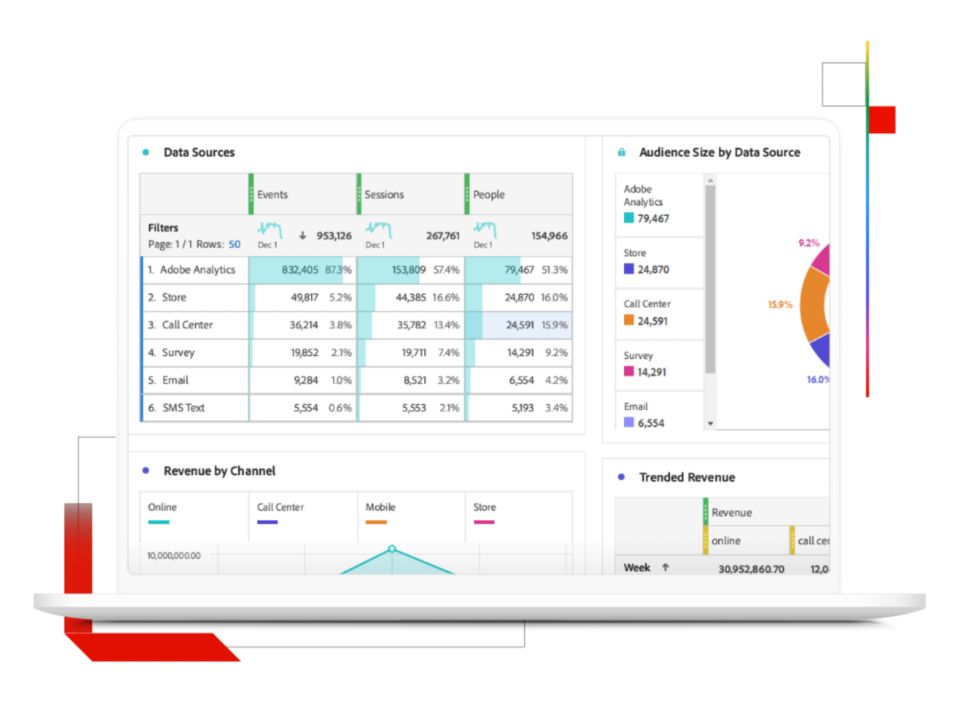 Create unique omnichannel audience filters based on behavioral insights that can be pushed to other Adobe Experience Platform applications  such as Real-time CDP and Adobe Journey Optimizer for activation.
Create subsets of individuals based on behavioral characteristics or interactions to serve more targeted, personalizes experiences.
Select first-touch, last-touch, linear, participation, same-touch, U-shaped, J curve, inverse J, time decay, and custom models on any metric and goal — not just conversion-based.
Along with the seamless connections with other Adobe products made possible by Adobe Experience Platform, Customer Journey Analytics integrates easily into your existing technology, as well as any future technology.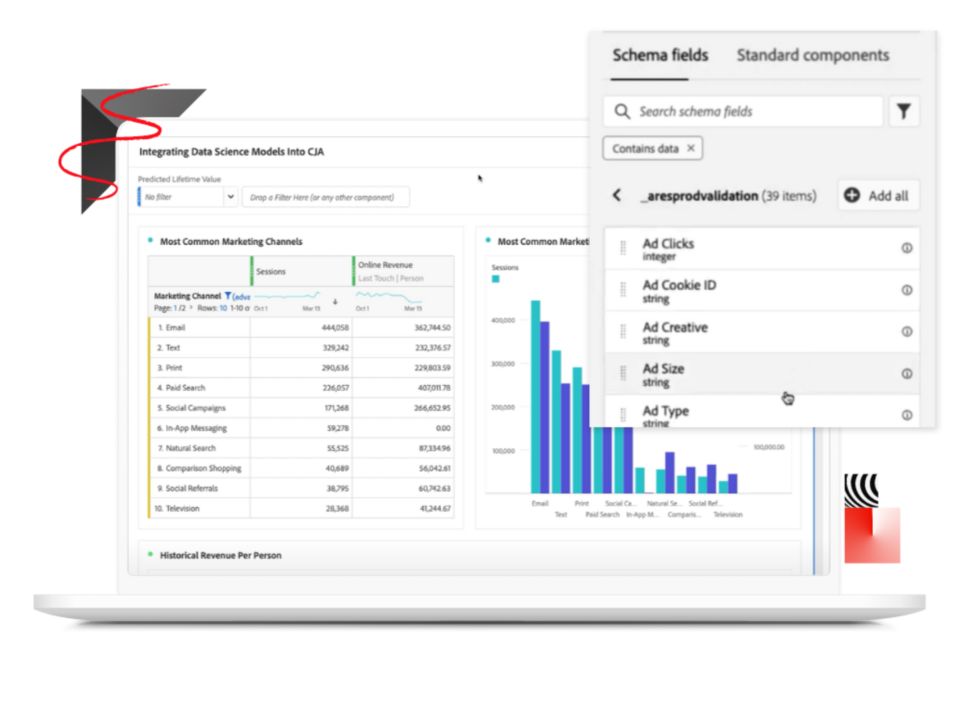 Easily combine disparate data sets into a single data set using a common ID with out-of-the-box data connectors in Analysis Workspace.
Evaluate the lift and confidence of any experiment using data from any source, including online and offline. Data from other Adobe products, such as Adobe Journey Optimizer, can be used or you can even upload your own.
Export complete data tables with millions of rows on a scheduled or ad-hoc basis with multiple variable breakdowns, segmentations, and calculated metrics. Deliver those exports to cloud destinations including Adobe Experience Platform Landing Zone, Azure, S3, GCP, and Snowflake.
Drag and drop any number of data tables, visualizations, and components, including channels, dimensions, metrics segments, and time granularities, into a project.
Use Analysis Workspace on stitched multi-channel data sets to show flow, fallout, attribution, and dimensional breakdowns.
Novice users can self-serve answers to business questions quickly using an easy interactive design.
Use SQL to query your Customer Journey Analytics report suites or any data set hosted on the Adobe Experience Platform. Data from Microsoft Power BI is also supported through an integration.