Personalizzazione dell'e-commerce con Adobe. Perché non esiste un'unica formula valida per tutti.
Ogni cliente ha caratteristiche uniche. E dovrebbe essere così anche per le tue esperienze di acquisto. Con Adobe Commerce, è facile fare personalizzazione grazie all'efficienza dell'IA e a funzionalità preconfigurate.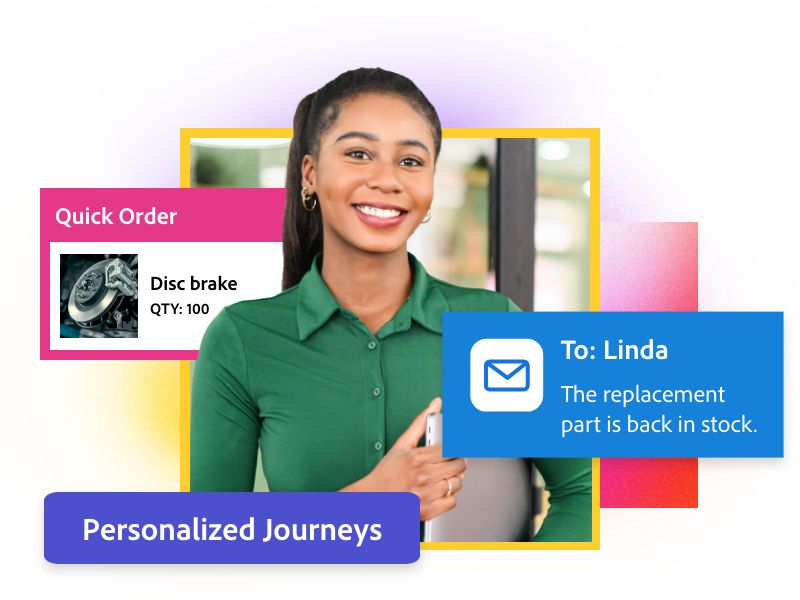 Le esperienze generiche sono letali per le conversioni.
I clienti hanno poco tempo e possono consumare solo una certa quantità di contenuti per volta. In un mondo in cui le esperienze perfezionate sono ormai considerate lo standard, i percorsi di e-commerce generici possono lasciare un senso di frustrazione. Il fatto di non offrire personalizzazione si ripercuote negativamente sulla clientela e col tempo finirà per condizionare anche la tua crescita.
Per le aziende B2B e B2C, è fondamentale personalizzare ogni momento del percorso di acquisto per favorire le conversioni. Tuttavia, molte non sono in grado di offrire questo tipo di personalizzazione a causa di tecnologie sempre più obsolete, dati in silos o una visione parziale del cliente. Alcune non sanno nemmeno da dove cominciare.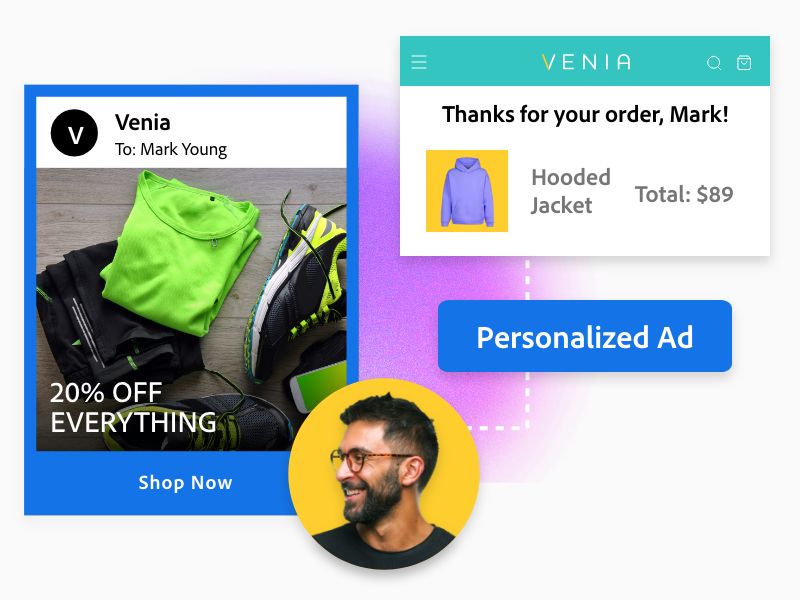 Adobe Commerce può esserti d'aiuto.
Grazie a strumenti intelligenti, personalizzabili e facili da usare, Commerce ha tutto ciò di cui hai bisogno per personalizzare ogni fase del percorso di acquisto. E dato che il 69% dei consumatori è più incline ad acquistare dai brand che offrono esperienze personalizzate, è importante farlo.* Usa le funzionalità basate sull'IA incluse in Commerce per attivare i dati dei clienti e personalizzare l'esplorazione dei prodotti, i contenuti e le promozioni.
Adobe Commerce offre funzionalità che ti aiutano a personalizzare le esperienze per aumentare le conversioni di 10 volte e il valore medio degli ordini di 9 volte†. Eccone alcune.
Usa questo strumento avanzato basato sull'IA per presentare velocemente risultati di ricerca intelligenti agli acquirenti B2B e B2C.
Riposizionamento intelligente dei risultati
Usa algoritmi di ranking basati sull'IA per ottimizzare l'ordine dei prodotti nei risultati di ricerca per ogni cliente.
Offri suggerimenti istantanei sui prodotti, personalizzandoli in base al comportamento dell'acquirente, alla popolarità e ad altri criteri.
Promozioni e contenuti specifici in base al segmento
Crea segmenti di clienti basati su regole che attivano promozioni e contenuti mirati.
*"Embrace Meaningful Personalization to Maximize Growth", Deloitte Digital, luglio 2022 †"Failure to Scale: The State of Personalization in Retail and Travel", Incisiv e Adobe, luglio 2021
Le statistiche parlano da sole.
I brand di tutto il mondo stanno crescendo con Adobe.
Solo Adobe offre integrazioni per portare la personalizzazione a un livello ancora più alto.
Estrai i dati dai silos, progetta percorsi personalizzati e analizza un'infinità di test aggiungendo applicazioni Adobe Experience Cloud, tra cui:
Adobe Real-Time CDP per presentare promozioni e contenuti personalizzati in tempo reale sul tuo sito.
Adobe Target per ottimizzare e testare ogni aspetto dell'esperienza di e-commerce.
Adobe Journey Optimizer per progettare percorsi personalizzati a livello individuale su tutti i canali e i dispositivi.
Adobe Customer Journey Analytics per comprendere meglio i percorsi di ogni cliente con analisi personalizzate.