Medien und Unterhaltung, personalisiert für ein Publikum, das nur aus einer Person besteht.
Stellt jeden einzelnen Fan, jede Abonnentin und jeden Abonnenten, jedes Mitglied eurer Zielgruppe in den Mittelpunkt, indem ihr euren Ansatz für Daten, Profil-Management, Content und Customer Journeys mit Adobe Experience Cloud vereinheitlicht.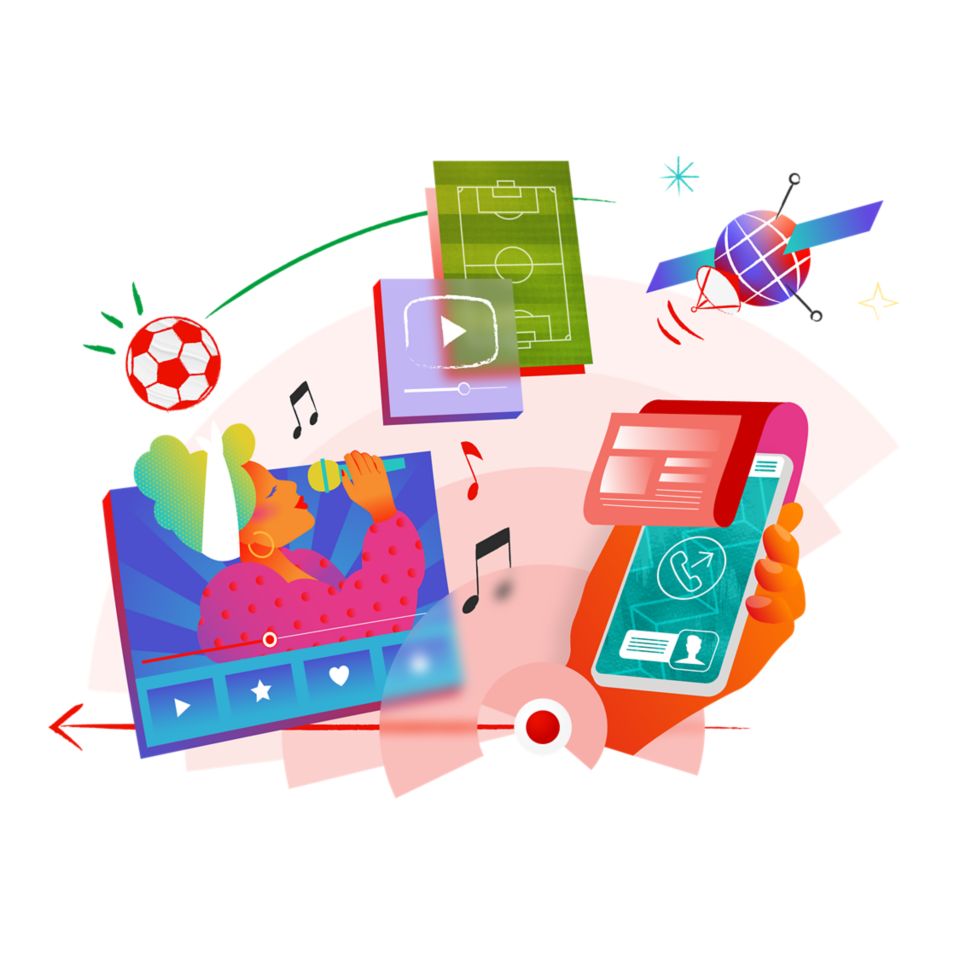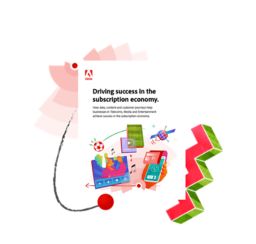 Der richtige Content im richtigen Moment – das gelingt nur mit Daten.
Erfolg in der Abonnementwirtschaft – wie daten-gestützter Content und starke Erlebnisse an jedem Touchpoint heute den Unterschied ausmachen. 
Gebt eurer Kundschaft ein hyperpersonalisiertes Erlebnis, das bereit ist für die Primetime.
Ob ein Streaming-Vorschlag für die beste romantische Komödie für einen Abend zu zweit oder ein gezieltes Angebot für ein Saison-Ticket für einen Sport-Fan – eure Zielgruppe erwartet personalisierte Erlebnisse, wenn es darauf ankommt. Adobe bietet starke Lösungen, mit denen ihr euren Zielgruppen, Fans und Abonnentinnen und Abonnenten die Medien- und Unterhaltungserlebnisse bereitstellen könnt, die sie so lieben.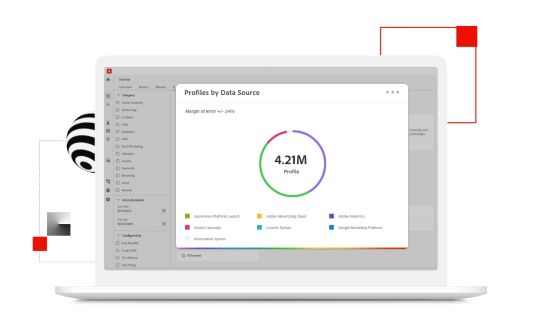 Einheitliche Profile für personalisierte Unterhaltungserlebnisse.
Um die Aufmerksamkeit von Kundinnen und Kunden nachhaltig zu gewinnen, dürft ihr keine isolierten Ansätze verfolgen, sondern solltet auf personalisierte Interaktion setzen. Durch die Vereinheitlichung von Account-Profilen über First-Party-Daten und KI könnt ihr komplette, individuell personalisierte Unterhaltungserlebnisse für eure Zielgruppe entwickeln.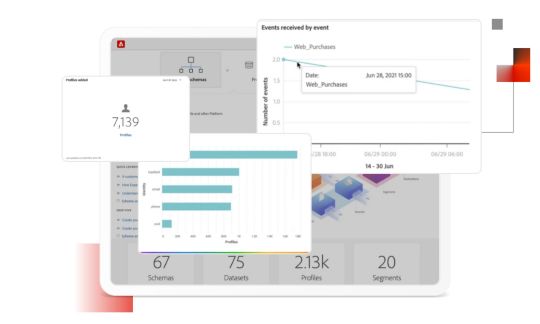 Aktivieren von Daten und Content zusammen für maximale Wirkung.
Jeder größere Medienproduzent weiß, dass besonders leidenschaftliche Kundeninteraktionen durch besonders hochwertige Inhalte erreicht werden. Adobe kann dazu beitragen, die Content-Erstellung in eurem Unternehmen durchgängig zu straffen und eine zeitnahe, gezielte Verteilung an eure Fans und Zielgruppen sicherzustellen.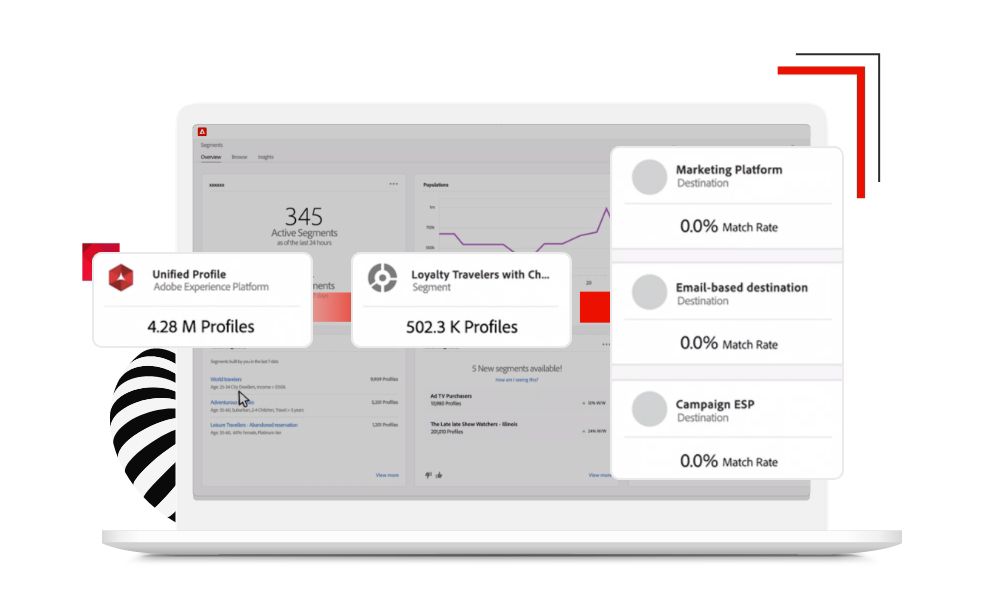 Echtzeit-Datenaktivierung für Personalisierung der nächsten Generation.
Die beste Medien- und Unterhaltungsinteraktion geschieht spontan. Erstellt die passenden Customer Journeys, um jede einzelne Kundin und jeden einzelnen Kunden in eurer Datenbank zum genau richtigen Zeitpunkt zu erreichen. Das ist echte Personalisierung im benötigten Umfang.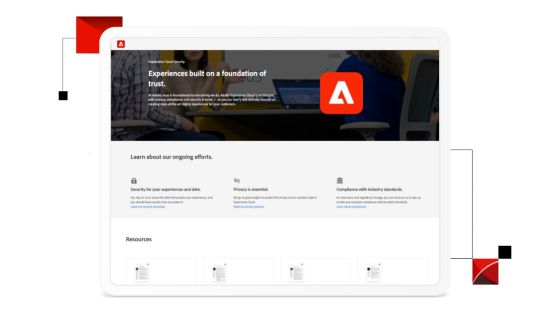 Bereitstellen interaktiver Erlebnisse auf einem Fundament von Vertrauen und Sicherheit.
Geschwindigkeit und Agilität sind die Grundlage hervorragender Kundenerlebnisse – ebenso wie Vertrauen und Datensicherheit. Bietet noch mehr Kunden personalisierte Medien und Erlebnisse an. Bei Adobe Experience Platform haben Sicherheit, Datenschutz und Compliance höchste Priorität. So könnt ihr euch darauf konzentrieren, relevante, zielgruppenorientierte Erlebnisse zu entwickeln.
---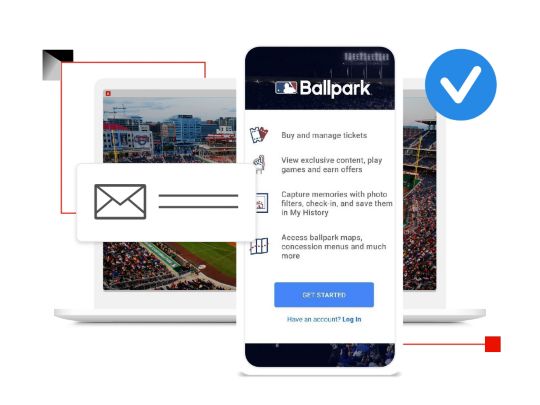 "Uns bietet sich dank der fantastischen neuen Tools von Adobe zur Anreicherung unserer gesamten Customer Journey Map die Chance, noch tiefer in die Personalisierung einzusteigen. Ich bin gespannt, wohin uns das führt."
Karin Timpone 
Executive Vice President und Chief Marketing Officer, Major League Baseball
Blockbuster-Personalisierungslösungen für Medien und Unterhaltung.
Please make sure that the "dexter.base.react.umd" and "dexter.base.consonantcardcollection" clientlibs have been added to the template's Page Policy
Bevorstehende Highlights: Trends in der Medien- und Unterhaltungsbranche.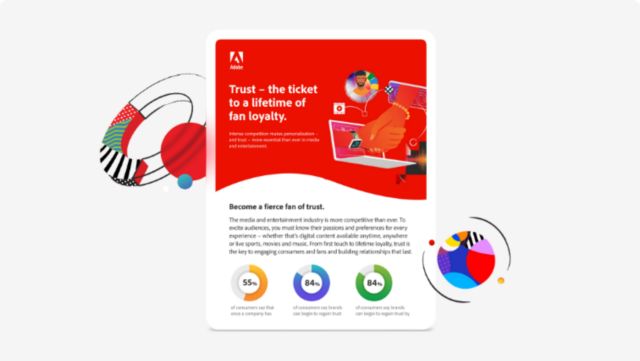 Vertrauen in die Marke ist der Garant für treue Fans 
Der Schlüssel zur Bindung und für den Aufbau dauerhafter Beziehungen – unsere Infografik Vertrauen – der Garant für Kundentreue auf Lebenszeit liefert alle Zahlen.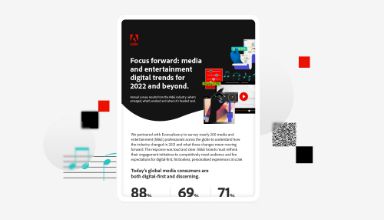 Die neuesten digitalen Trends bei Medien und Unterhaltung 
Publikum, Fans und Abonnent*innen begeistern – erfahrt jetzt, was dafür dieses Jahr und in den kommenden Jahren nötig ist.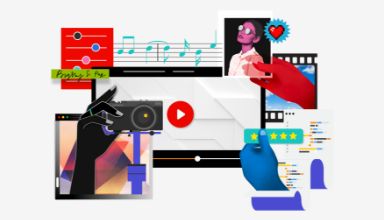 Personalisierung verblüfft euer Publikum
Wie die Aufmerksamkeit der Zielgruppen, Fans und Abonnent*innen dauerhaft gewinnen? Digitale Trends 2022: Medien und Unterhaltung im Fokus liefert Antworten. 
Please make sure that the "dexter.base.react.umd" and "dexter.base.consonantcardcollection" clientlibs have been added to the template's Page Policy