Media and entertainment audiences are now in view.
Put a spotlight on delivering contextual, relevant experiences for every audience by unifying your approach to user data and profile management with Adobe Experience Cloud.
Build trust with consistent, personalised content at every touchpoint.
Read the Adobe 2022 report to find out more.
Dazzle your audience with personalisation.
Learn what it takes to grab and keep the attention of audiences, fans and subscribers in 2022 Digital Trends — Media and Entertainment in Focus.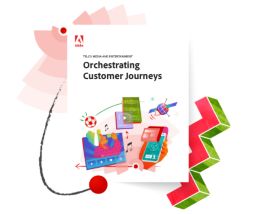 End subscriber churn with top customer journeys.
Read Orchestrating Customer Journeys in Telco Media and Entertainment - discover how personalised customer journeys help win viewers, fans, and subscribers.
See how media and entertainment businesses create excellent experiences.