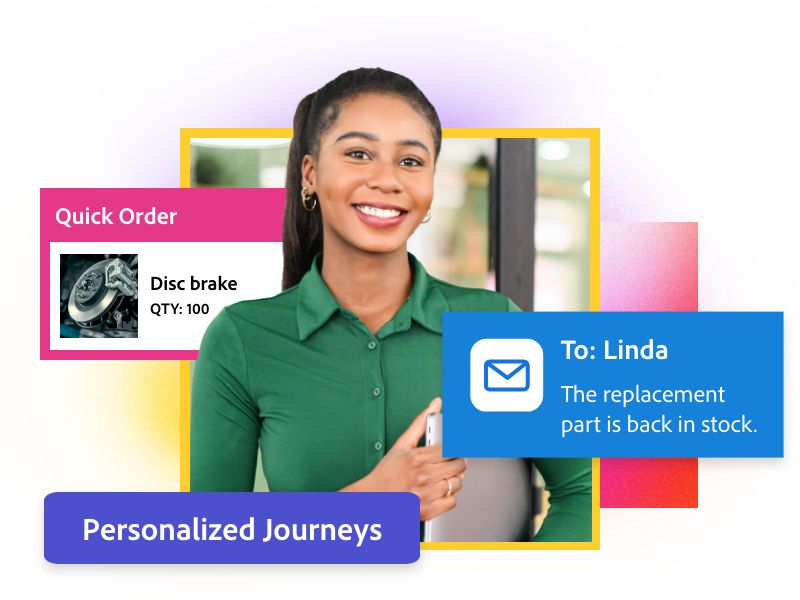 Experiências genéricas não convertem nada.
Os clientes não têm tempo para consumir tanto conteúdo de uma vez. Em um mundo no qual experiências aprimoradas são a regra, jornadas de e-commerce genéricas podem deixar os clientes frustrados. Não oferecer personalização afeta os clientes, consequentemente afetando seu crescimento.
É fundamental para empresas B2B e B2C personalizarem todos os momentos da jornada de compra para aumentar as conversões. Muitas não podem oferecer esse tipo de personalização devido a tecnologia antiga, dados isolados ou uma visão parcial do cliente. Algumas nem sabem por onde começar.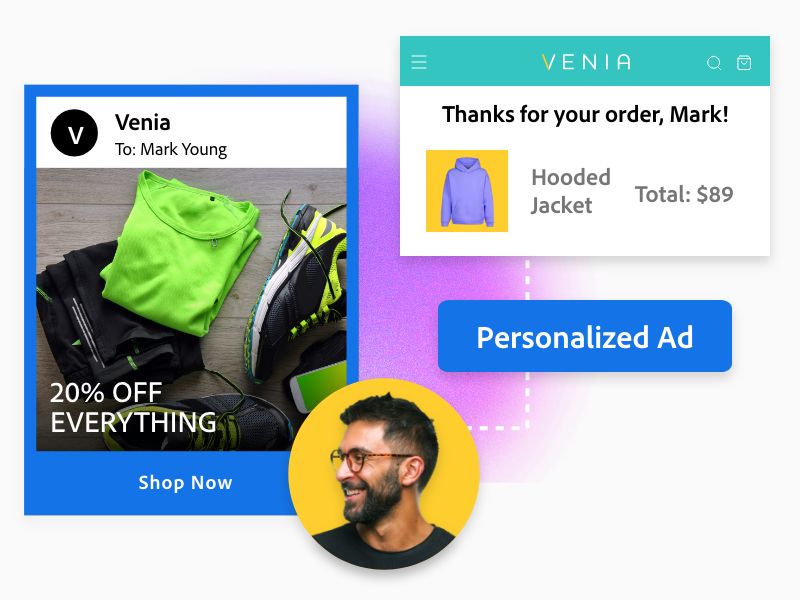 A Adobe Commerce pode ajudar.
Com ferramentas personalizáveis, inteligentes e fáceis de usar, a Commerce tem todos os recursos para personalizar cada etapa das jornadas de compra dos clientes. E como 69% dos clientes têm mais chances de comprar quando as marcas oferecem experiências personalizadas, é importante fazer isso.* Use os recursos viabilizados por IA incluídos na Adobe Commerce para ativar os dados do cliente e personalizar a descoberta de produtos, o conteúdo e as promoções.
A Adobe Commerce ajuda a personalizar experiências para aumentar as conversões em 10 vezes e o valor médio do pedido em 9 vezes†, com recursos como:
Use esta ferramenta de pesquisa avançada orientada por IA para apresentar rapidamente resultados de pesquisa inteligentes para compradores B2B e B2C.
Use algoritmos de classificação por IA para otimizar a ordem dos produtos nos resultados de pesquisa de cada cliente.
Ofereça recomendações de produto personalizadas e instantâneas com base no comportamento do comprador, na popularidade e muito mais.
Conteúdo e promoções definidos por segmento
Crie segmentos de cliente baseados em regras que acionam conteúdo e promoções direcionados.
*"Embrace Meaningful Personalization to Maximize Growth", Deloitte Digital, julho de 2022 †"Failure to Scale: The State of Personalization in Retail and Travel", Incisiv e Adobe, julho de 2021
As estatísticas falam por si só.
Marcas do mundo todo estão crescendo com a Adobe.
Somente a Adobe oferece integrações para personalizar ainda mais.
Remova dados de silos, desenvolva jornadas personalizadas e analise inúmeros testes com a adição dos aplicativos da Adobe Experience Cloud, incluindo:
Adobe Real-Time CDP para fornecer conteúdo e promoções personalizados no site em tempo real.
Adobe Target para otimizar e testar todas as partes da experiência de e-commerce.
Adobe Journey Optimizer para desenvolver jornadas personalizadas individuais entre canais e dispositivos.
Adobe Customer Journey Analytics para entender melhor as jornadas dos clientes com análise personalizada.