Generative AI For Business
Higher project velocity. Simpler marketing processes. And so much more — all with Sensei GenAI as your co-pilot, now part of Experience Cloud.
Adobe generative AI is evolving how customers experience your brand.
As a leader and a visionary in artificial intelligence, we know generative AI has the potential to reshape every aspect of marketing — from planning to execution to analysis. With Adobe Sensei GenAI — our new AI technology — customer experience teams will use natively embedded generative AI to amplify their expertise and deliver more accurate and personal customer journeys. 
Create multi-faceted experiences that are campaign and channel-specific using Sensei GenAI to bring customer data and content together at scale. 
Integrated generative AI in Experience Cloud accelerates experience creation, delivery, and measurement.
Meet the needs for enterprise security, privacy, and compliance, while providing guardrails for brand standards and ethical biases.  
Be confident your content is safe for public and commercial use knowing Adobe-generated content uses licensed Adobe Stock and public domain images.
Here's what's on the horizon with Sensei GenAI.
Put asset creation — and every variation —on autopilot.
AI has always been a fantastic feature of Adobe Experience Manager Assets. The addition of Sensei GenAI lets you create, variate, and scale like never before. 
Text to image – Use natural language prompts to generate images and assets.
Text effects – Stylize and create text effects using your unique descriptions.
Asset styles and variations – Instantly generate content variations, changing components such as colors, objects, and scenery.
Use and reuse – Resize and adapt content to use across channels, including web, social, email, and mobile.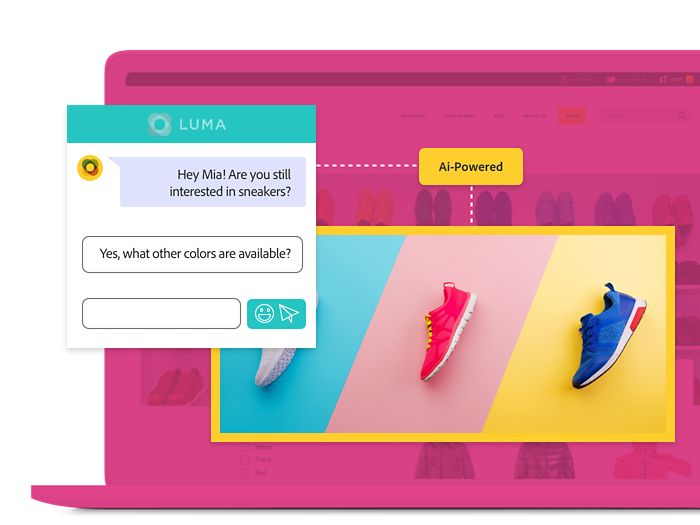 Generative AI to align marketing and sales. 
Sensei GenAI in Adobe Marketo Engage aligns marketing and sales teams with real-time conversational experiences that drive faster time to market, increased pipeline, and more calendared meetings.
Generative chat – Turn your chatbot into a brand ambassador as it answers questions in a natural, contextual way that's infused with your brand's personality and tone.
Conversation summary – Prepare sales agents for meetings and live chat by providing them with conversation summaries that include customer intent, topics discussed, content shared, and campaign goals. 
Conversation and dialog assist – Automatically generate a full library of topics, questions, and responses for your generative chat and for use by sales reps during live chat conversations.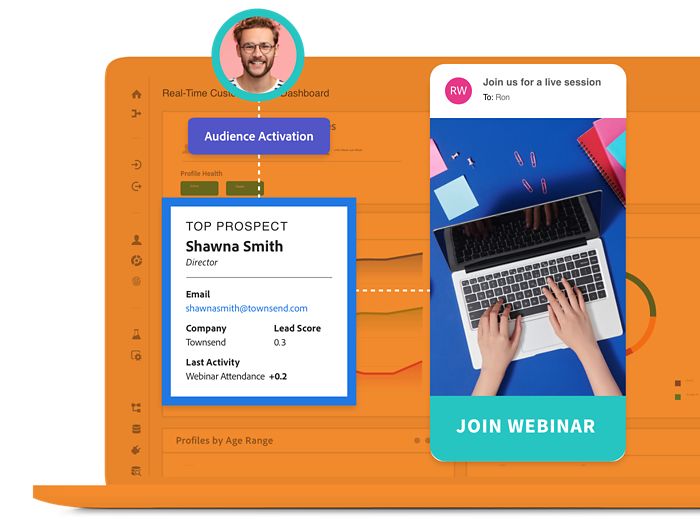 Use real-time profiles and generate new opportunities.
Natural language tools in Adobe Real-Time CDP help teams identify and reach new audiences and meet marketing goals. 
Audience creation and activation – Use Sensei GenAI to ideate and discover missed segmentation opportunities and to suggest and automatically create new audiences.
Generative playbooks – Enhance use-case templates by simulating customer journeys based on past campaign performance and profile preferences. 
Segment refinement – Use conversational insights to continuously integrate and improve audience definitions and outcomes.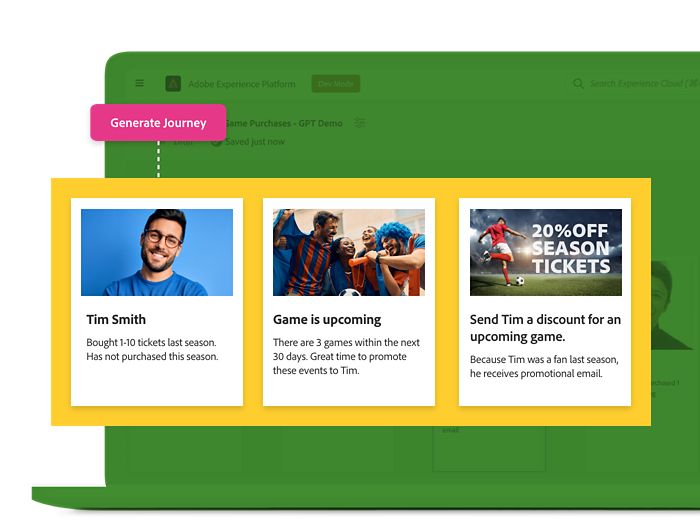 Invite generative AI into your customer journeys.
Get AI-enhanced capabilities in Adobe Journey Optimizer that are trained on customer journeys, offers, and experience events to increase engagement with customers. 
Journey creation with use-case playbooks – Generate journeys with out-of-the-box templates organized by objective, industry, and persona.
Omnichannel content – Generate multi-channel content using Adobe Firefly with security and ethics in mind.
Copy generation – Automate on-brand copy within the message designer and get recommendations to drive the best outcomes.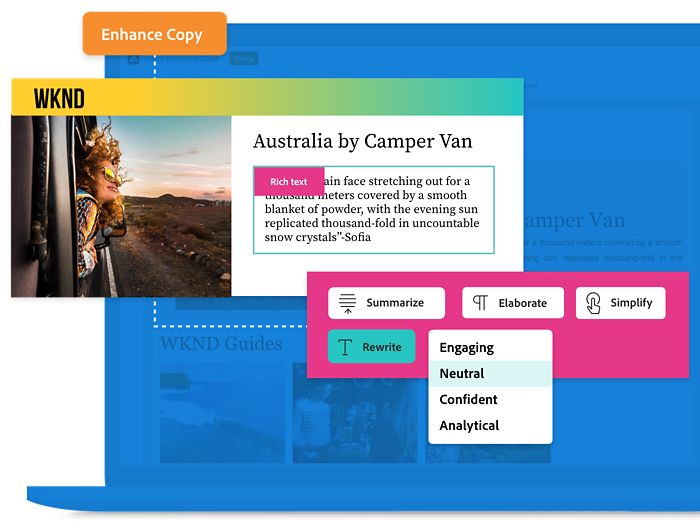 Immersive experiences heightened with intelligence. 
Sensei GenAI for Adobe Experience Manager Sites provides tools for on-brand copywriting and text summarization, all within the editing interface. 
Experience Manager Sites universal editor – Use tools for copywriting, re-writing, summarization, and tone of voice changes in the in-context editor.
Content variations – Create content variations at scale that optimize performance for any persona across all channels. 
Content styling – Use Sensei GenAI to create content that incorporates brand tone of voice, up-to-date product information, and customer profiles and behaviors.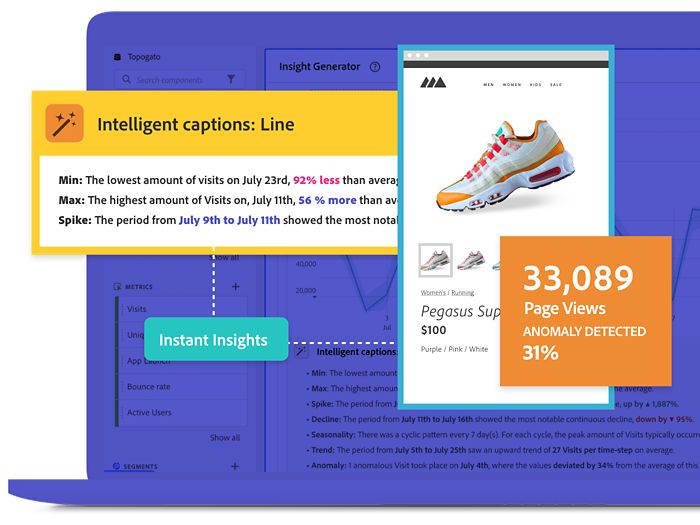 Sophisticated cross-channel insights simplified with AI workflows.
Customer Journey Analytics brings together cross-channel insights to help marketers see roadblocks and uncover engagement opportunities. Generative AI will power intelligent captions for visualizations, giving brands instant insight.
Intelligent Captions – Generate natural language insights that let teams capture the power of data storytelling.
Trend spotter – Quickly surface trends within line visualization. 

Text-based insights – Get contextual insights instantly, empowering even novice users to confidently extract insights.
Get to know the new family of creative generative AI models coming to Adobe.