Adobe Learning Manager features
Learning Manager is packed with features that make learning engaging and effective so you can boost customer satisfaction, train employees and franchisee partners, and empower sales teams.

Now integrate Adobe Learning Manager courses right within Adobe Experience Manager (AEM) Sites* by taking advantage of the new learning component or integrate it with any CMS using the 'headless LMS' feature. Elements of the learner home page such as My Learning and course recommendations can automatically be synched to your front end without any extra effort.
* to be purchased separately
Give a new brand to your learning academy. You can customise the domain name to be consistent with your organisational brand presence on the web.
Deliver an immersive content browsing experience in both native and headless environments. Present course tiles and descriptions in both logged-in and non-logged-in states for learners to browse and register.
Deliver a seamless content consumption experience through Fluidic Player. Fluidic Player allows learners to engage with courses without worrying about formats. Use any standard content format from one single window and customise the Player to match your brand requirements.
Embrace the future of work by giving your teams the flexibility to learn, virtually and in classrooms. Give learners a complete view of the upcoming in-person and virtual sessions through an interactive calendar on their homepage — and allow them to switch between sessions.
Conduct your live classes straight from the learning platform through out-of-the-box integrations with MS Teams and Adobe Connect. Integrate other popular web and video conferencing tools through simple API-based connectors.
Learn seamlessly on mobile or desktop without losing progress. bookmark content, receive notifications and learn on the go. Scan Adobe Learning Manager QR codes to enrol, mark attendance and complete courses using any QR code scanning app or smartphone camera.
Drag-and-drop widgets let you customise learner home pages, providing them with an overview of completed, pending and recommended courses, as well as badges and other milestone markers.
Deliver courses to the home page of specific learner cohorts based on organisational or functional priorities.
Take advantage of the AI-powered recommendation engine and suggest learning programmes to users within their landing page. The recommendation logic is based on implicit employee traits drawn from other enterprise HR systems, lookalike traits populated from an extensive resume and skills database and explicit interests gathered from user input.

Users can browse their feed and see courses that are trending among their peers. Admins can also populate courses into a user's feed.
Use data collected from your learning platform to target customers and partner with automated marketing campaigns using the Adobe Marketo Engage integration.
* to be purchased separately
Artificial intelligence (AI) and machine learning (ML) help you to create a unique learning experience for each user, ensuring that engaging, valuable courses are always front and centre.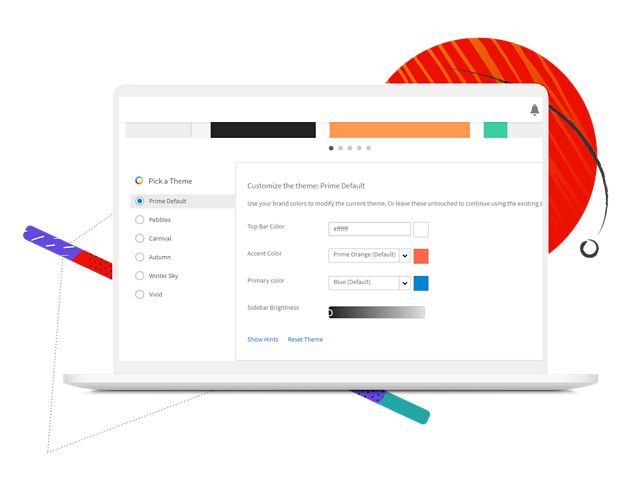 Structured learning management
Design customised educational programmes that quickly onboard new customers or train employees, ensuring that your users are learning what they need to, when they need to.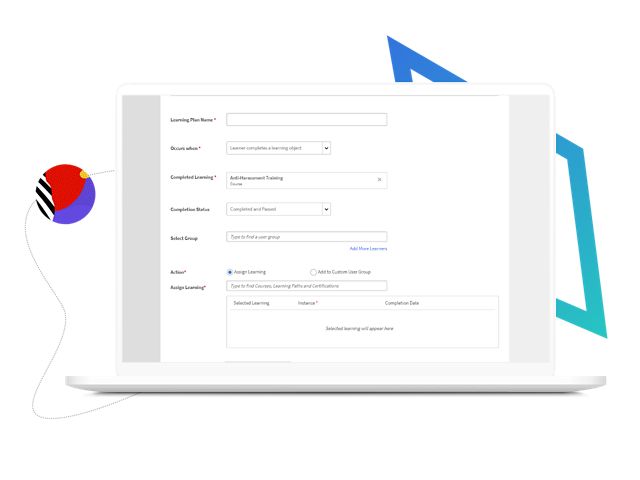 Create learning journeys to help learners demonstrate mastery of a subject. Customise optional or mandatory topical learning paths to guide learners through different courses.
Help close skill gaps, develop new skills and track how skill enhancement impacts on-the-job performance of your employees. Ensure that your training initiatives are completely aligned with business objectives for best results.
Auto-assign learning programmes to users and recommend content based on their previous learning activity.
Access top-notch learning programmes from an extensive course library, ranging from soft skills to Adobe Creative Cloud to business, sales and leadership modules.
* to be purchased separately
Make reference content accessible to learners without having to enrol in a third-party course or learning programme.
Give departments, divisions or clients their own instance of the LMS, which they can customise, brand, administer and manage while sharing seats, catalogues or reports.
Combine modules to create customised courses, learning programmes and curricula. Automatic version control keeps your learning content updated.
Give your teams a more rewarding, engaging way to learn through points, badges and certifications that foster a culture of continuous improvement.
Give learners the chance to show off their new skills and see what's happening within peer groups on social-style, topic-based discussion boards that are automatically curated with the help of AI and ML.
Learners can keep track of upcoming training sessions and other learning activities on their calendar, which can be customised by admins using the calendar widget.
Keep your learners informed about new courses or learning milestones with targeted emails, announcements and timely notifications.
Ensure that your learners have met the necessary success criteria by providing certifications for learning programmes. Reassign programmes or certifications when they expire.
Seamless communication and engagement
Keep learning top of mind for customers and employees alike with highly engaging gamification tools and easy-to-use notification options.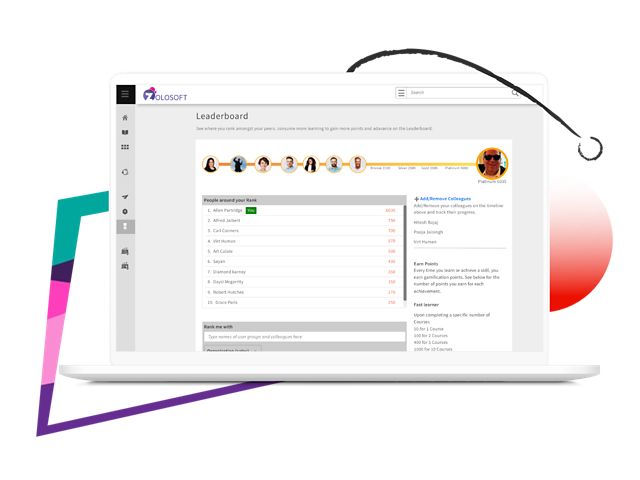 Get a clear picture of your team's progress to measure mastery of assigned materials as well as compliance across the organisation.
Managers can track their team's learning progress with comprehensive team performance reports.
Take advantage of an array of reporting tools to track the progress, interests and skills of your learners through comprehensive analytics. Customise your reports based on a range of parameters.
Get a consolidated view of your organisation's performance against upcoming deadlines to maintain a team that's 100% compliant and always audit-ready.
Managers and admins can create reports and transcripts to help track team and individual progress through learning programmes.
Ensure that managers are always informed of their team's progress. Set up report suites based on organisational roles.
Evaluate the quality and response of your course by collecting learner feedback based on Kirkpatrick's levels.
Optimise your resource capacity with Instructor Utilisation Reports.
Manage external and internal users separately using the segregated view. Create user-groups automatically based on unique identifiable attributes and assign courses. Move users across groups and nominate group managers.
Enable enterprise log in support with single sign-on through SAML using external identity providers (IdPs) such as Okta, OneLogin, Oracle Identity Federation (OIF) and Microsoft Active Directory Federation Services. Adobe Learning Manager is compatible with all external IdPs that support SAML 2.0. Learning Manager can also support multiple types of user groups with multiple SSO configurations for both internal and external users.
Capture and consolidate all formal and informal learning data into a single view using xAPI statements and the built in Learning Record Store (LRS).
Migrate your existing learning management system users, content and learning data with ease to Adobe Learning Manager with zero downtime for your learners.
Synchronise information flow between Learning Manager and Workday to import users and auto-enrol them into relevant learning programmes with the built-in Workday integration.
Integrate easily with Adobe Commerce to sell courses to your customers and partners.
Users can buy and take classes from third-party content providers — such as LinkedIn Learning (formerly Lynda), Harvard ManageMentor and getAbstract — all within the learning platform.
Train sales teams more efficiently with convenient access to assigned courses and upcoming tasks right within Salesforce using the built-in integration.
Publish learning content on Learning Manager using a single click right from the Adobe Captivate authoring platform.
Learning Manager comes with the assurance of best-in-class performance and security with Akamai CDN, Brightcove, FedRAMP security Certification AND SOC2 TYPE 2 certifications.
Access learning content within Microsoft Teams with the new Adobe Learning Manager app. Share content in seconds, receive actionable notifications and stay on top of your assignments with the Activity Feed.
Simple administration and integration
Orchestrate multiple learning programmes from a single location and ensure a frictionless experience.