Why Marketing Automation Is A Must-Have In Every Marketer's Toolbox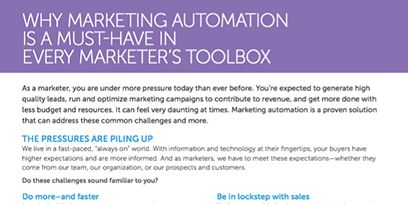 ---
As marketers, we have to meet rising expectations—whether they come from our team, our organization, or our prospects and customers. You're expected to generate high quality leads, run and optimize marketing campaigns to contribute to revenue, and get more done with less budget and resources—and that can feel daunting at times.
To succeed, you need a platform that helps you communicate and engage with your customers throughout their journey, one that integrates well with other complementary technologies. And that's where a complete marketing automation platform comes to the rescue.
Download this cheat sheet to learn how marketing automation can enable you to:
Focus on the right buyers
Align sales and marketing
Reach buyers wherever they are
Achieve new levels of efficiency
Measure marketing performance throughout a buyer's lifecycle
Please share some contact information to download the article.