DATA PRIVACY AND SECURITY
Secure AND accessible customer data? Marketers are lining up.
Yes, it's possible to earn trust, comply with regulations and policies and get the insights you need to deliver the personalised experiences that move your customers — and your business.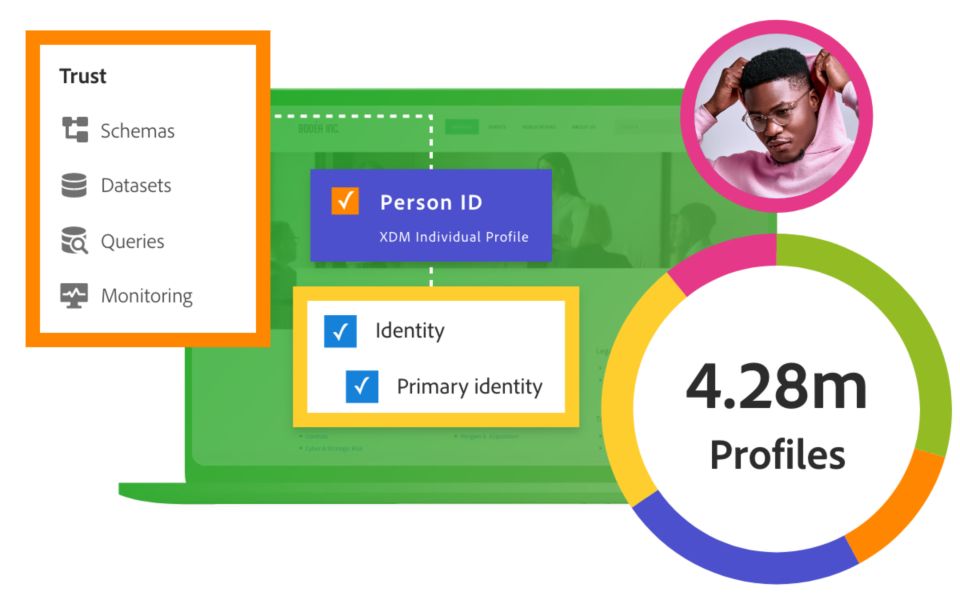 We built Adobe Experience Platform so you can build trust.
When it comes to customer relationships, data responsibility is the price of admission. Experience Platform gives you industry-leading, patented data governance tools so you can honour customer privacy requests, meet policy and regulation requirements and still give Experience Makers across your organisation the insights they need to deliver the best.
Centralised trust management.
One place to manage privacy, security and governance and extend controls across Experience Platform-powered products.
Empowered data stewards across IT, Security and marketing saves time and resources in compliance management.
A future-ready architecture.
A powerful, extensible architecture purpose built to meet future privacy regulations.
Automatically prevent policy-prohibited data usage and alert team members of unintended data misuse.
Flexible data management.
Customised labels and policies let you govern experience data to meet your business needs.
REST APIs can be used to apply the Experience Platform data governance framework directly in Platform powered applications.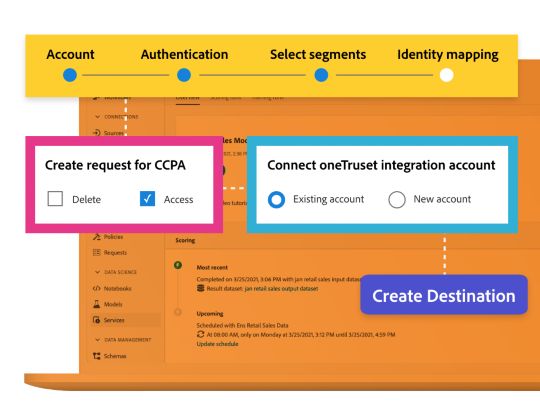 Understand and act on customer privacy requests.
Adobe Experience Platform gives you the rich foundational privacy capabilities you need to create personalised experiences while respecting customer privacy.
Manage customer data requests around privacy regulations such as GDPR, CCPA and CPRA efficiently.
Integrate with third-party consent platforms such as OneTrust to gather and honour customer consent at every step of the journey.
Use automated workflows and enterprise-scale consent capabilities built specifically for privacy conscious brands and highly-regulated industries.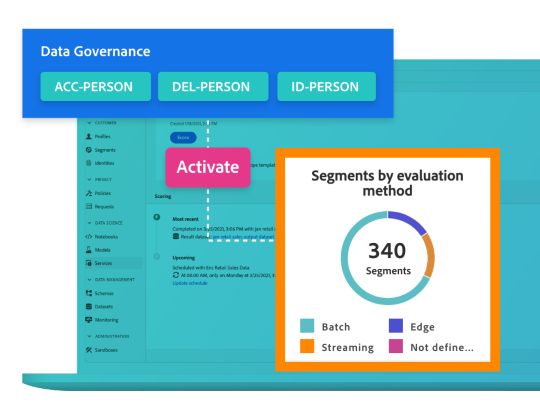 A first-of-its-kind data governance framework. Built for the enterprise.
Reduce the risks of data management with patented tools that let you classify, manage and enforce the who, what and how data gets used across the enterprise.
Take charge of who can access and use what data with administrative and access controls.
Create data usage and consent policies tied to marketing actions and enforce them downstream, from segmentation to activation, with our patented Data Usage and Labelling framework.
Stay compliant with data usage policies and enforce data minimisation practices by removing data that is no longer directly relevant and necessary.
Use activity audit-supported workflows as well as self-service audit logs for accountability and visibility around activities in the system.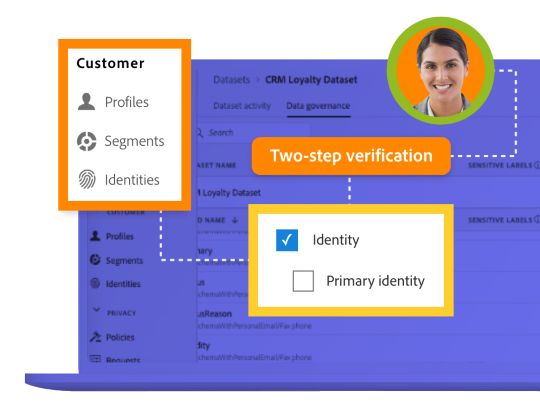 Data protected with secured infrastructure components.
Adobe Experience Platform was built from the ground up with principles of security by design. This means it's built on a hardened, scalable infrastructure that provides foundational and advanced security capabilities.
Know that all you data is secure. With Experience Platform, data is encrypted in transit and at rest.
Empowers customers to manage data-at-rest encryption by also providing access to key management.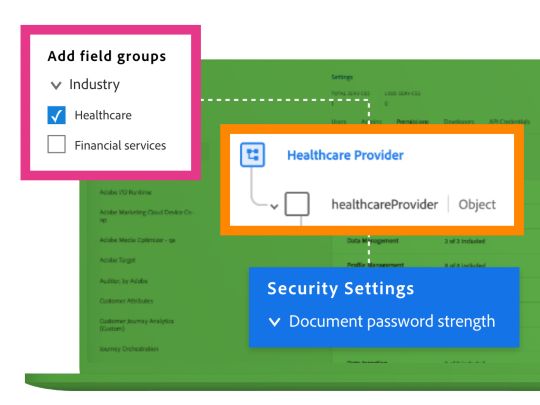 Capabilities built just for regulated industries.
Capabilities built to help regulated industries such as healthcare and financial services provide the best experience for their customers while still meeting their obligations.
Leverage HIPAA-compliant capabilities and still provide personalise experiences for their members and consumers.
Keep sensitive data secure while giving Experience Makers the data they need to provide relevant experiences.
Provide specialised offerings that help healthcare covered entities and business associates.
Continuous data monitoring. 24-7 service.
Rest easy knowing your data is in good hands and help is always there. Adobe operations teams monitor and respond to activities and events 24/7. And our security practices and policies are some of the highest in the industry.
Here's a deeper look at Adobe Experience Platform Trust capabilities.
Manage privacy and consent.
Experience Platform lets you monitor and respond to your customers' data access and delete requests under relevant privacy regulations, including CCPA and GDPR. You can also manage and enforce consent policies.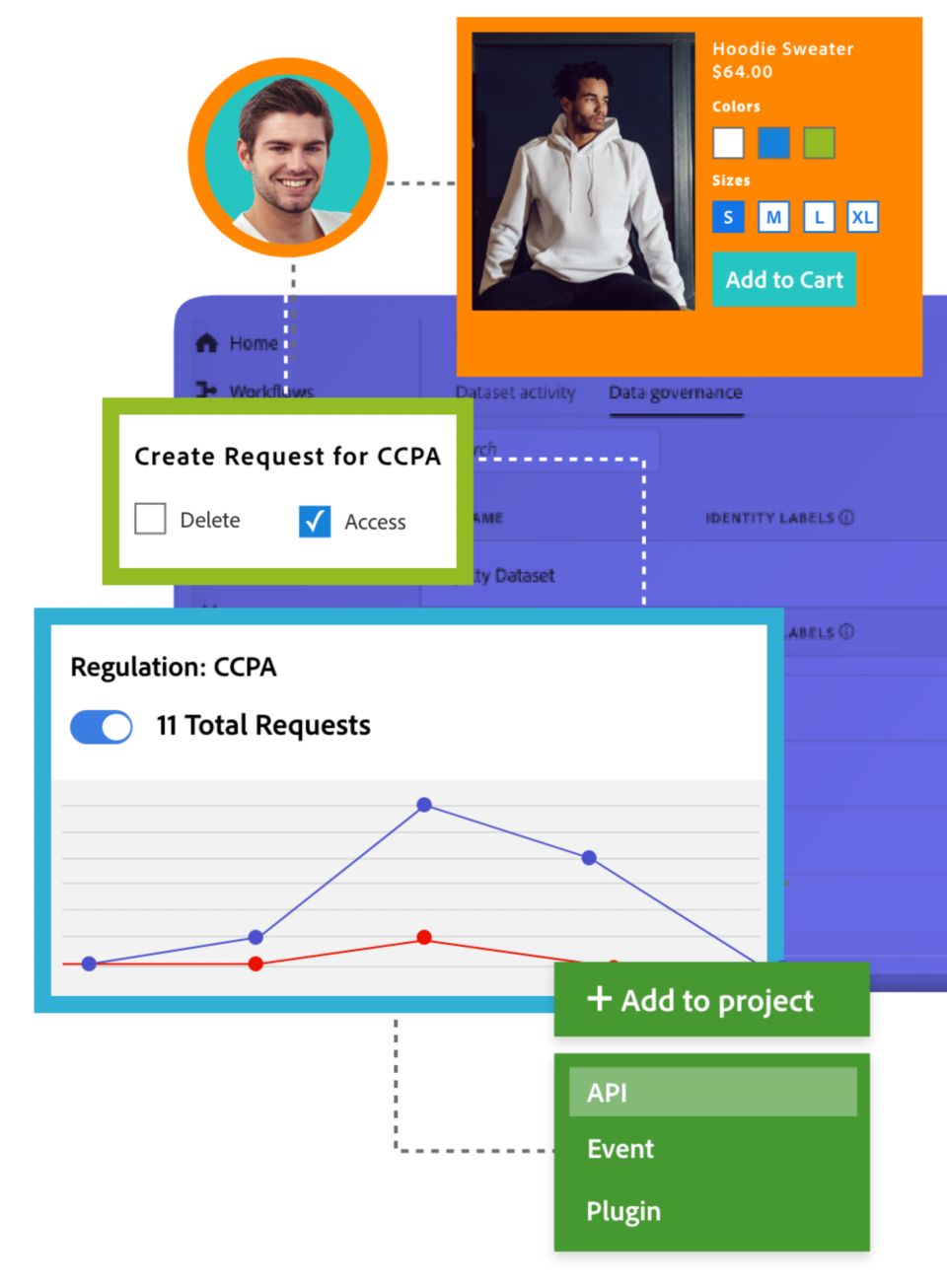 Execute data access and delete requests and obtain job detail information and metrics using a visual UI designed for one-off requests without requiring implementation.
Identify and label data types that should be referenced in a data access or delete request so that the right data can be submitted to Adobe Experience Cloud for processing. 
Deploy our privacy ID retrieval tag on form pages where individuals submit data access or delete requests to capture user IDs and include them in your Privacy Service API call for processing.
Take advantage of our prebuilt integrations — available through Experience Platform Launch — with consent management solutions like Evidon, OneTrust and TrustArc to help you to manage consents.
Enforce data usage policies at the consumer level automatically, with customised usage policies and data labels through automated consent policy enforcement.
Eliminate risk of activating customer data that violates internal and external policies.
Reduce manual effort: Use automation to remove overhead from marketers.
Leverage APIs and the UI to manage organisational policies to honour consumer consent or preferences
One framework for enterprise data governance.
Keeping track of your data and making sure it's used appropriately is a tall order. With Adobe Experience Platform Data Governance — a first-of-its-kind data governance and management framework — you have the power to classify, manage and enforce how your data should be used across the enterprise — so you can use data more responsibly and build customer trust.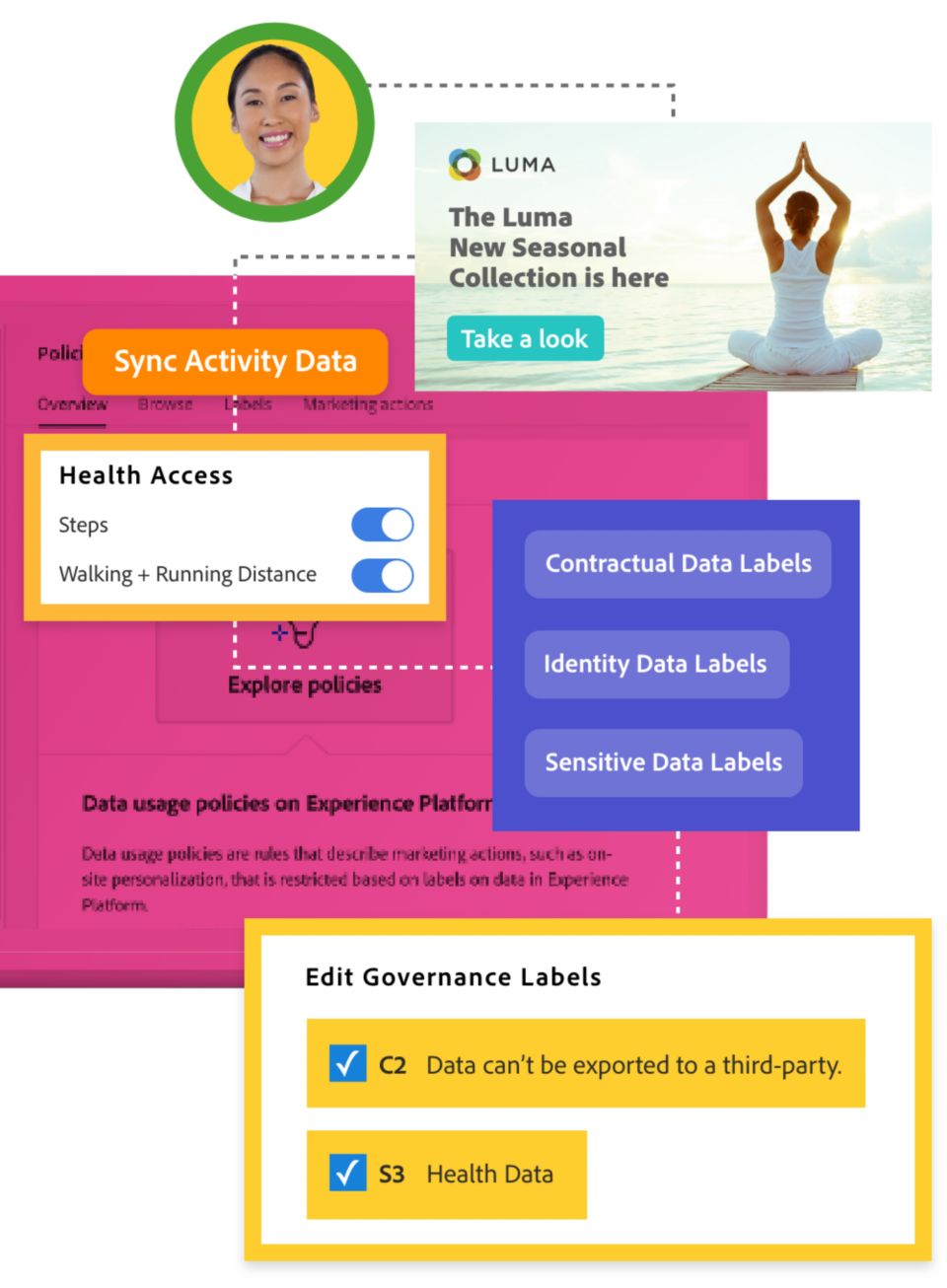 Use API-first sandboxes to virtually partition a single instance of Experience Platform, allowing you to contain multiple initiatives, production or development focused, within their own boundaries.
Manage users' access and permissions to use Platform workflows, data and resources based on business needs.
Apply specific labels to classify data based on governance and compliance needs. This includes out-of-the-box contractual, identity and sensitive data labels. You can also create customised data labels.
Labels are automatically inherited based on lineage of experience data source by segmentation and activation workflows. Labels applied at the dataset level are inherited by all fields in the dataset.
Create, manage and communicate data usage policies, including policy templates, customised policies, audit of data usage and integration-ready APIs.
Enforce data usage policies within data usage workflows. Out-of-the-box enforcement capabilities are provided in data activation workflows native to Experience Platform. Customised applications on Experience Platform can define their own enforcement workflows to warn or restrict data usage.
See how intended data usage may violate policies. Also, perform comprehensive lineage analyses and receive recommendations on how to comply with policies.
All our functionalities are available via REST-based APIs. Use those APIs to leverage Experience Platform's data governance framework directly in your applications
Data lifecycle management features help you to succeed in managing the desired data lifecycle by preparing, editing and deleting data. Enforce data minimisation practices by removing data that is no longer directly relevant and necessary in accomplishing a purpose and adhere to customer data handling best practices.
An infrastructure for powerful security.
Adobe Experience Platform is built with security in mind from the beginning. Its robust framework includes several features that help keep your data secure so you can focus on creating the best customer experiences possible.
Experience Platform encrypts data at rest by default, utilising Microsoft Azure storage encryption.
Combining industry-best practices and the Microsoft Azure network security, Experience Platform delivers the secure infrastructure you need to deliver experiences at the speed of business.
The Adobe Secure Product Lifecycle (SPLC) is a framework of processes and measures to ensure that our products are developed, reviewed, tested and released according to secure development standards.
Security certificates and regulatory support.
We're dedicated to providing safe, secure environments for your data, which is why Adobe Experience Platform has been certified to comply with several global industry standards. We also provide tools and features to help you with your compliance obligations under certain regulations, like GDPR for data stored in Experience Platform.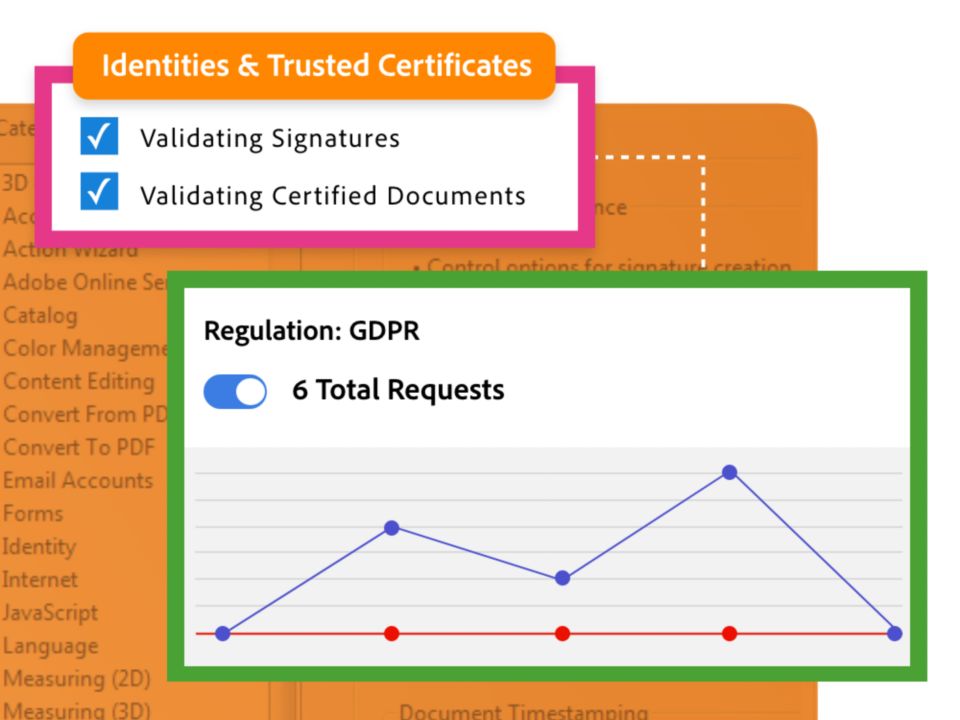 You have added flexibility to bring and use your own encryption keys (from your Microsoft Azure Key Vault) instead of the system managed keys available out of the box for encrypting data at rest. Take complete control over your data encryption and who has access to your data.
This certification reports on the design and operating effectiveness of controls over the previous 12 months. Controls tested are relevant to security, availability, confidentiality, privacy and processing integrity.
This certification demonstrates systematic management of information security risks that affect confidentiality, integrity and availability of Adobe services and customer information.
Adobe Experience Platform Privacy Service helps you to manage and respond to GDPR data subject requests you receive for data you've stored and processed in Experience Platform and supported Adobe Experience Cloud products.