ADOBE  EXPERIENCE  MANAGER  SCREENS
Intelligente digitale borden bieden werkelijke omnichannel personalisatie.
Verbind online en in-venue ervaringen naadloos met Experience Manager Screens: digitale borden die zijn gebaseerd op het beste platform voor het beheren van content en ervaringen.
Adobe Experience Manager Screens as a Cloud Service is nu beschikbaar.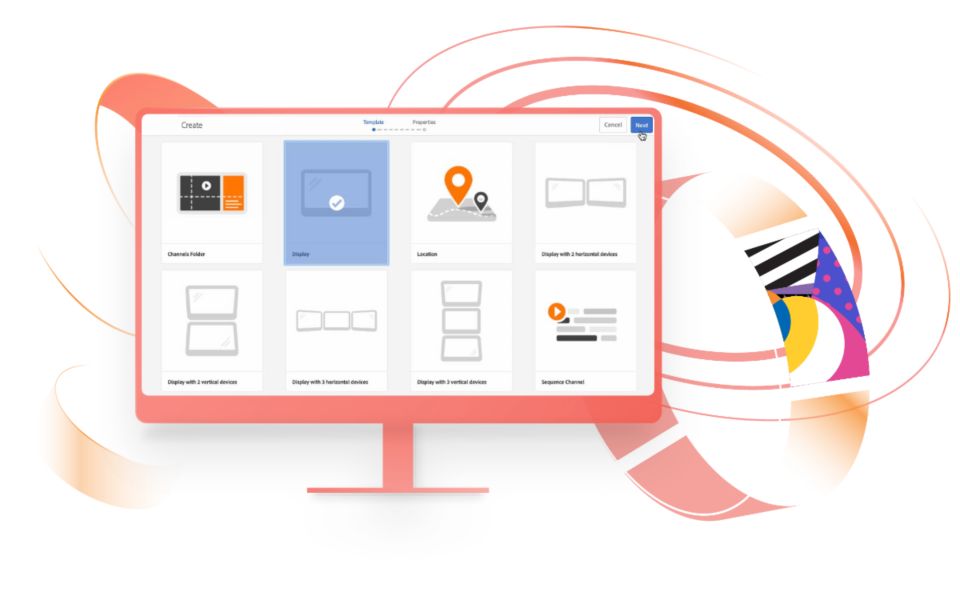 Adobe Experience Manager Screens – Digitale borden voor ervaringen
Dynamische digitale menuborden
Dynamische menu's kunnen worden aangepast aan het tijdstip en de locatie, en worden geoptimaliseerd op basis van klantdata.
Op kantoor kunnen borden worden gebruikt om doelstellingen bij te houden, werknemers in real-time te informeren en lokaal of bedrijfsbreed nieuws te delen.
In winkels kunnen borden de laatste productinformatie tonen, aangeven wat niet op voorraad is en aanvullende producten aanbevelen.
Bied klanten betere winkelervaringen met kiosken die worden bijgewerkt op basis van gebruikersgedrag en on-site triggers.
Kaarten, bewegwijzering, ticketaankopen, updates en meer
Help klanten om hun weg te vinden, tickets te kopen, in te checken of gepersonaliseerde updates en informatie te zoeken.
Trek klanten aan met borden in etalages, die eenvoudig aanpasbaar zijn voor actuele promoties en evenementen.
Wij transformeren digitale ervaringen op openbare plaatsen voor 's werelds topmerken
Nu digitale borden veranderen in een essentieel onderdeel van het klanttraject en selfservicetransacties in opkomst zijn, wenden bedrijven zich tot Adobe voor borden die slimme, dynamische content kunnen leveren en schaalbare, real-time, gepersonaliseerde ervaringen bieden.
Dit maakt Experience Manager Screens anders
Responsieve, interactieve digitale borden
Gepersonaliseerde ervaringen met borden op basis van gedragsgegevens en demografische klantdata, alsmede interne metrics
Dynamische content reageert op data-evenementen, spraak, webcamtriggers en sensordata
Aanpasbaar aan locatie, tijdstip, veranderende interne data of externe condities en meer
---
Eenvoudige tools voor het creëren en publiceren van content
Centrale bibliotheek met herbruikbare digitale assets van het web, e-commerce, mobiele technologie en meer
Content- en ervaringsfragmenten waarmee online ervaringen geschikt worden gemaakt voor digitale borden
Dankzij authoringtools met kant-en-klare componenten en een drag-and-drop-interface kunnen teams snel publiceren zonder IT-ondersteuning
Een centraal contentmanagementsysteem stelt zowel de marketing als de lokale operationele teams in staat om snel merkconsistente ervaringen te creëren
Native integratie in Adobe Experience Manager Assets en Sites garandeert eenvoudige omnichannel merkconsistentie
---
Cloudgebaseerde schaalbaarheid en flexibiliteit
Gebaseerd op de cloud om de digitale borden eenvoudig uit te breiden
Updates en activering op basis van de lokale tijdzone
AI-ondersteunde workflows versnellen de productiviteit en maken de contentcreatie en levering schaalbaar
Eén platform voor het plannen en beheren van content op alle apparaten
Connectiviteit met analytics voor inzicht in de prestaties van borden
We hebben samengewerkt met een van de innovatiefste merken op het gebied van digitale borden zodat jij optimale in-venue ervaringen kunt bieden. Of het nu om volledig digitale schermen, kiosken of dynamische menu's gaat – en of ze binnen of buiten staan – Samsung en Adobe creëren het juiste netwerk voor jou.
Wij bieden compatibiliteit met al jouw hardware

---
Meer informatie over digitale borden en de klantervaring