Ga verder dan de voor de hand liggende vragen met diepgaande data-analyse.
Ook als het om data-inzichten gaat, loopt Adobe voorop. Als pionier op het gebied van data-analyse stelt Adobe productteams in staat dieper in de data te duiken om diepgaandere inzichten naar boven te halen. Analysis Workspace in Adobe Product Analytics biedt een breed scala aan data, waardoor je flexibel kunt opereren.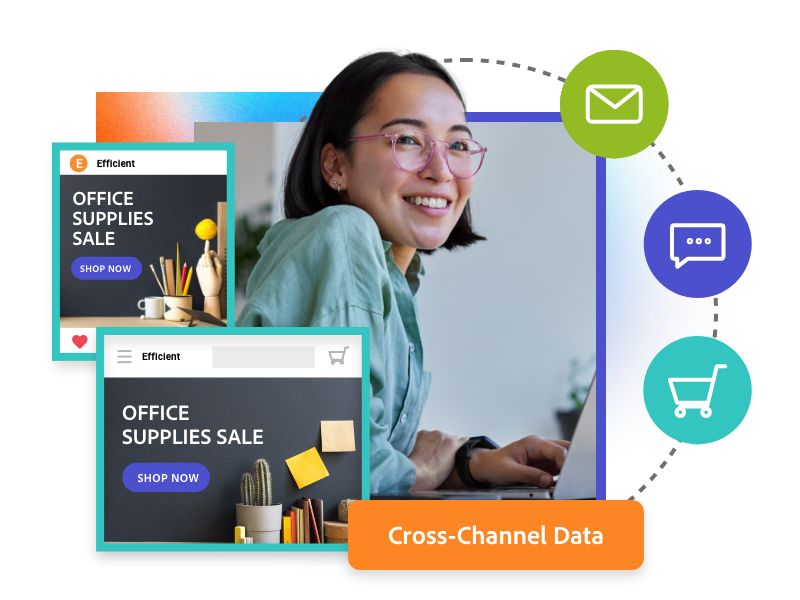 Kunnen jouw productteams de inzichten onder de oppervlakte naar boven halen?
Vandaag de dag hebben productteams doorgaans twee opties om aan de inzichten te komen die ze nodig hebben. Ze kunnen aanvragen naar de backlog van een analist sturen en wachten op omnichannel inzichten, of ze kunnen zelf inzichten vinden voor één digitaal kanaal.
Als productteams niet beschikken over selfservicefunctionaliteit, moeten ze dagen of zelfs weken wachten op de diepgaande inzichten die ze nodig hebben. En als ze vervolgvragen hebben, moeten ze vaak nog langer wachten. Dat resulteert in minder inzichten, minder datagestuurde beslissingen en minder mogelijkheden om de productervaring te verbeteren.
Als productteams beschikken over selfservicefunctionaliteit voor data, is dat vaak via een interface die alleen eenvoudige vragen over één dataset kan beantwoorden. Teams zijn niet in staat om zelf diepgaande analyses uit te voeren en ze hebben geen inzicht in de rol die hun product speelt in de bredere klantervaring.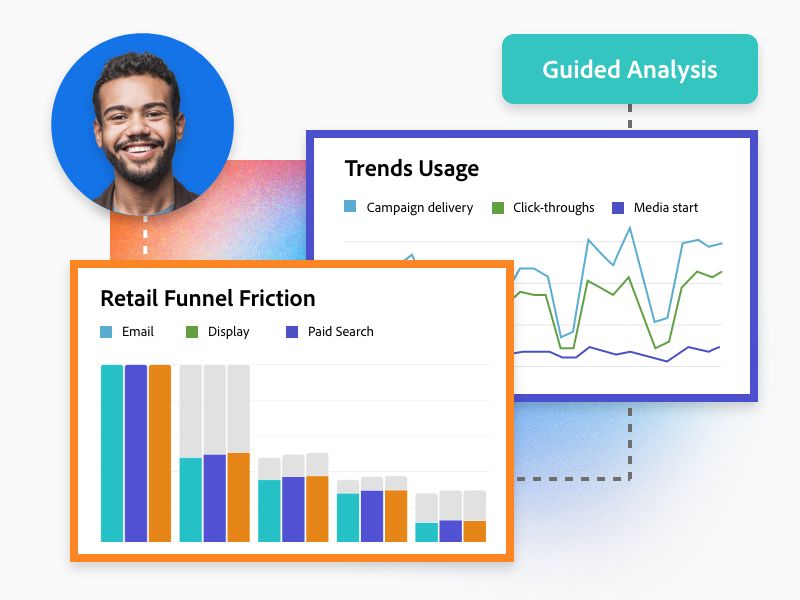 Met Product Analytics kun je veel meer doen dan alleen oppervlakkige vragen over data beantwoorden. Je kunt beginnen met een begeleide analyse via selfservice. Als je daarna nog dieper in de data wilt duiken, klik je op 'Open in Workspace' om je analyse over te brengen naar Analysis Workspace. Daar kun je de kracht van onze meest geavanceerde voorzieningen benutten om diepgaandere vragen te stellen en samen te werken met je analisten. Analysis Workspace (de krachtigste tool voor geavanceerde analyse in de branche) en de gebruiksvriendelijke begeleide analyses zijn krachtige tools waarmee alle gebruikers de inzichten kunnen krijgen die ze nodig hebben.
Ontdek hoe diepgaande data in de praktijk wordt ingezet.
A Party of 3: Insights for Analysts, Marketers & Product Teams
Ontdek hoe productteams dankzij geïntegreerde werkstromen, data en klantprofielen nauw kunnen samenwerken met hun marketing- en CX-collega's om via alle kanalen gecoördineerde gepersonaliseerde ervaringen te bieden.