EDUCATION
The student experience doesn't start on campus, it starts online.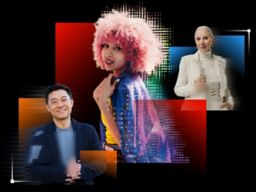 Catch up on the 2023 digital trends.
Learn why a creative approach will help you to keep up with the ever-changing needs of customers and how it's done in the 2023 Adobe Digital Trends report.
Prep your university and your students for the future.
From admissions marketing to student retention to alumni engagement, only Adobe handles the multiple challenges facing higher education. Your school represents a lifetime brand. Our tools help you live up to that promise by delivering exceptional experiences to increase applications for enrolment, graduation rates and fundraising efforts. And when you infuse our applications like video and web design into your curriculum, you create a digitally-literate student population. One that differentiates your university and is ready for the future.
Your K-12 students are digital. Make sure you are, too.
Kids today live and breathe technology. We can help you to develop media-rich coursework to keep them engaged. But more importantly, Adobe Creative and Document Clouds provide students with first-hand experience using our digital creation tools — giving them practical skills while also developing critical thinking and communication skills. For education suppliers and independent schools, our digital marketing solutions will amplify lead-generation efforts, deliver consistent experiences and increase conversion.