ADOBE  EXPERIENCE  MANAGER  FORMS
Make digital enrollment a breeze with Experience Manager Forms.
Deliver personalized end-to-end digital onboarding and enrollment journeys to millions of customers with a cloud-native solution that's agile and scalable. 
Adobe Experience Manager Forms as a Cloud Service is now available.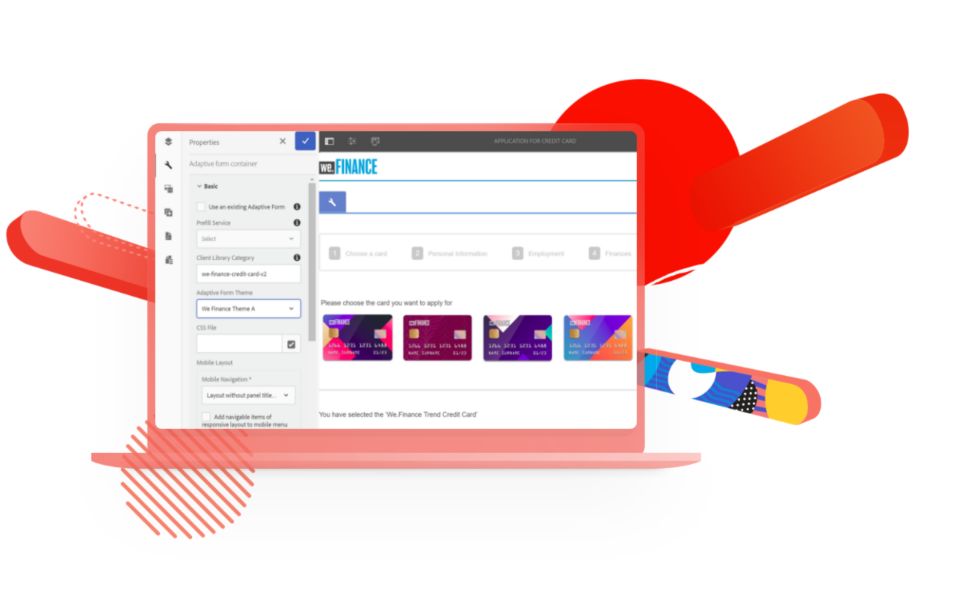 Responsive forms
We understand that the start of the journey matters. So our mobile-responsive forms and automated forms conversion make enrollment easy on any channel. Get details
Customer communications
We think every communication can be personal. So use powerful data integrations to automatically personalize your forms and communications. Get details
Scalable authoring
Enrollment should be easy from start to finish. With fragment-based authoring, reuse content to quickly build multiple forms or communications. Get details
Automate onboarding
We make end-to-end customer journeys faster. Responsive forms combine with smart, secure e-sign tools and automated workflows eliminate manual processes. Get details
Discover best practices for onboarding
Peek into the minds of consumers as they move through onboarding processes in our guide Mind Matters: The Psychology Behind Successful Onboarding and Communications.
A foundation of digital experience
Named a Leader in the 2022 Gartner Magic Quadrant for Digital Experience Platforms, we are a trusted partner who can support your digital transformation, not just with digital enrollment, but with documents, communications, and workflows that are beautifully designed, personalized, and engaging.
Personalization at scale
Customers expect communications that are timely, personalized and relevant. Combine data integrations, communications management, and advanced targeting and personalization to improve the experience of every customer interaction.
Cloud Service

Focus on innovating — instead of planning for version upgrades — by using our always current, scalable, and secure Cloud Service. New capabilities are seamlessly validated and automatically live, and the system auto-scales within seconds to propel your high-performing business.

"My long-term vision for Marin County is for us to become a paperless county. Adobe Experience Manager Forms was the first step in helping us offer convenient self-serve, online services for the public."
"Adobe Experience Manager Forms was a major force in simplifying how we interact with customers. We can cut seven-step processes down to four steps with more control over each form."