The business value of Adobe Experience Manager Forms.
It's never too early to see a return on your technology investment. IDC found that managing digital enrollment and customer communications with Adobe Experience Manager Forms can help you see value faster, no matter where you are in your digital transformation journey. 
The results are in.
Customers with Adobe Experience Manager Forms have realized significant ROI by streamlining multi-channel authoring across their digital enrollment and customer communication processes.
Successful digital enrollment requires investment.
IDC finds that users of Adobe Experience Manager Forms realize higher ROI, faster time to value, more productivity, faster onboarding, and lower form abandonment rate. 
ROI after 3 years.
IDC says participants realized significant ROI, and they will break even on their Experience Manager Forms investment in 13 months. 
savings per 100K forms.
These savings are based on higher form completion rates, less staff processing time, higher productivity, and reduced spend on paper and printing.
reduction in abandonment rate.
Mobile form access extends customer reach, provides a better experience, increases conversions, and grows revenue.
Digital Forms Maturity Model
Digital forms, documents, and communications are important elements of digital transformation. Discover which stage of maturity you're in and learn how to get one step closer to modernizing your workflows.
"Adobe Experience Manager Forms was a major force in simplifying how we interact with customers. We can cut seven-step processes down to four steps with more control over each form. Additionally, we output completed forms to PDF, giving the customer a copy to help ensure accuracy and add a layer of hands-on service."
Lizelle Vaughan, Program Director for Digital Experience Management, Nedbank
Nedbank looked to Adobe Experience Manager Forms to let customers complete forms on their favorite devices. Now, they're seeing incredible returns, including successful forms completion increasing from 33% to 80%.
We're a Leader in digital experience platforms.
We're proud to be named a Leader in the 2018 Gartner Magic Quadrant for Digital Experience Platforms. Read the report to see why Adobe is a Leader according to Gartner and why we believe Adobe Experience Manager best delivers rapidly adapting experiences across the entire customer journey.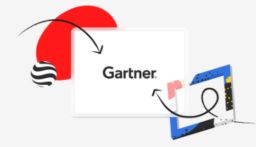 Deliver incredible digital experiences with a Leader.
Find out what makes Adobe a Leader in the 2022 Gartner Magic Quadrant™ for Digital Experience Platforms report.
Delivering ROI with personalized customer communications.
Learn how experience-driven customer communications can personalize your customer journeys, increase retention, and increase Customer Lifetime Value.