In addition to your website, you can design, deliver, and fine-tune all your digital displays — from interactive kiosks to digital signage — within the same platform. In-venue digital screens help raise customer interaction and deliver unified brand experiences into physical venues.

---
Make sure your message isn't just seen, it's experienced.
With more platforms and marketing avenues than ever, creating a cohesive, consistent, cross-channel experience can be a challenge. Between diverse touchpoints and the unique customer demands that come with key platforms, it's hard to maintain a unified brand presence, especially at scale.
Digital signage capabilities ensure complete consistency, no matter the location or the platform. Whether it's an interactive kiosk, in-market screen, or bank display, transform ordinary in-store shopping into engaging experiences that keep customers coming back. You can trigger the content on your screens by customer demographics or behavior, as well as sensor inputs or inventory to create dynamic experiences that foster loyalty with your brand. Plus, you can manage all your screens on the same platform as your web content, including personalization and analytics.

Reinvent in-store experiences

Use Adobe Experience Manager Screens to create digital signage for digital menu boards, product recommenders, interactive kiosks, wayfinding, branding, and more.

Create signs in less time

Build a digital signage experience in minutes, and then instantly publish content to your Experience Manager Screens player to get marketing campaigns in store faster — and to get faster results.

Increase engagement and conversions

It's easy to create new content for in-venue screens, enabling you to deliver even more relevant experiences to more consumers, instantly boosting dwell time and revenue.

Learn more about digital signage in Adobe Experience Manager Sites.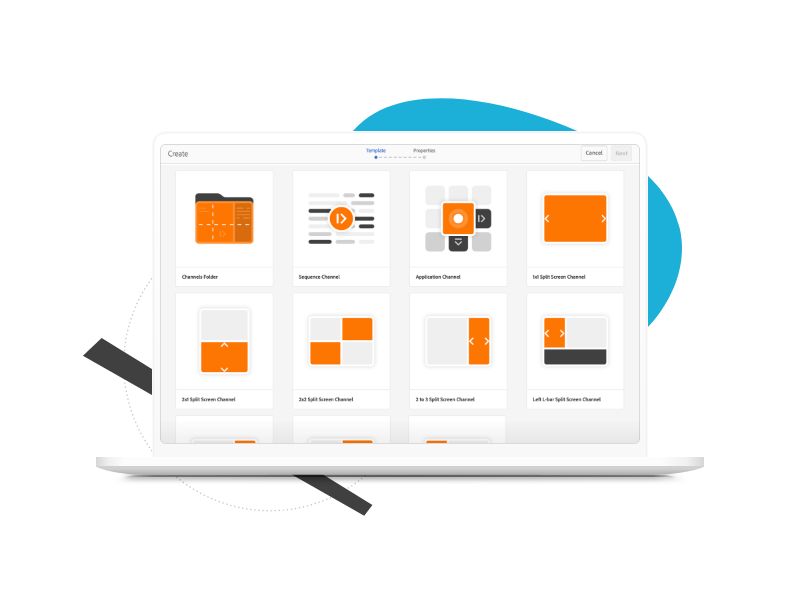 Engage customers on any screen.
Read how to create digital signage from web to mobile, banks to business centers, kiosks to display screens, and more in our Help section.

A unified platform for digital signage.
Caesars Entertainment turned to Adobe Experience Manager to drive smoother, more connected experiences for their digital signage.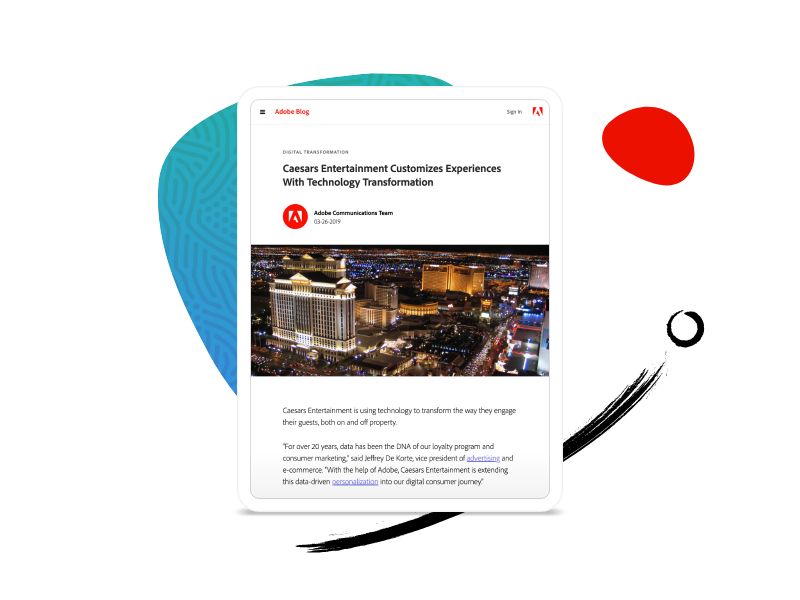 Deliver and measure branded, personalized shopping experiences across touchpoints using an open, extensive commerce API framework, as well as third-party commerce and fulfillment platforms with choice of prebuilt integrations.
Let users programmatically access the Experience Manager Sites content repository and get content for delivery to many third-party applications, including mobile apps, IoT apps, smart devices, and in-store screens.
Page-independent text and media make it easy to reuse copy and digital assets without having to cut and paste or rewrite content.