Target lead- en accountgebaseerde doelgroepen (opnieuw) via marketing- en paid-mediakanalen op basis van geschiktheid, intentie, betrokkenheid en CRM-activiteit om klanten nauwkeurig te bereiken.
---
Ga met je pitch direct naar de beslissers.
Zelfs de beste campagnes lopen op niets uit als je de juiste doelgroep niet bereikt. In plaats van te kiezen voor brede, demografische targeting, heb je tools nodig om cruciale persona's van accounts te vinden en gepersonaliseerde content te leveren die het meeste effect sorteert.
Adobe Marketo Engage brengt verkoop en marketing samen door leadmanagement en targetaccountbeheer in één oplossing te integreren. Gebruik één applicatie om eenvoudig lead- en accountdoelgroepen te targeten en te activeren via marketing- en paid-mediakanalen en Adobe Exchange™-programma's, ongeacht of het inkomende of accountgebaseerde marketing betreft. Je kunt zelfs anonieme gebruikers targeten en opnieuw targeten. Met native integraties met paid-mediakanalen zoals LinkedIn, Facebook Ads, Google AdWords kun je inzichten snel omzetten in actie — om gepersonaliseerde content te leveren die tot conversie leidt.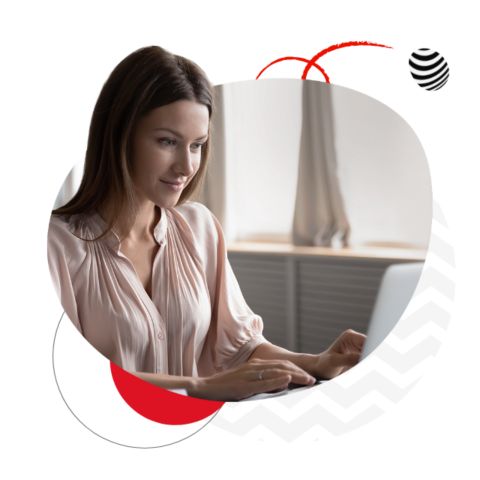 Kijk hoe deze functie werkt.
Native platformintegraties
Target doelgroepen, waaronder bekende en onbekende prospects, met native functionaliteit via Google AdWords, Facebook Ads en LinkedIn Campaign Manager. Personaliseer content, integreer formulieren om campagneacties te triggeren en importeer prestatiedata voor advertenties om de context en attributie te bekijken.

Je kunt specifieke beslissers binnen de kopersgroepen van targetaccounts aanpassen en targeten met klantpersona's. Gebruik personafiltering en -targeting om samen met de verkoopafdeling de betrokkenheid en penetratie voor accounts te verbeteren.
Geavanceerde lead- en accounttargeting
Ondersteun gelijktijdig je combinatie van lead- en accountgebaseerde strategieën met geavanceerde filters om zeer specifieke doelgroepen te targeten op basis van geschiktheid, intentie, betrokkenheid, CRM-activiteit, offline data en meer.
Gedragsgestuurde targeting
Verzamel gedragsdata via marketingautomatisering, CRM-systemen en meer om inzicht in de interesses en intenties van je klanten te krijgen, zodat je campagnes, berichten en productaanbevelingen op maat kunt maken.
Specifieke segmenten en doelgroepen
Maak zeer gerichte en dynamische doelgroepsegmenten die in real-time worden bijgewerkt ter ondersteuning van lead- en accountgebaseerde strategieën.

Lees meer over targeting in Marketo Engage.
Ontwikkel betere marketingstrategieën met behavioral targeting.
Gedragssignalen zeggen meer over intenties van kopers dan eenvoudige demografische kenmerken. Dit spiekbriefje geeft aan op welk gedrag je moet letten en hoe je marketingafdeling dit benut.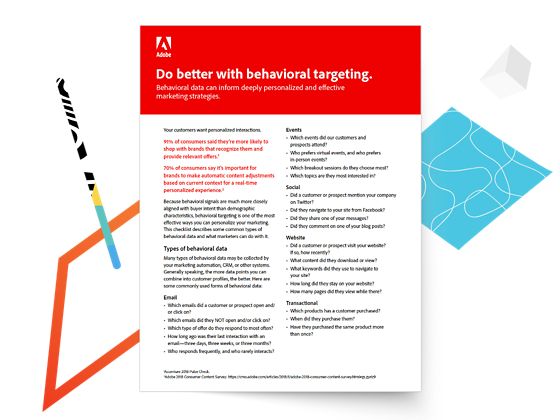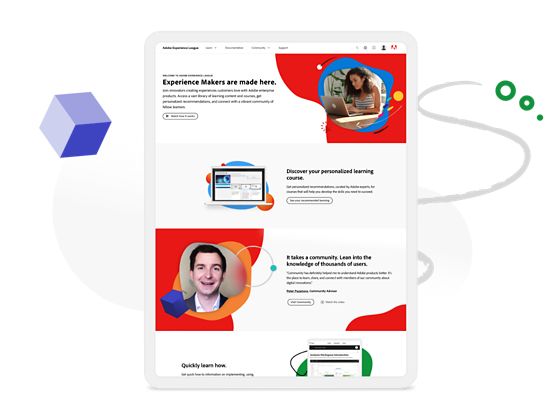 Coördineer de verkoop- en marketingafdeling om belangrijke accounts beter te benaderen.
Targetaccountbeheer overbrugt de kloof tussen accountgerichte strategie en uitvoering, zodat verkoop- en marketingteams hun inspanningen kunnen coördineren om de beslissers te bereiken. Ontvang stapsgewijze instructies voor targetaccountbeheer op Adobe Experience League.