Définissez des audiences de leads et de comptes extrêmement précises qui s'actualisent en temps réel pour proposer du contenu dynamique ultra ciblé qui améliore la conversion.
---
Développez des programmes de maturation des leads plus intelligents grâce à un ciblage très précis.
Votre audience est tout sauf monolithique. Pour nouer des liens authentiques avec la diversité des leads au sein d'une audience, vous devez identifier leurs différences et leurs singularités plutôt que leurs points communs. 
Adobe Marketo Engage vous permet de définir des segments d'audience ciblés qui s'actualisent en temps réel en fonction des interactions qui ont lieu au fil du parcours client. Vous pouvez créer des segments combinant des informations à la fois sur les profils et les étapes d'achat. Ces radiographies précises et instantanées de vos clients vous apportent tous les éléments nécessaires pour élaborer des programmes marketing dynamiques ciblés qui multiplient les interactions, les leads et les conversions. 
Découvrez les avantages de cette fonctionnalité.
Segmentation basée sur les attributs et le comportement
Isolez des audiences de leads et de comptes très précises pour lesquelles créer du contenu spécifique et authentique en appliquant des filtres avancés sur les profils, les comportements et d'autres données personnalisées.
Synchronisation des listes de comptes CRM
Faites le lien entre les ventes et le marketing grâce à la synchronisation bidirectionnelle des données entre vos CRM existants et vos listes de comptes, campagnes et données d'interaction actualisées. 
Actualisation des données d'interaction en temps réel
Configurez des workflows automatiques qui synchronisent des déclencheurs d'activité avec des audiences spécifiques et des données CRM. Les segments s'actualisent alors en temps réel en fonction des interactions des ventes, du marketing et des clients. 
Segmentation multidimensionnelle
Segmentez les audiences selon l'étape d'achat à laquelle elles se trouvent, les informations de profil partagées et le comportement.
Rapprochement automatique des leads et des comptes
Visualisez la pénétration actuelle des comptes cibles pour l'account-based marketing en associant automatiquement les leads aux comptes, et en déterminant ainsi le nombre de contacts authentifiés au sein de chaque groupe d'acheteurs.
Découvrez plus en détail la segmentation dans Marketo Engage.
Soignez vos profils pour optimiser vos segments.
Dans ce webinaire, découvrez tous les insights qui permettent de définir des segments d'audience ciblés et efficaces pour renforcer les interactions.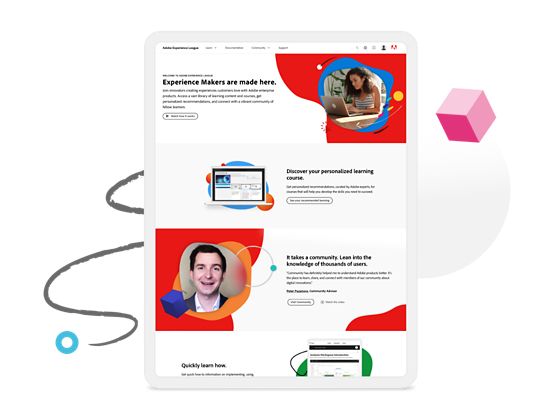 Créez facilement des segments dans Marketo Engage.
Adobe Experience League vous guide pas à pas pour créer des segments d'audience ultra ciblés. Découvrez à quel point cette opération est simple.  
Please make sure that the "dexter.base.react.umd" and "dexter.base.consonantcardcollection" clientlibs have been added to the template's Page Policy
Voyons ensemble comment Adobe Marketo Engage peut aider votre entreprise.