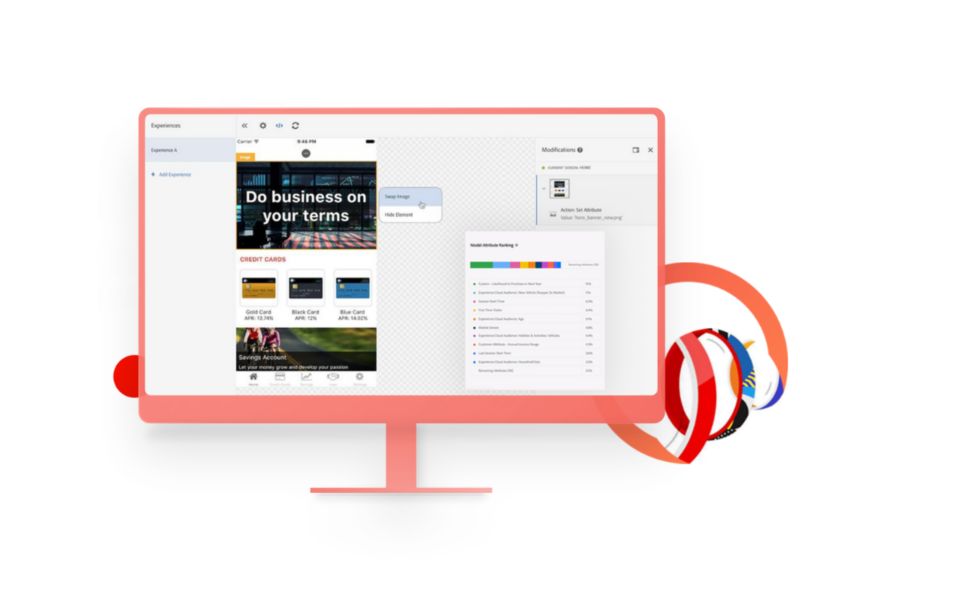 Prueba y optimiza cada experiencia en cualquier momento con Adobe Target.
Con Adobe Target, obtienes pruebas, personalización y automatización a escala de la experiencia del usuario con tecnología de inteligencia artificial, para que puedas encontrar al cliente idóneo entre un millón y ofrecerle lo que quiere.
Beneficios de Adobe Target
Forrester nombra a Adobe líder
Lee el reporte The Forrester Wave™: Digital Intelligence Platforms 2022 para descubrir cómo se integran Adobe Real-Time CDP, Adobe Target y Adobe Analytics a la perfección para llevar la optimización de experiencias a un nivel superior.
Descubre cómo puede ayudarte Adobe Target a ofrecer experiencias digitales fantásticas.
Descubre por qué Adobe fue nombrado líder entre 16 proveedores en el informe 2021 Gartner Magic Quadrant for Digital Experience Platforms.
Adobe nombrado líder en optimización de la experiencia.
Lee el informe The Forrester Wave™: Experience Optimization Platforms del cuarto trimestre del 2020 para ver cuál ha sido nuestro rendimiento con respeto a 22 criterios y por qué nos nombraron líderes.
Please make sure that the "dexter.base.react.umd" and "dexter.base.consonantcardcollection" clientlibs have been added to the template's Page Policy
---
Historias de clientes para ti
Please make sure that the "dexter.base.react.umd" and "dexter.base.consonantcardcollection" clientlibs have been added to the template's Page Policy