Tendenze digitali dei servizi finanziari per il 2022.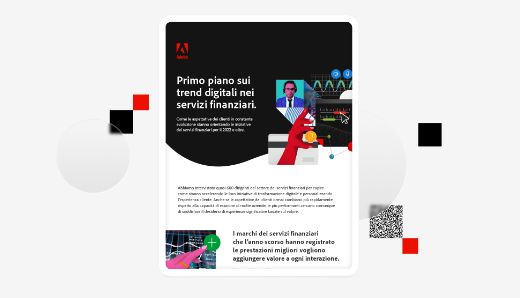 Le società di servizi finanziari sono consapevoli delle sfide future per soddisfare le aspettative dei clienti, ed è per questo che i top performer puntano sulle offerte digitali per distribuire esperienze migliori.

Dai un'occhiata all'infografica Primo piano sui trend digitali nei servizi finanziari e scopri perché l'agilità, l'innovazione, la collaborazione, il talento e la diversità sono i 5 indicatori chiave usati dalle aziende del settore per superare le aspettative dei clienti.

Completa il modulo per vedere l'infografica.
Adobe, the Adobe logo, Creative Cloud, and the Creative Cloud logo are either registered trademarks or trademarks of Adobe in the United States and/or other countries. All other trademarks are the property of their respective owners.
© 2022 Adobe Inc. All rights reserved.