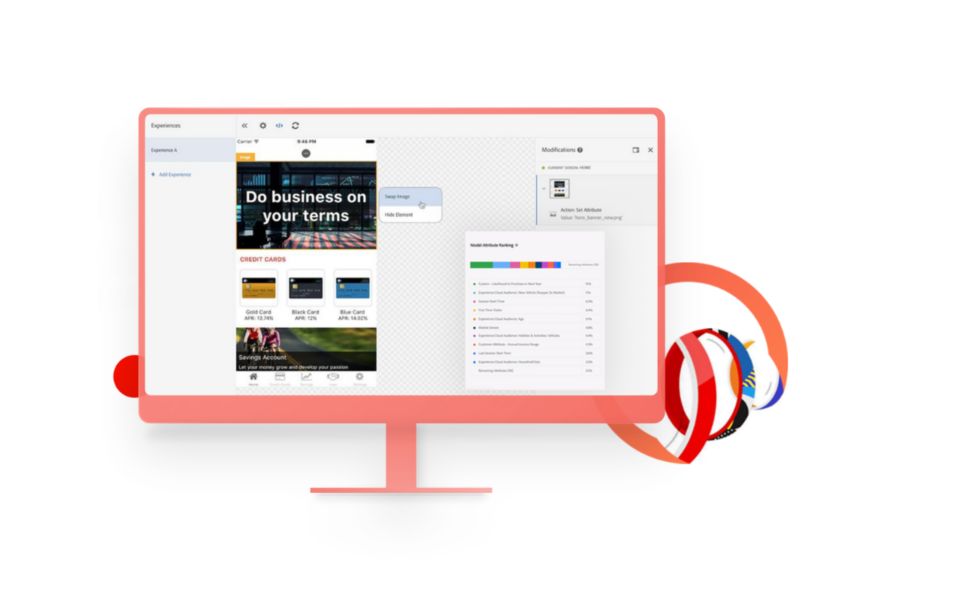 Testet und optimiert jedes Erlebnis jedes Mal mit Adobe Target.
Adobe Target ermöglicht das KI-gestützte Testen, Personalisieren und Automatisieren von User Experiences im benötigten Umfang. Damit findet ihr genau die Kundinnen und Kunden, auf die es gerade ankommt, und könnt ihnen geben, was sie sich wünschen.

Nehmt an Experience Makers Live teil.
Erfahrt im Rahmen unseres kostenlosen virtuellen Events, wie ihr die digitale Wirtschaft persönlich gestaltet.
Vorteile von Adobe Target.
Erfahrt, wie ihr mithilfe von Adobe Target hervorragende digitale Erlebnisse bereitstellen könnt.
Erfahrt, warum Adobe im Report Gartner Magic Quadrant for Digital Experience Platforms 2021 unter 16 Anbietern als "Leader" eingestuft wurde.
Adobe als "Leader" bei Erlebnisoptimierung eingestuft.
In The Forrester Wave™: Experience Optimization Platforms, Q4 2020 erfahrt ihr, wie wir in 22 Kriterien abgeschnitten haben und warum wir als "Leader" eingestuft wurden.
Unsere Empfehlungen für euch.
---
Please make sure that the "dexter.base.react.umd" and "dexter.base.consonantcardcollection" clientlibs have been added to the template's Page Policy
---
Zukunft ohne Cookies – so floriert Ihr Geschäft trotzdem.
Die neue Welt der Nutzerdaten und ihre Folgen für Personalisierung im Web – lesen Sie Die Zeit nach Third-Party-Cookies.
---
Please make sure that the "dexter.base.react.umd" and "dexter.base.consonantcardcollection" clientlibs have been added to the template's Page Policy