ADOBE EXPERIENCE MANAGER SITES
Faster, more engaging websites.
Adobe Experience Manager Sites is the industry-leading content management system that empowers any marketer or developer to create high-performance pages across any digital property — from web to mobile to apps.

The all-new Adobe Experience Manager Sites.
We have reimagined Experience Manager Sites to dramatically improve the speed with which you can build, author, publish, and load pages so you can manage content across devices and channels at the speed of digital business.
Edge Delivery Services delivers the fastest possible page load times, increasing SEO rankings, engagement, and conversion.
Document-based authoring lets your broader team author webpages in Microsoft Word or Google Docs.
Embedded A/B testing optimizes site design and content quickly.
Pre-optimized code and well-known JavaScript and CSS frameworks let developers launch features quickly without sacrificing performance.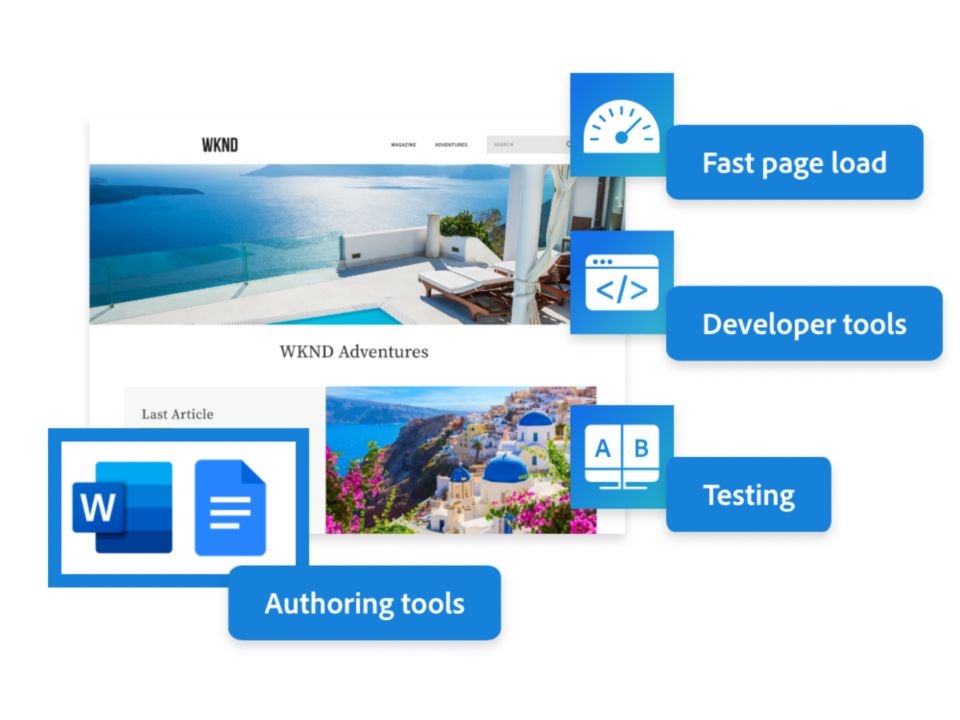 Explore the benefits of Experience Manager Sites.
We have raised the bar on what a CMS can do; Experience Manager Sites lets you address the core challenges of managing your digital properties.
Immersive experiences heightened with intelligence.
Adobe Sensei GenAI for Experience Manager Sites provides tools for copywriting, re-writing, summarization and elaboration, and tone of voice changes all within the editing interface. With Sensei GenAI, you can autonomously create content that is:


Brand aware – Create content that incorporates brand tone of voice, style guidelines, and other specific requirements.
Personalized by audience – Leverage granular content performance insights to personalize for any persona across all channels.
Region specific – Go beyond translation and adapt your content based on regional preferences and behavior patterns.
Continually optimized – Run experiments to determine which variations perform best and use insights to improve future AI-generated content.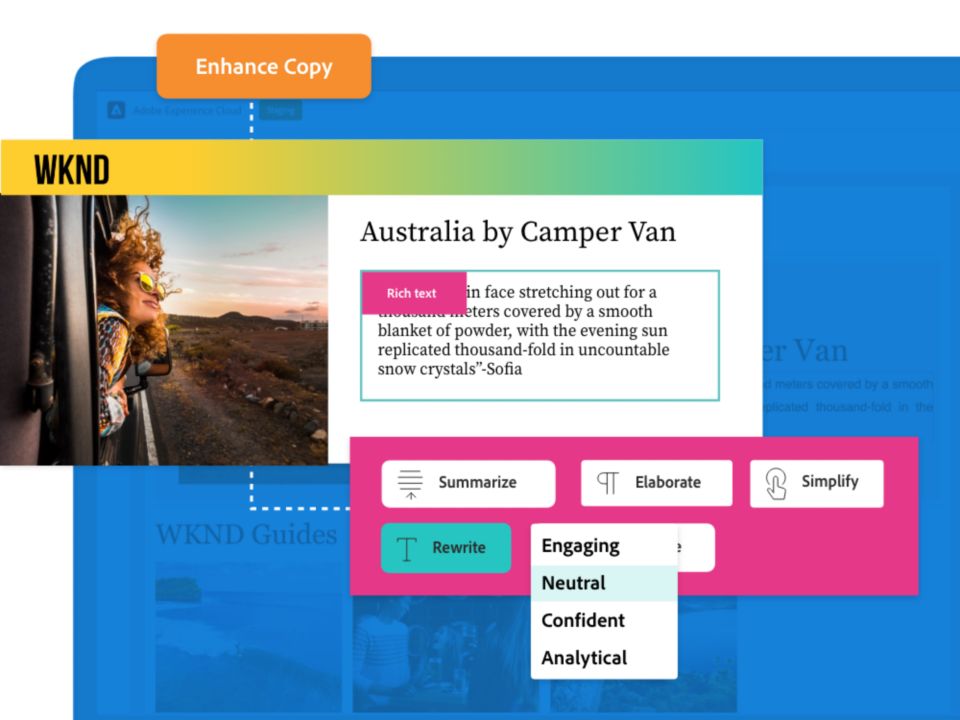 Forrester names Adobe a Leader in The Forrester Wave™: Content Management Systems, Q3 2023 report.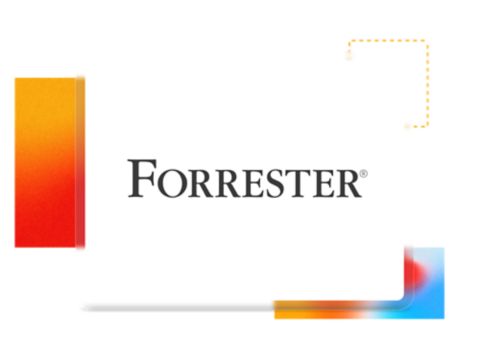 Connect Adobe products to create experiences that are right on time and just right for your customers.
Helping global brands drive business impact with personalization.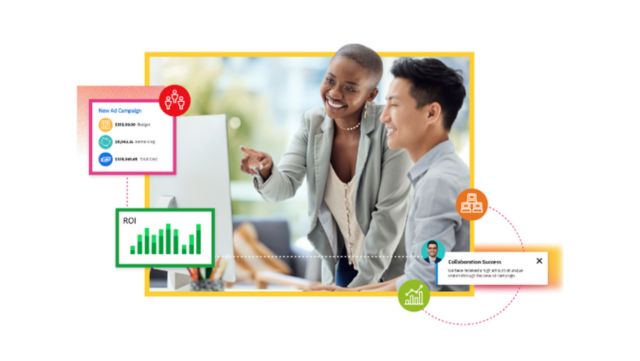 Maximize web performance with the new Adobe Experience Manager Sites
Learn about the groundbreaking innovations that will enable brands to build, author, publish, and load web pages in record time.
A quick start guide to web performance
In this article, we'll explain why web performance matters, how it's measured, the impact of speed on users, and your competitive advantage.
Discover the Experience Manager Sites difference.
Questions? We have answers.
Content personalization is a marketing strategy that uses data about consumers to individualize their experiences when they interact with your brand. It helps brand meet their customers' needs and drive engagement and sales.
Adobe Experience Manager Content Services leverages traditional Experience Manager Pages to compose headless REST API endpoints and Experience Manager Components to define or reference the content to expose on these endpoints.


Experience Manager Content Services allows the same content abstractions used for authoring web pages in AEM Sites to define the content and schemas of these HTTP APIs. The use of Experience Manager Pages and Experience Manager Components empowers marketers to quickly compose and update flexible JSON APIs to power any application
A headless CMS is a content management system (CMS) that lets you take content from the CMS and deliver it to any front end using any framework of choice. It separates content from the presentation layer (the head), creating blocks of content that can be delivered in a channel-neutral format to power any channel or experience. This means you can create content once and reuse it everywhere.
Content as a Service lets you use any of content in Experience Manager and deliver it to any channel. You can set the content for delivery to different types of devices with just a few keystrokes. And your developers don't need deep knowledge of the Experience Manager repository structure.
Customer Experience (CX) is the overall perception a customer has of their interactions with a company or brand across all touchpoints and channels — before, during, and after a purchase or engagement. A positive customer experience can lead to increased loyalty, repeat business, and positive word-of-mouth referrals or recommendations.