Datamanagement verandert. Voortaan blijven de cookies in de trommel.
Dataverzameling en -management blijven zich ontwikkelen, maar met Adobe zit je altijd goed. Dat was gisteren zo, dat is vandaag zo en dat zal ook in de cookieloze toekomst zo zijn.
The Conference for Digital Leaders
Get Ready to Accelerate Growth through Digital Experiences. Tuesday 10th of october 2023.
De technologie staat niet stil. Daarom moet jouw strategie ook in beweging blijven.
Adobe heeft altijd de toon gezet op het gebied van datamanagementplatforms, en Adobe Audience Manager speelt een cruciale rol bij het verbinden van data en het creëren van marketingkansen.
 
Nu we op weg zijn naar een wereld met minder cookies van derden en meer focus op privacy en gepersonaliseerde ervaringen, loopt Adobe opnieuw voorop. Maak kennis met Adobe Real-Time CDP, het geavanceerde customer data platform (CDP) dat onder veel meer bekende en pseudonieme data verbindt om real-time, geïntegreerde profielen te creëren die direct op verschillende kanalen kunnen worden geactiveerd. Daardoor kunnen marketeers klanten blijven vinden en bereiken – ook als cookies van derden in de trommel blijven.
Een kleine greep uit de mogelijkheden van Adobe Real-Time CDP.
Transformatie van de datastrategie
Gebruik anonieme en bekende ID's van bronnen uit de eerste en derde hand om een datamanagementprogramma zonder cookies van derden te bouwen.
Gebruik streaming data om real-time consument- of accountprofielen te creëren die automatisch worden bijgewerkt, terwijl de privacyklare status behouden blijft.
Activeer direct real-time B2B- en B2C-profielen op alle kanalen en contactpunten – van social media en CRM's tot je eigen platforms.
Laat je teams zorgeloos werken met de data die ze nodig hebben dankzij configureerbare en aanpasbare beveiligingstools.
Ontwikkel vergelijkbare doelgroepen en verhoog de geneigdheidsscores met AI en machine learning (ML) om meer inzicht in het gedrag van klanten te krijgen.
Heb je hulp nodig bij Audience Manager? Ga dan naar onze ondersteuningswebsite.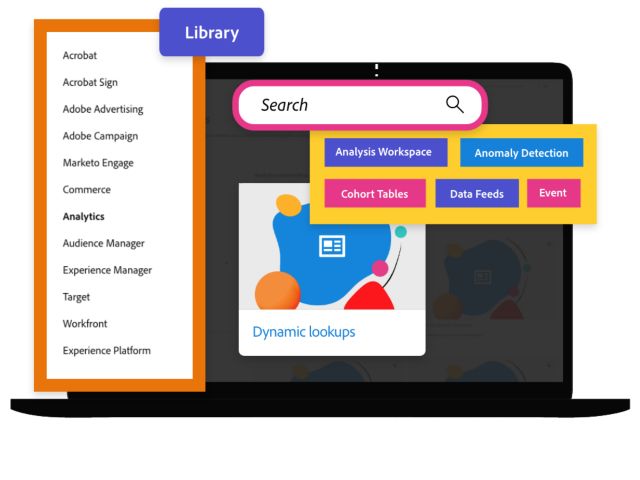 Ontdek wat Real-Time CDP voor jouw klantdata kan betekenen.