Geef je teams een interessantere leerervaring die de moeite waard is met punten, badges en certificeringen die een cultuur van doorlopende verbetering stimuleren.
---
Beloon leergierigheid en wakker het wedstrijdgevoel aan.
Er zijn geen twee woorden die teamleden van meer angst vervullen dan "verplichte training". Zonder de juiste prikkels zal zelfs de meest essentiële training, zoals compliancetraining, geen indruk bij je medewerkers achterlaten, waardoor je organisatie het risico loopt achter te raken op de concurrentie of niet langer aan de actuele wet- en regelgeving te voldoen.
Met Adobe Learning Manager zijn die verloren middagen in een bedompte vergaderruimte verleden tijd: in plaats daarvan krijgen je medewerkers een ervaring die hun prestatiedrang aanwakkert. Cursisten worden tijdens hun leertraject beloond met digitale badges en een hogere plaats op de ranglijst wanneer ze initiatief aan de dag leggen en aantonen dat ze de materie beheersen. Op jouw beurt word jij beloond met beter geïnformeerde, waardevolle medewerkers. Win-win.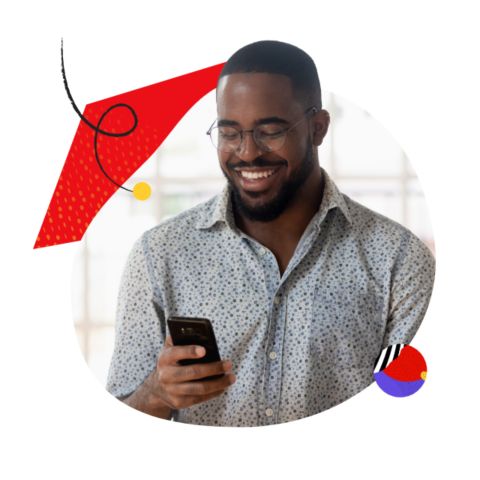 Kijk hoe deze functie werkt.
Laat cursisten de strijd aangaan met hun collega's door leuke, deelbare badges te verdienen en de hoogste plaats in de ranglijst te bemachtigen.
Op interesse gebaseerde beloningen
Erken en beloon cursisten wanneer ze initiatief tonen en betrokken zijn of wanneer ze bepaalde leermijlpalen behalen met badges die op social media en in werkruimten voor collega's kunnen worden gedeeld.
Terugkerende certificeringen
Zorg ervoor dat je organisatie altijd up-to-date is en de voorschriften naleeft door automatisch cursussen toe te wijzen op basis van gebeurtenissen, bijvoorbeeld wanneer een certificering verloopt.
Lees meer over gamificatie met Adobe Learning Manager.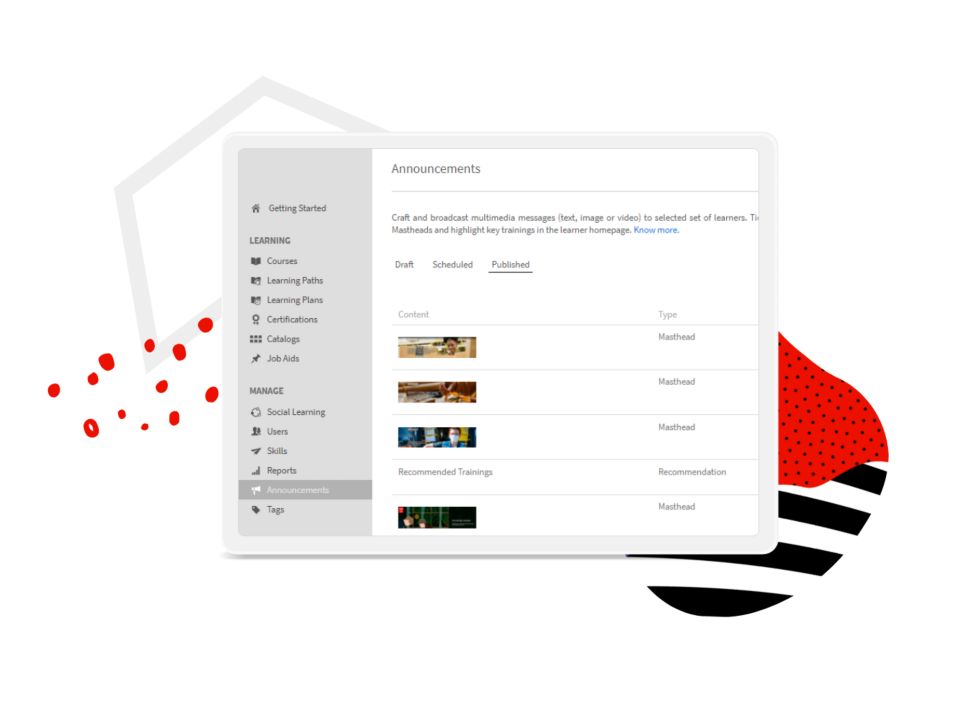 Forrester-onderzoek toont economische impact van Adobe Learning Manager aan.
Forrester analyseert het rendement van doeltreffende werknemerstrainingen en noemt daarbij onder andere betere personeelsvaardigheden en lagere risico's voor de organisatie als voordelen.