Marknadsföring och annonsering som är mer i synk än ett pojkband från 90-talet.
Automatisera, koordinera och skala köp av betalade medier i olika digitala kanaler med verktyg som smidigt kopplar samman data och upplevelser.

The Conference for Digital Leaders
Get Ready to Accelerate Growth through Digital Experiences.
En samlad informationskälla för all er annonsering.
Använd Adobe Sensei för att få utgiftsprognoser och möjligheter till realtidsoptimering.
Sammanför marknadsförings- och annonseringsdata för bättre planering, segmentering och analys.
Koppla samman kreativa team och marknadsföringsteam med inbyggd integrering och skapa tusentals annonser i stor skala.
Få rekommendationer om hur du kan dra nytta av vad du lärt dig i kampanjer och spåra data på en kontrollpanel med rapporteringsalternativ på plattformen.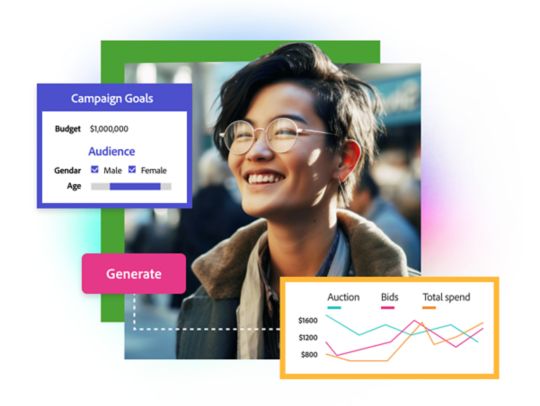 En Demand-side platform kopplar samman allt.
Från webbannonser till digitalt ljud till betal-tv-annonser – sammanför alla era digitala medier.

Kombinera integreringar för olika kanaler och skärmar.
Koppla samman information om varumärkesprofilering och resultat.
Optimera kampanjer med sikte på affärsmål.
Styr exakt vad som finns i ert mediebibliotek.
 Adobe Experience Manager (AEM) Forms | Adobe för företag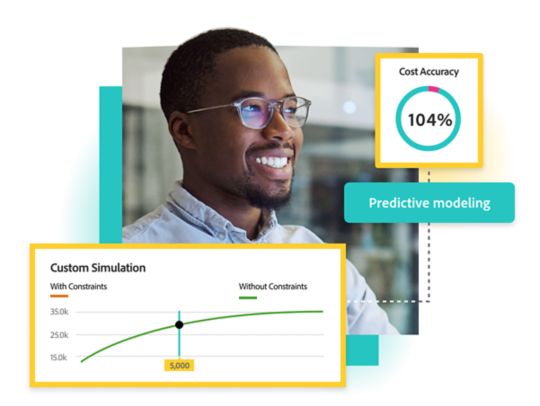 Automatisering leder till innovation.
Koppla samman Adobe-företagsdata med katalogautomation och optimera resultaten samt öka effektiviteten.
Använd AI för att maximera era kampanjer för sökning, köp, handel och återannonsering för att nå era mål.
Få automatiserade insikter och optimal investering.
Se förväntade intäkter innan ni investerar några pengar.
Koppla samman och spåra data på en kontrollpanel.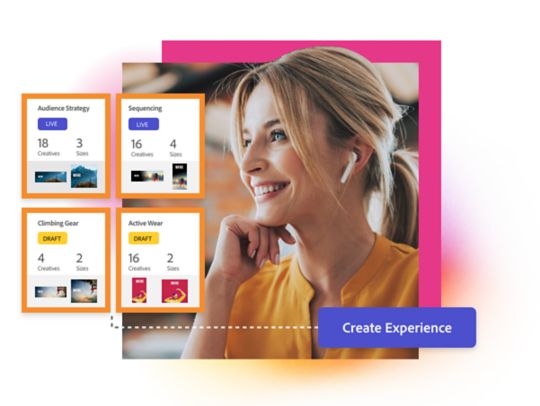 Integrering – er kreativa superkraft.
Direkt integrering med Adobe Creative Cloud-applikationer gör så att ni automatiskt kan skapa, testa och optimera personaliserade annonser i stor skala.
Koppla samman kreativa team och reklamteam i inbyggda sammankopplade arbetsflöden.
Öka meddelandenas relevans för att locka användarna.
Ta fram sekvenserade och personaliserade kundresor med beslutsträd.
Använd automatiserat annonsskapande för prospektering och återannonsering.
Vad gör Adobe Advertising annorlunda?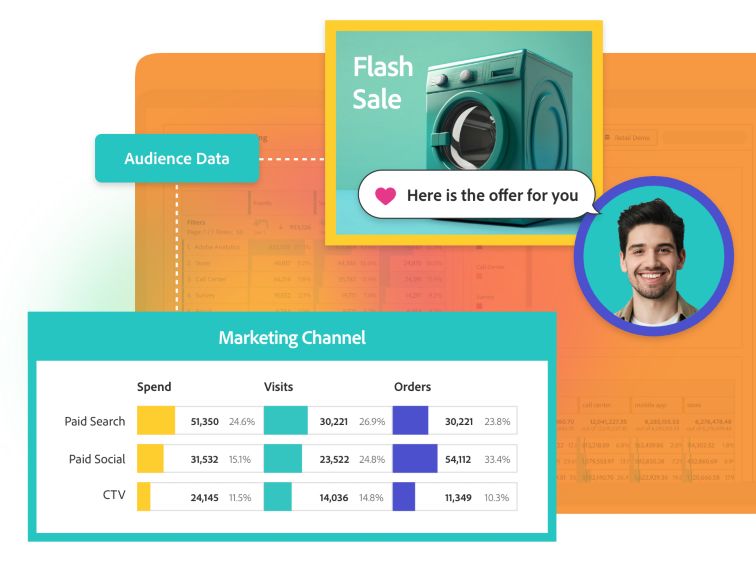 Adobe Advertising har en inbyggd integrering med Adobe Experience Cloud-produkter. Dessa kopplingar gör att ni enkelt kan skapa enhetliga kundupplevelser vid varje interaktion.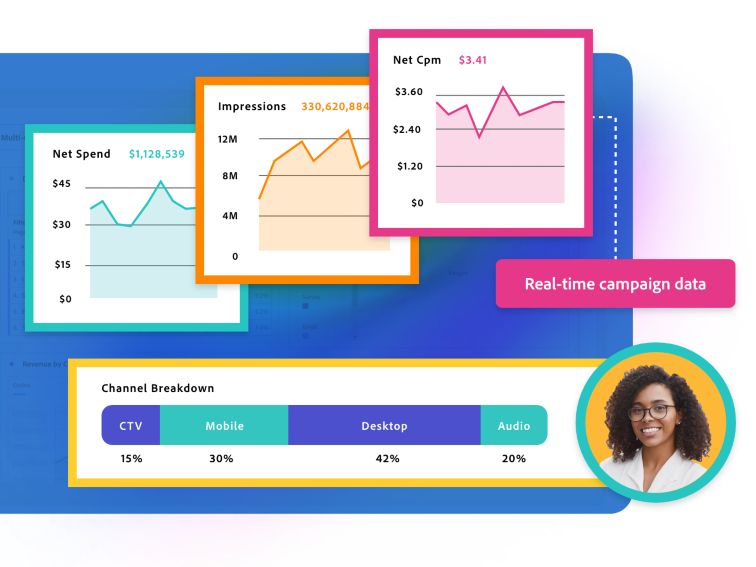 Avancerad mätning och strategi.
Med rapportalternativ på plattformen och via konsultation erbjuder mätning med Adobe Advertising flexibiliteten att dra nytta av era Adobe-program som en del av ett heltäckande ramverk.
Adobe har utsetts till ledare inom programsviter för marknadsföring i enterpriseklass i The Forrester Wave.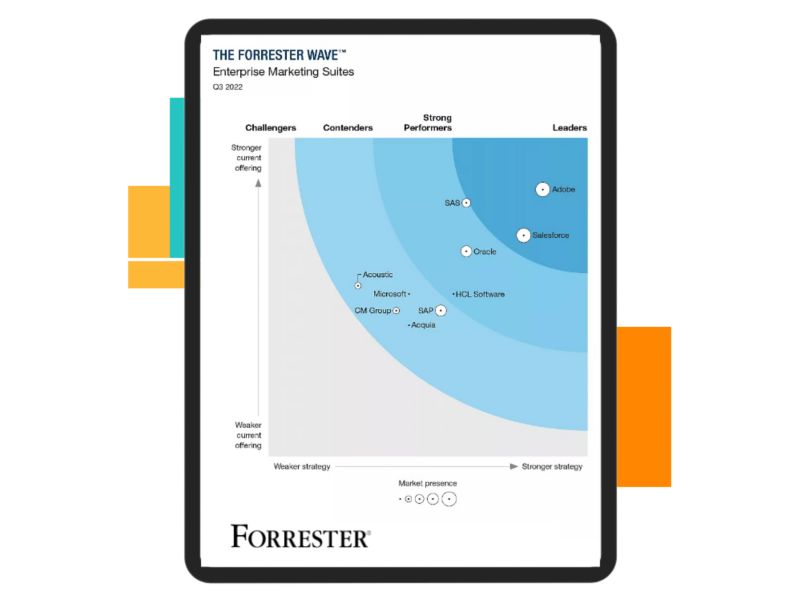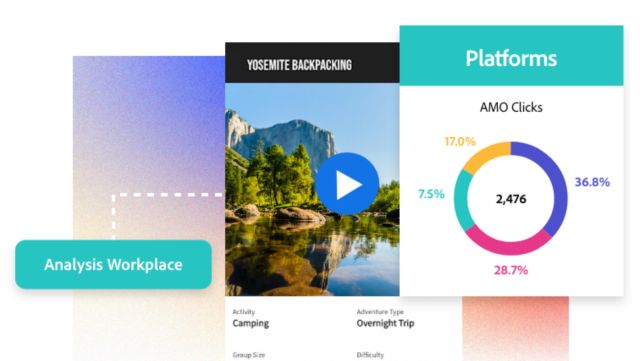 Adobe Advertising + Adobe Analytics
Integrera Adobe Analytics och få en djupare förståelse av kontaktytor längs hela kundresan och använd insikter för att planera och optimera era strategier för betalda medier.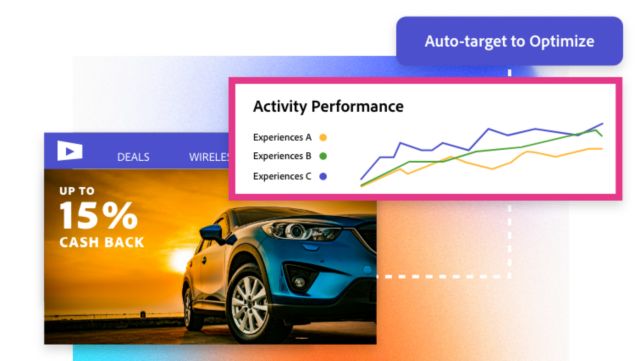 Adobe Advertising + Adobe Target
Med Adobe Target kan ni personalisera en landningssida baserat på klickfrekvensen för ert innehåll. Ni kan till och med göra A/B-testning för att mäta effektiviteten hos olika personaliseringstaktiker.
Adobe Advertising + Adobe Real-Time CDP
Med Adobe Real-Time Customer Data Platform kan ni använda data för att bygga robusta målgruppssegment med djupa insikter och sedan aktivera dessa segment inom Adobe Advertisings ekosystem.
Se hur Adobe Advertising kan förbättra era annonseringskapacitet.