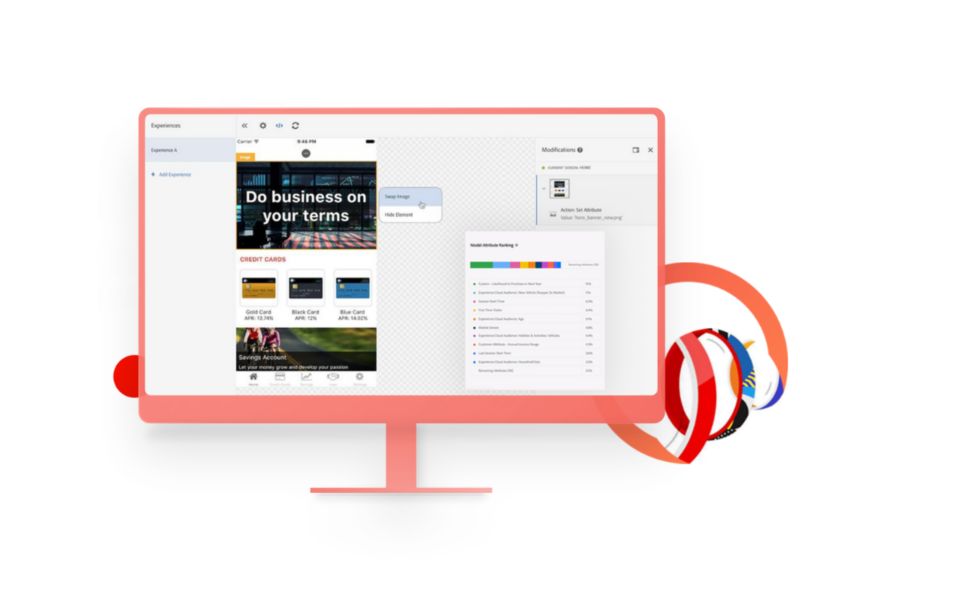 A/B-testa och optimera varje upplevelse, varje gång, med Adobe Target.
Med Adobe Target får ni AI-driven testning, personalisering och automatisering i stor skala, så att ni kan hitta en viss kund bland miljoner andra och ge den kunden rätt erbjudande.
The Conference for Digital Leaders
Get Ready to Accelerate Growth through Digital Experiences.
Fördelar med Adobes Target
Forrester utser Adobe till ledare
Läs rapporten The Forrester Wave™: Digital Intelligence Platforms 2022 och upptäck hur Adobe Real-Time CDP, Adobe Target och Adobe Analytics integreras sömlöst för att öka upplevelseoptimeringen.
Ta reda på hur Adobe Target kan hjälpa er att leverera fantastiska digitala upplevelser.
Ta reda på varför Adobe har utsetts till ledare bland 16 leverantörer i Gartners rapport Magic Quadrant for Digital Experience Platforms för 2021.
Adobe utses till en ledare inom upplevelseoptimering.
Läs rapporten The Forrester Wave™: Experience Optimization Platforms, Q4 2020 och se hur vi klarade 22 kriterier och varför vi utsågs till en ledare.
Det här skiljer oss från mängden
Se hur företaget kan blomstra i en framtid utan cookie-filer.
Läs Thinking Beyond the Third-party Cookie om hur ni hanterar en helt ny värld med användardata.