12 Things You Must Know When Choosing a B2B eCommerce Platform
Most B2B companies investigate new technology purchases through a Request for Proposal (RFP) process. The goal is an apples-to-apples comparison of features and functionality that matter most to your business.
However, an RFP developed for B2C use cases may not reveal if a platform has the B2B features you need. Don't spend hundreds of hours reviewing data and still be unsure.
Get better RFP results with this complete guide to asking key, B2B-focused questions.
Uncover details on customisation, customer experience and cloud deployment
Learn how vendors handle multi-channel sales and order management
Check for content creation and mobile optimisation tools
Understand business intelligence and data reporting features
And a whole lot more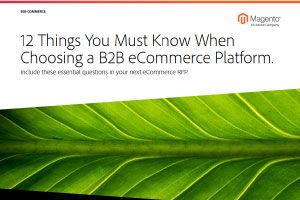 Please share some contact information to download the eBook