Blue Acorn iCi Home and Hardware Report
The real potential of ecommerce resides within the home and hardware B2B industry. Professional contractors, suppliers and interior designers are always on the move, rarely sitting at their desks. As a result, it's easy to see the appeal of shopping online for materials, tools and equipment which offers them the convenience of being able to order exactly what they need for their projects from any location.
The home and hardware sector is one of the least penetrated by ecommerce, but it's quickly adapting to the changing needs of its 'pro' customers and has grown significantly in recent years. In this report, solutions partner Blue Acorn iCi covers key trends driving that growth, what successful companies are doing today and tips on how to best use Magento.
Dive in and explore:
Discover what's driving the growth of B2B ecommerce in the home and hardware industry
Understand the customer: professional contractors and interior designers
Learn how to optimise the user experience for 'pro' consumers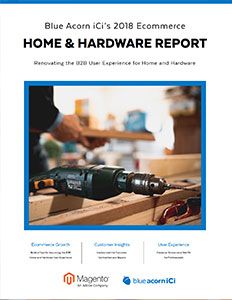 Please share some contact information to download the Guide