Don't just keep up – get ahead.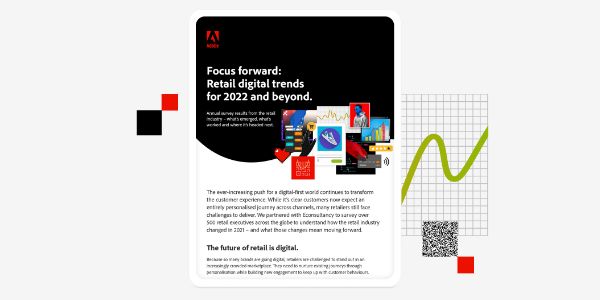 With the surge of online shopping over the last few years, customers have raised the bar for what it means to have a positive digital retail experience. To get a pulse on how online retail is responding, Econsultancy and Adobe surveyed hundreds of retail industry leaders to discover what they had planned for the coming year. 

Our infographic Focus forward: Retail digital trends for 2022 and beyond distills this information to provide insights into which antiquated tactics are falling behind and how industry leaders are innovating better solutions. 

Fill in the form to access the infographic.  
Adobe, the Adobe logo, Creative Cloud, and the Creative Cloud logo are either registered trademarks or trademarks of Adobe in the United States and/or other countries. All other trademarks are the property of their respective owners.
© 2023 Adobe Inc. All rights reserved.