How we help in a world without third-party cookies
Acquire and keep customers in a cookieless world with Adobe

Explore the sections of this page
---
---
The power of first-party data for first-rate experiences — today and tomorrow
The downfall of third-party cookies is shaking up digital marketing. But by focusing on the data you own, you can create new opportunities to deliver personalized experiences in real time to all the right audiences — so they get value, feel valued, and become long-term, loyal customers. 
This is where Adobe comes in. Here's how. 
The shift to cookieless will change marketing forever: 5 reasons to get there ahead of the competition >
Read Forrester's take on the path forward
Explore new approaches to marketing when access to customer data is limited in Forrester's report, Get Your Data Deprecation Plan Together.
Customer  journey analytics
Understand your data across the customer journey
In a cookieless world, the ability to understand interactions with a prospect or customer in the context of their whole journey is crucial. Every click must deliver value to them while helping you understand who they are, what they've already done, and what they want to do now. And it goes beyond clicks. 
Our customer journey analytics product lets you sequence data from every action — online and off — into a single view and discover new strategies for acquisition and retention that don't rely on third-party cookies. 

Explore other capabilities in this section
REAL-TIME PERSONALIZATION
Personalize in real time to create real customer loyalty
The end of third-party cookies will change personalization forever. When a first-time visitor comes to your digital front door, you can no longer be sure you'll know anything about them. But their first impression still matters.
With our customer data platform, you can deliver real-time personalization that changes on the fly in response to live behavior and user choices alike. The result is a personalized experience that meets a visitor's needs right now and converts more prospects into loyal customers.

Explore other capabilities in this section
First-party data Driven Advertising
Expand, acquire, and attribute
Of course, you still need to reach customers outside your own domains. And again, first-party data is key. By starting with first-party data, you can partner with channels who reach your audience. Then you can create lookalike segments and layer in second-party data to expand your target market.
With our products, you can do all this with real-time machine learning models so you can reach high-value prospects and turn them into higher-value customers.

Explore other capabilities in this section
Get more details in our definitive guide
Read our take on the cookieless world — what it means for you and how it can lead to better, more meaningful customer relationships. 
Experts share their imperatives for success in the post-cookie era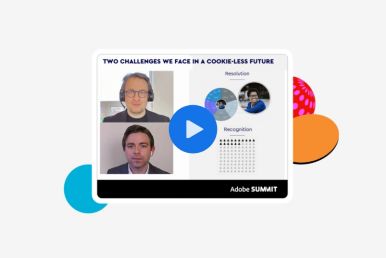 Real-time omnichannel  journeys in a cookieless
world
Learn how to extend Adobe Experience Platform capabilities by connecting to a wider ecosystem and aligning consumer identities  in a cookieless world.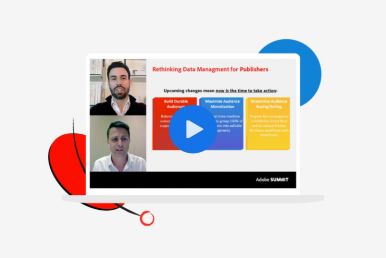 Evolving the publishers use case by leveraging first-party data 
Find inspiration with innovative strategies that can help turn your first-party data into scalable  segments built for a world without  third-party cookies.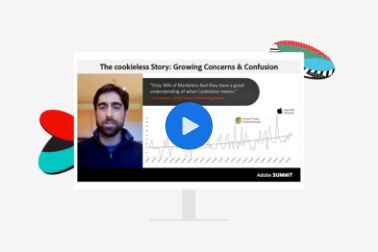 Creating meaningful  customer connections without cookies
The third-party cookie is crumbling. Learn how your organization can successfully shift its data strategies in a cookieless world to stay relevant and successful.