Create world-class B2C and B2B shopping experiences with rich, out-of-the-box features. Combine these with a global ecosystem of implementation partners, a vast marketplace of extensions, and third-party integrations for unlimited ecommerce customization.
Want to identify your top conversion drivers? Request a free site assessment.
Find out if your existing platform is holding you back.
Find out if breaking up with your current provider could open up greater revenue opportunities.
Let your customers shop wherever, whenever, and however they want. With Adobe Commerce, you can easily connect shopping experiences across channels, add new brands and sites, expand into new geographies, and sell to both businesses and consumers — all from one platform.
---
Adobe Commerce lets you personalize end-to-end shopping and purchasing experiences at scale by delivering tailored promotions, seamless omnichannel fulfillment options, and self-service convenience that result in higher conversion rates and average order values.
---
Make the shopping experience more relevant with the insights and tools you need to personalize the experience in real time. And, with the ability to create customized dashboards and business reporting, you can do it without the help of IT.
Eliminate technical data hurdles with a central solution that lets you analyze what is important.
Easily turn your data into visual reports and save them to unlimited customized dashboards. Enhanced capabilities include automated report updates, a range of data export options, and various user roles.
---
Get the control and flexibility you need to innovate and scale — without sacrificing security. With a team of certified global integrators and a wide array of support resources, you can also reduce technical overhead while driving high-value commerce experiences.
---
Control your cashflow by streamlining internal processes for payments and funding. Manage payment and order data from every storefront in one place, and make sure you can always have cash on-hand when you need it.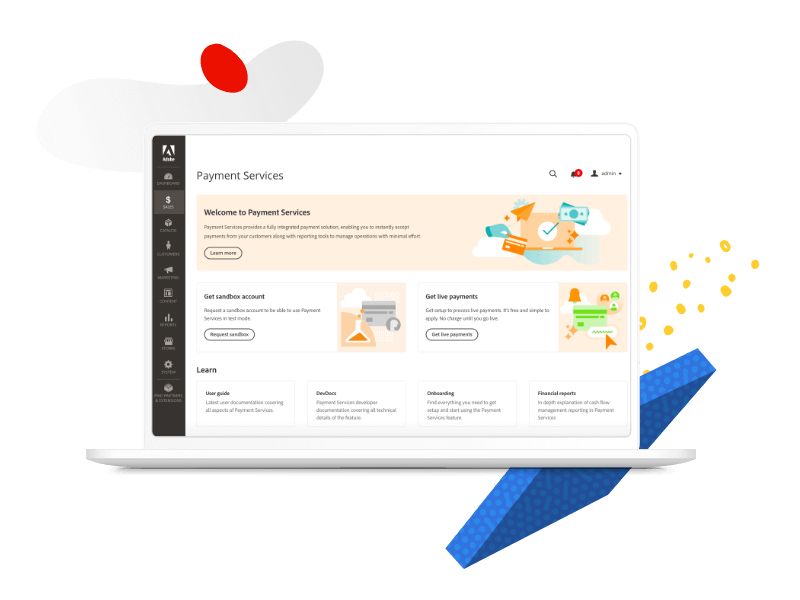 Payment services for Adobe Commerce, a fully integrated payment solution that lets you securely manage payment and order data from every storefront in one place - your Commerce dashboard.
Adobe knows sometimes a growing business needs cash quick. So we've partnered with Wayflyer to provide fast, revenue-based funding when you need it most - for anything from filling an inventory gap to making that crucial marketing spend at the perfect time.