DATAGESTUURDE BESLISSINGEN
Gedeelde data is goed. Gedeelde inzichten zijn nog veel beter.
Nu kan iedereen die voor klantervaringen verantwoordelijk is beter geïnformeerde beslissingen nemen op basis van een volledig beeld van het klanttraject.
Zie Customer Journey Analytics in actie
Bekijk een overzicht van de analytics-applicatie die elk team real-time, cross-channel inzichten geeft.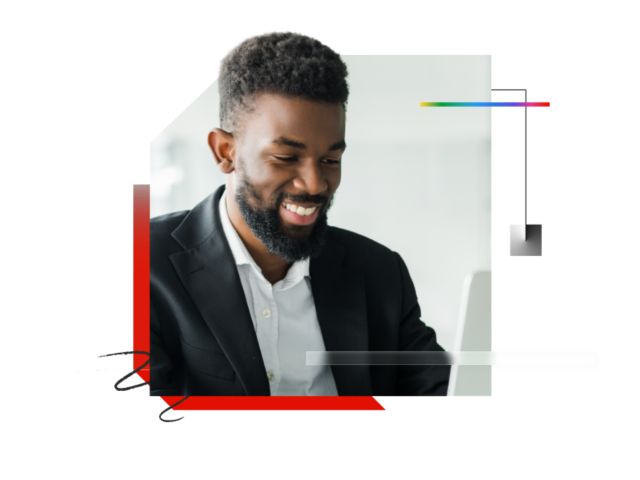 De juiste data komt niet bij de juiste mensen terecht.
De meeste organisaties hebben meerdere teams en leveranciers die klantervaringen voor verschillende online en offline kanalen creëren. De data die teams rapporteren, geeft echter zelden aan wat er aan de andere kant van het kantoor gebeurt, en nog minder wat er bij leveranciers gebeurt. Dit gefragmenteerde beeld van het klanttraject leidt tot inconsistente cijfers, een slechte optimalisatie van de ervaringen en dure aanpassingen wanneer er eindelijk cruciale informatie binnenkomt. Het is geen wonder dat zo veel bedrijven het gevoel hebben dat ze niet wendbaar genoeg zijn om vol vertrouwen in real-time beslissingen te nemen.
Om buitengewone, gepersonaliseerde ervaringen te creëren, moet je één cross-channel beeld van je klanten hebben dat voor alle medewerkers beschikbaar is, zodat ze snel en doelgericht actie kunnen ondernemen.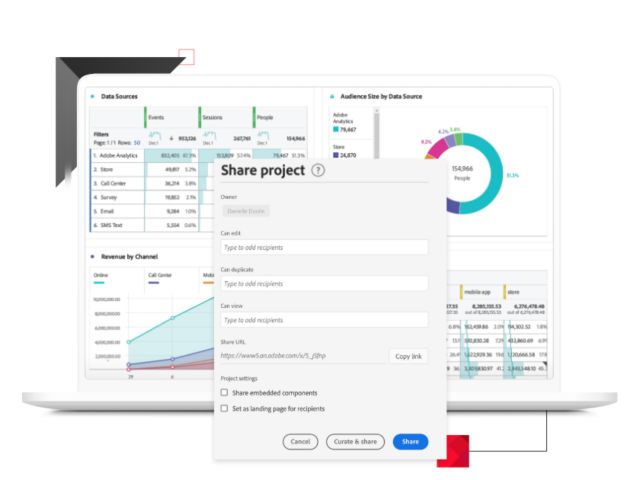 Adobe Customer Journey Analytics creëert niet alleen een duidelijk totaalbeeld van je klant op basis van je cross-channel data, het maakt dat beeld ook toegankelijk voor iedereen die het nodig heeft. Van de CEO tot de afzonderlijke experience makers, iedereen krijgt inzichten die voorheen verborgen of helemaal niet beschikbaar waren. Je teams zien nu een duidelijk, verbonden en actueel klanttraject en kunnen daaraan bijdragen.
Dit is hoe we data en inzichten beter toegankelijk maken:
Een op samenwerking gerichte werkruimte – Via een intuïtieve, op samenwerking gerichte interface kunnen collega's snel inzicht krijgen in het klanttraject, zonder dat ze kennis van datawetenschap hoeven te hebben.
Heldere inzichten – Je kunt rapporten maken, delen en op gezette tijden naar specifieke teams laten sturen waar alleen de cijfers in staan die ze nodig hebben.
Eersteklas privacytools – Configureer op rollen gebaseerde toegang om teamleden toegang tot het volledige klanttraject te geven zonder de privacy van de klant op te offeren.

Overzichtelijke inzichten – Leidinggevenden kunnen de gezondheid van het bedrijf in real-time volgen – zelfs wanneer ze onderweg zijn – met de mobiele Customer Journey Analytics Dashboards-app.

"In plaats van de cijfers voor online en offline kanalen afzonderlijk bij te houden, hebben we alles geregistreerd, zoals de activiteit op de website, de verkoop in de winkel, de telefoontjes naar het callcenter, het aantal geretourneerde artikelen en de orderannuleringen. Daardoor kunnen we nu de beste beslissingen nemen om de ervaring van de winkelbezoeker op alle contactpunten te verbeteren."
Ranjeet Bhosale, VP of Customer Marketing and Operations

Datagestuurde optimalisatie met Customer Journey Analytics bij OTTO
Hoor van een vertegenwoordiger van de Duitse e-commerce-gigant OTTO hoe ze op Customer Journey Analytics zijn overgestapt, en pas de leerpunten van hun datagestuurde optimalisatietraject toe op je eigen migratie naar CJA.
Laten we kijken wat Customer Journey Analytics voor jouw bedrijf kan betekenen.