Marketing und Werbung komplett aufeinander abgestimmt.
Automatisiert, koordiniert und skaliert den Kauf von Paid Media über digitale Kanäle hinweg – mit Tools, die Daten und Erlebnisse nahtlos miteinander vernetzen.

The conference for digital leaders
Wirklich relevant sein. Wir zeigen Wege zum Erfolg.
Eine zentrale Datenquelle für eure gesamte Werbung.
Nutzt Adobe Sensei, um von Ausgabenprognosen und Möglichkeiten zur Echtzeit-Optimierung zu profitieren.
Führt- Marketing- und Werbedaten zusammen, um eure Planung, Segmentierung und Analyse zu verbessern.
Optimierte Content-Erstellung.
Vernetzt Kreativ- und Marketing-Teams mithilfe nativer Integrationen, um eine beliebige Zahl Anzeigen zu erstellen.
Verwertbare Erkenntnisse.
Profitiert von Empfehlungen für die Nutzung von Erkenntnissen in Kampagnen und trackt Daten in einem gemeinsamen Dashboard mithilfe plattforminterner Reporting-Optionen.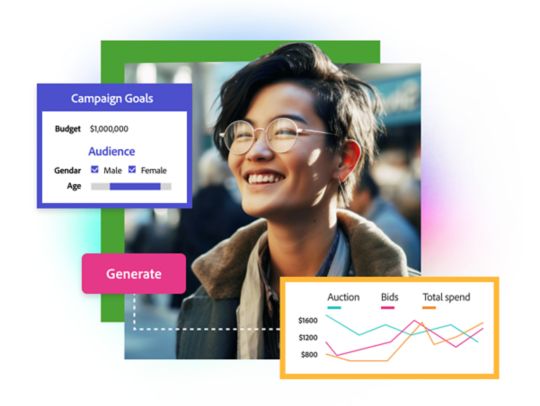 Die Demand-Side-Plattform führt alles zusammen.
Von Anzeigen für Display, digitales Audio bis zu CTV – führt alle eure digitalen Medien zusammen.
 
Kombiniert geräteübergreifende und kanalübergreifende Integrationen.
Verknüpft Branding- und Performance-Informationen.
Optimiert Kampagnen mit Blick auf eure Unternehmensziele.
Steuert euer Medieninventar präzise.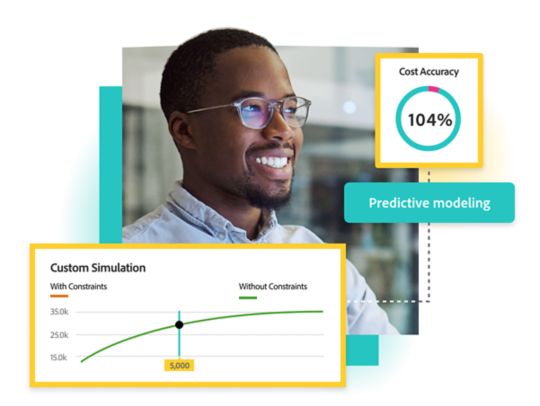 Automatisierung führt zu Innovationen.
Kombiniert Adobe Enterprise-Daten mit Publisher-Automatisierung, um die Performance zu optimieren und die Effizienz zu steigern.
Optimiert mithilfe von KI eure Search-, Commerce-, Shopping- und Retargeting-Kampagnen, um eure Ziele zu erreichen.
Profitiert von automatischen Erkenntnissen und optimalen Ausgaben.
Zeigt Umsatzprognosen an, ehe ihr investiert.
Vernetzt und trackt Daten in einem gemeinsamen Dashboard.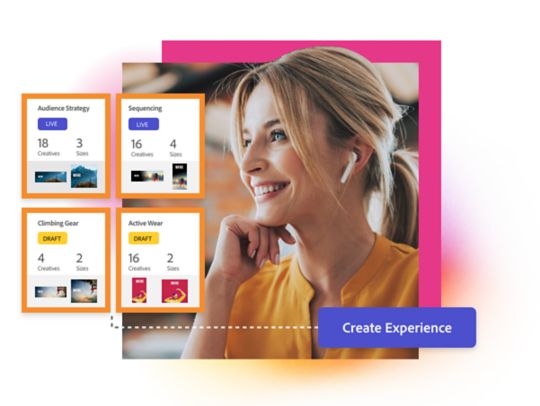 Integration – eure kreative Superkraft.
Durch die direkte Anbindung an Adobe Creative Cloud-Programme könnt ihr automatisch personalisierte Anzeigen im benötigten Umfang erstellen, testen und optimieren.
Bringt Kreativ- und Werbe-Teams durch nativ vernetzte Workflows zusammen.
Erhöht die Relevanz eurer Botschaften, um Anwenderinnen und Anwender besser zu erreichen.
Arbeitet mithilfe von Entscheidungsbäumen sequenzierte und personalisierte Customer Journeys aus.
Nutzt automatisierte Anzeigenerstellung für Kundenakquise und Retargeting.
Ist Adobe Advertising für euer Unternehmen geeignet? Diese Fragen wollen wir nun beantworten.
Was ist bei Adobe Advertising anders?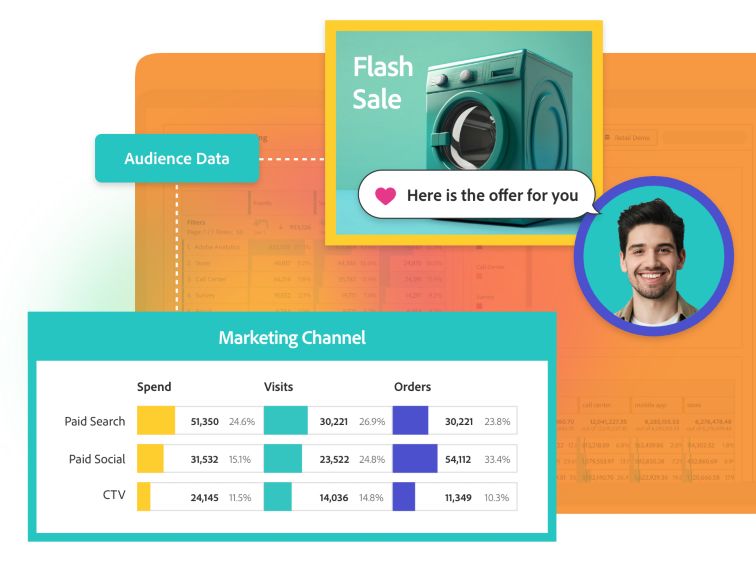 Adobe Advertising ist nativ an Adobe Experience Cloud-Produkte angebunden. Mithilfe dieser Anbindung könnt ihr bei jeder Interaktion für konsistente Kundenerlebnisse sorgen.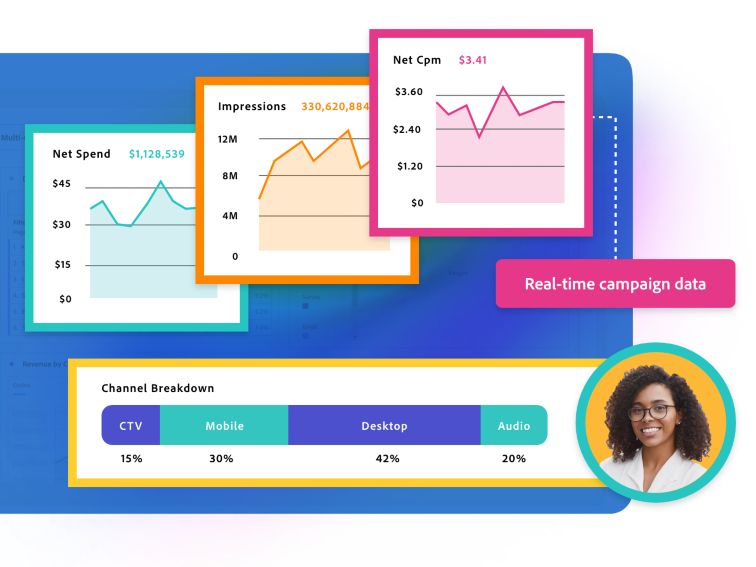 Anspruchsvollere Messungen und Strategien.
Mit plattforminternen und beratungsbasierten Reporting-Optionen bietet euch die Messung mit Adobe Advertising die Flexibilität, eure Adobe-Programme im Rahmen eines ganzheitlichen Frameworks zu nutzen.
Adobe wurde in The Forrester Wave in der Kategorie "Enterprise Marketing Suites" als "Leader" genannt.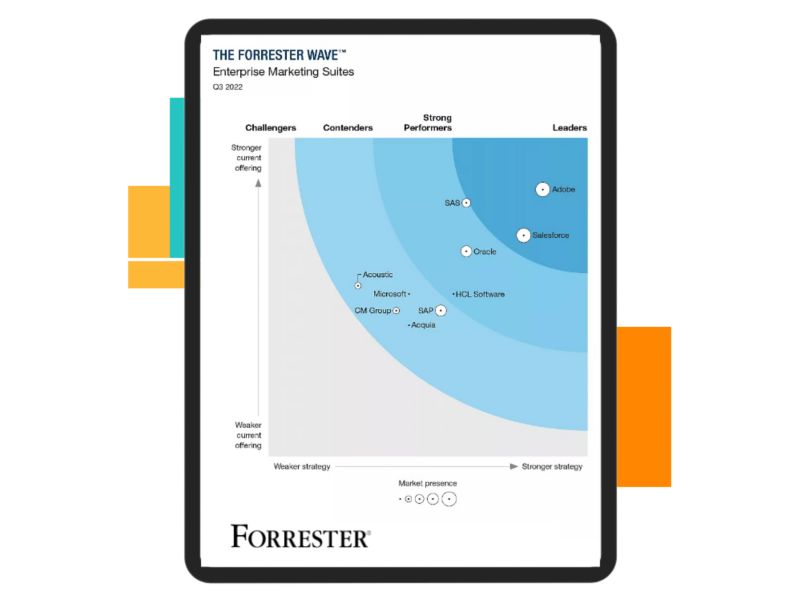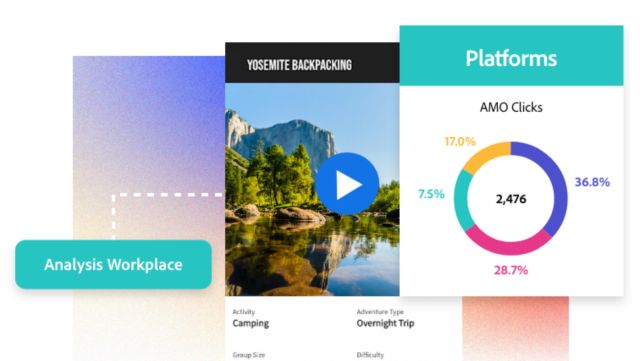 Adobe Advertising und Adobe Analytics.
Die Anbindung von Adobe Analytics ermöglicht euch ein umfassenderes Verständnis der Touchpoints während der gesamten Customer Journey sowie die Nutzung von Erkenntnissen zur Planung und Optimierung eurer Paid-Media-Strategien.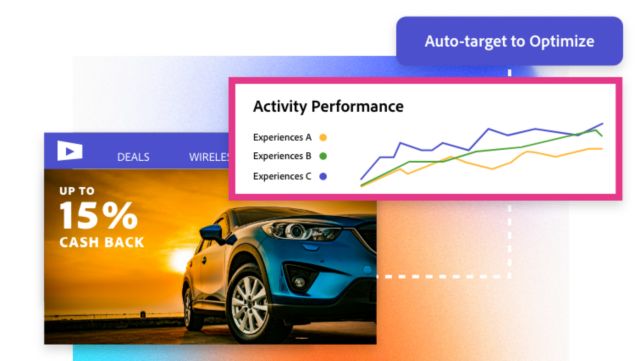 Adobe Advertising und Adobe Target.
Mit Adobe Target könnt ihr Landingpages auf Basis der Klicks auf Kreativ-Assets personalisieren. Ihr könnt sogar A/B-Tests einrichten, um die Effektivität von verschiedenen Personalisierungsstrategien zu messen.
Adobe Advertising und Adobe Real-Time CDP.
Mit Adobe Real-Time Customer Data Platform könnt ihr Daten nutzen, um zuverlässige Zielgruppensegmente mit umfassenden Erkenntnissen zu erstellen und diese Segmente dann innerhalb des Adobe Advertising-Ökosystems zu aktivieren.
Erfahrt, welche Möglichkeiten euch Adobe Advertising für eure Werbung eröffnet.