CUSTOMER JOURNEY ANALYTICS
See every action in the customer journey, regardless of changing market forces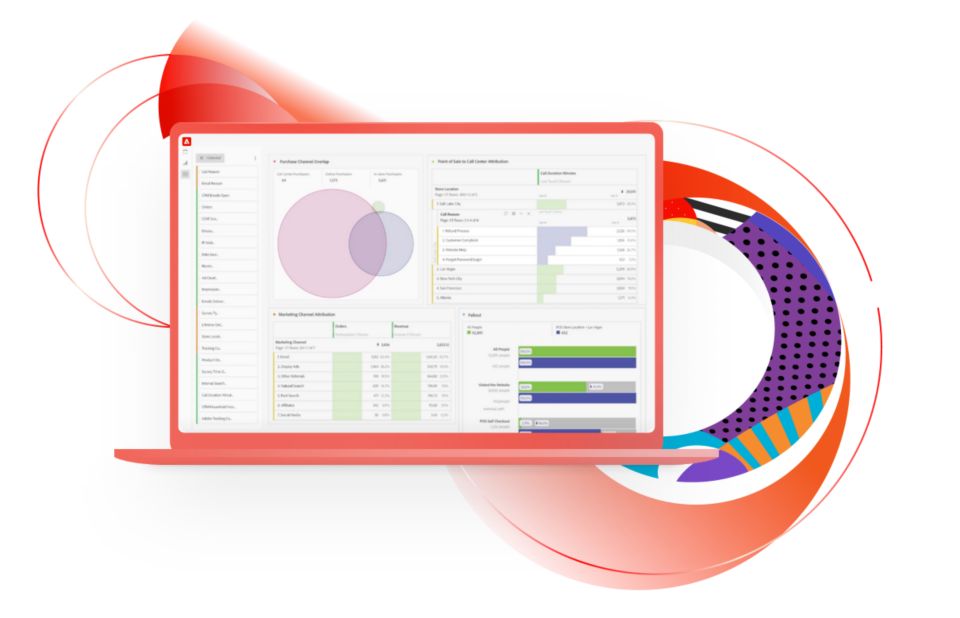 Join Experience Makers Live.
Learn how to make the digital economy personal at our free virtual event.
What Customer Journey Analytics can do for you
Built on Adobe Experience Platform, Customer Journey Analytics is a cross-channel analysis application that delivers customer analysis at the individual level within seconds rather than days, weeks, or months. With an intuitive, collaborative interface, Customer Journey Analytics helps organizations activate and enhance engagement throughout the customer journey — all at scale.
Connect all your customer data together
Connect and standardize data from every online or offline source in Experience Platform for fast, non-destructive querying, analysis, and modeling.
Interactively explore the whole journey
Move past a single channel outlook with end-to-end visualization of the entire customer journey using all your available data sets, helping you find solutions to pressing business issues in the moment.
Discover hidden ROI with AI and machine learning insights
Automatically discover anomalies and contributing factors to help you understand cause and effect relationships between customer interactions, spanning any channel you plug into Customer Journey Analytics.
Make it easy for anyone to use customer journey data
Give anyone in your company with responsibility for customer experiences the ability to make data-driven decisions informed by a complete picture of a customer's actions with an intuitive, collaborative UX interface.
Provide executive access with our dashboard app
The Customer Journey Analytics dashboards app gives executives and business users real-time, mobile access to cross-channel insights. And with the Data Stories feature, it's easy for you to add rich context to any insights being shared with stakeholders.
Seamless audience publishing and activation
Audiences that you discover through Customer Journey Analytics omnichannel data analysis can be published to Adobe Experience Platform profiles for activation in any channel with Adobe Real-time CDP.
How Customer Journey Analytics compares to existing business intelligence (BI) solutions
Comparison

| | | |
| --- | --- | --- |
| | Customer Journey Analytics | |
| Comparing orders made on the web, in an app, at point of sale, and through a call center. | Track product purchases across channels in a single interface with integrated product, order and revenue metrics. | This requires complicated data science and is quickly out of date. |
| Learning why website visitors call customer service. | Build your analysis with the right metrics in minutes that show which web pages prompt the most call center calls. | Comparable metrics and analysis take weeks to build. |
| Tracking customers from ad impression to web visit to in-store visit. | Build flow analysis charts for individual segments or customers across channels. | This is not possible with existing stacks. |
| Allowing executives to view Black Friday in-store and online traffic in real time. | Create easy to use, self-serve data views that update in real time. | Analysis of Black Friday is not available for executives until days or weeks later. |