TOMA DE DECISIONES BASADA EN DATOS
No hay nada como la información compartida
Ahora, los responsables de las experiencias de cliente pueden tomar decisiones mejor fundamentadas, basadas en la imagen completa del recorrido del cliente.
Ve Customer Journey Analytics en acción
Mira un resumen de la aplicación de análisis que ofrece a los equipos información multicanal en tiempo real.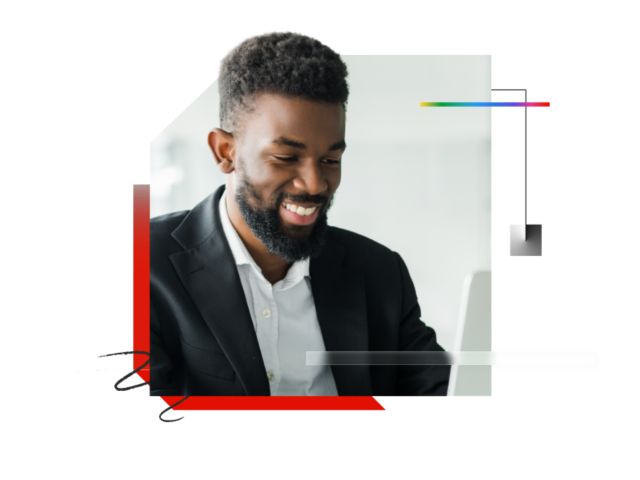 La información no llega a las personas adecuadas
La mayoría de las empresas cuenta con varios equipos y proveedores para crear las experiencias de cliente en una serie de canales online y offline. Sin embargo, cuando los equipos comparten sus datos, rara vez plasman lo que ocurre en toda la oficina, y mucho menos lo de los proveedores. Esta visión fragmentada del recorrido del cliente lleva a métricas incoherentes, una mala optimización de las experiencias y unos cambios de opinión costosos cuando la información clave llega. No es de extrañar que muchas empresas consideren que no son lo suficientemente ágiles como para tomar decisiones seguras en tiempo real.
Para crear experiencias personalizadas excepcionales hace falta una vista única de los clientes en todos los canales, que esté disponible para cualquiera; de esta forma, se puede actuar con rapidez y resolución.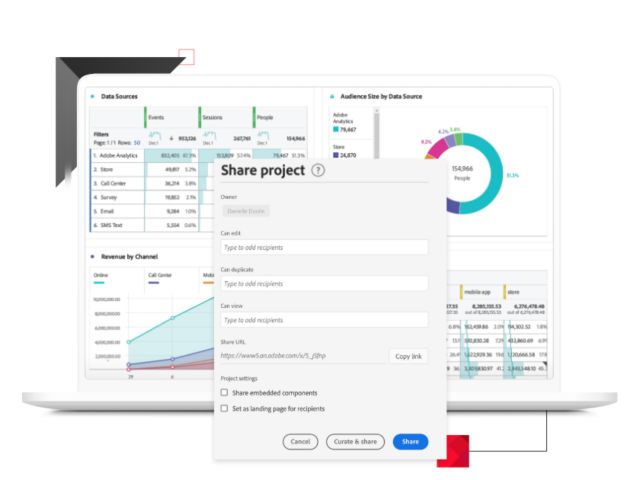 Adobe Customer Journey Analytics no solo convierte los datos de varios canales en una imagen clara y unificada del cliente, también pone a disposición esa imagen para quien la requiera. Desde el director ejecutivo hasta los creadores de experiencias individuales, los equipos obtienen la información que antes se perdía en informes o que no estaba disponible. Ahora tus equipos pueden ver y contribuir a un recorrido del cliente claro, conectado y actualizado.
Así hacemos que los datos y la información sean más accesibles
Espacio de trabajo colaborativo: los compañeros pueden acceder y conocer rápidamente el recorrido del cliente, sin necesidad de un grado en ciencia de datos, gracias a la intuitiva interfaz colaborativa.
Información clara sin desorden: crea, comparte y programa informes para equipos donde se destaquen las métricas que se precisan.
Mejores herramientas de privacidad: establece y aplica permisos de acceso basados en roles para mostrar a los miembros del equipo todo el recorrido sin influir en la privacidad del cliente.

Información en un vistazo: los ejecutivos pueden realizar un seguimiento del estado de su empresa en tiempo real, incluso desde fuera de la oficina, con la aplicación móvil de panel de Customer Journey Analytics.

"En lugar de separar las métricas de los canales online y offline, centramos nuestra atención en la captación de toda la información, incluida la actividad en el sitio web, las ventas en las tiendas, el volumen del centro de llamadas, el volumen del retorno, las cancelaciones de pedidos y mucho más. Todo esto nos permite ahora tomar las mejores decisiones con vistas a la mejora de la experiencia de los compradores en todos los puntos de contacto".
Ranjeet Bhosale, vicepresidente de marketing para clientes y operaciones

Optimización basada en datos con Customer Journey Analytics en OTTO
Un representante alemán del gigante del comercio electrónico, OTTO, comparte su transición a Customer Journey Analytics. Podrás aplicar lo que aprendas de su experiencia del recorrido con la optimización basada en datos a tu propia migración a CJA.
Please make sure that the "dexter.base.react.umd" and "dexter.base.consonantcardcollection" clientlibs have been added to the template's Page Policy
Hablemos de lo que Adobe Journey Analytics puede hacer por tu empresa.