REAL-TIME CUSTOMER DATA PLATFORM
Until someone invents mind reading, there's Real-Time CDP.
Adobe Real-Time CDP collects B2C and B2B data from across systems and unifies it into real-time profiles ready for activation across any channel.
The Conference for Digital Leaders
Get Ready to Accelerate Growth through Digital Experiences.
Navigating customer acquisition in a cookieless world? Real-Time CDP can help.
Real-Time CDP is your complete customer data management solution — from acquisition through loyalty — with customer data capabilities and advanced tools built in. Using durable third-party data integrations and second-party data collaboration tools, you can prospect new customers, enrich top-of-funnel experiences, optimize your audience targeting, and more — all without third-party cookies.
One-to-one experiences at scale
Real-time B2C and B2B profiles with instant activation and personalization for every customer across every touchpoint, every time.
Build privacy-safe data partnerships and supplement first-party data with partner datasets for enrichment and acquisition without cookies.
Patented data governance and advanced tools for regulated industries let teams responsibly market while ensuring customer privacy and preferences.
Natively connected foundation
Built on the Adobe Experience Platform, Real-Time CDP connects natively with other applications for fast results without additional connectors.
Compose, build, rank, split, model, and more to craft audiences for the enterprise.
Discover why Adobe Real-Time CDP was named a Leader in Everest Group's CDP PEAK Matrix® Assessment 2023.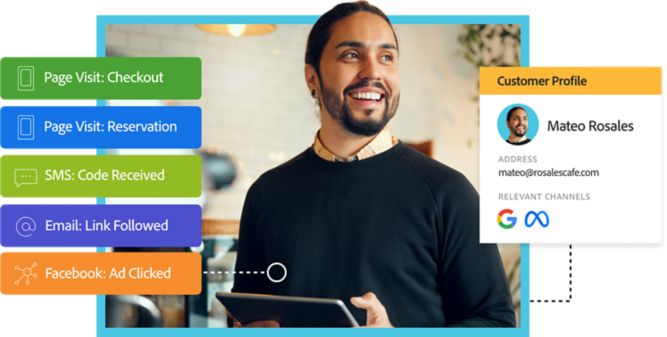 Check out all the advanced features of Real-Time CDP.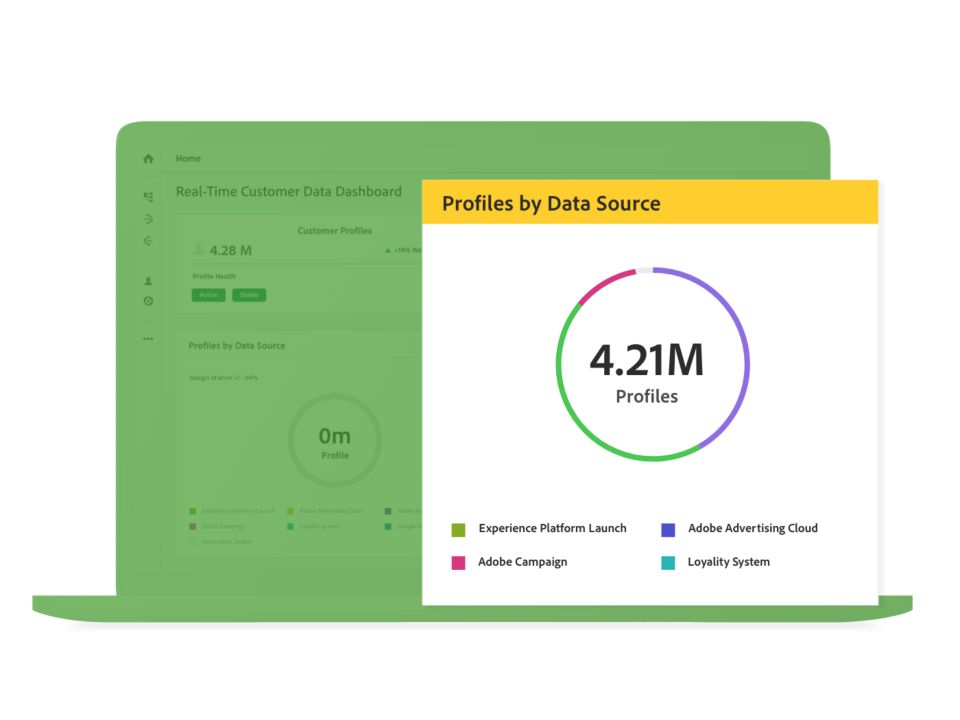 Here's what makes Adobe Real-Time CDP different.
Real-time profiles that are ready for activation across channels let you deliver relevant, up-to-the-moment experiences.
Patented data governance framework ensures customer privacy and preferences, enables compliance with internal and external policies, and gives role-based access to teams across the enterprise.
Privacy-safe partnerships, data collaborations, and support for partner data take your strategy into a cookieless future.
Hundreds of prebuilt and customizable connections to build truly complete profiles and activate audiences anywhere.
A single solution to create and manage B2C, B2B, and hybrid profiles.
Marketers get easy personalization. IT gets clean sophistication.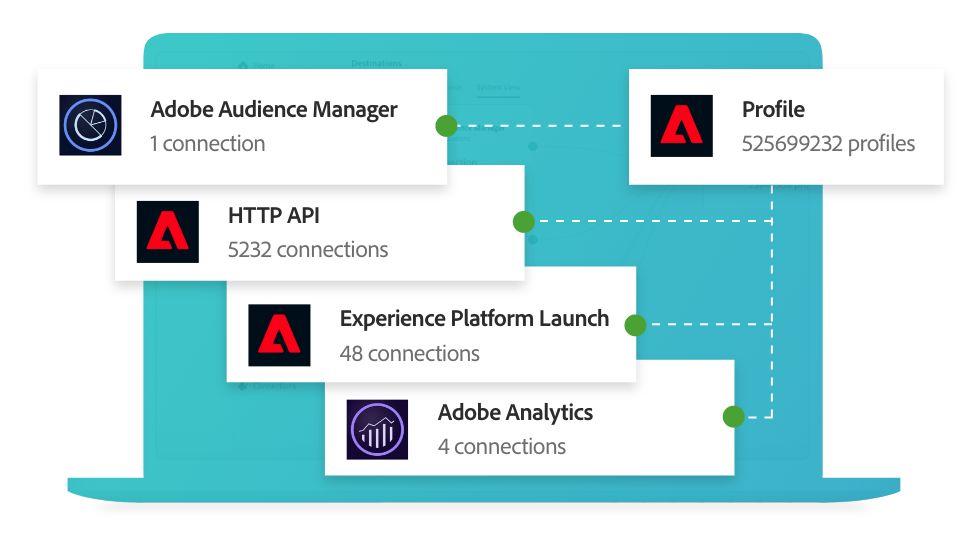 Empower B2C and B2B marketers.
Real-Time CDP gives marketers the data management tools they need to deliver consistent personalization across channels.
Easy-to-use interface and AI-driven workflows.
Prebuilt integrations across channels, including social, email, in-app, on-site, and more.
Real-time customer profiles to power great experiences.
Built to incorporate new marketing channels and technology.
Give IT confidence and flexibility.
IT is tasked with keeping the entire organization functioning while protecting it from threats — both malicious and accidental.
Powered by the API-based Adobe Experience Platform, Real-Time CDP integrates with any tech stack — existing or future.
A flexible and configurable data governance framework keeps data safe while giving teams the access they need.
Profiles accessible to internal and external partner systems, allowing for easy adoption and use-case expansion.
Real-time engagement give these brands real results.

"Our expanded partnership with Adobe will enable us to enhance the customer experience even further, driving personalization at scale and further optimizing The Home Depot experience across online and in store."
Melanie Babcock, Vice President of Integrated Media at The Home Depot
More power with generative AI.
Adobe Sensei GenAI for Real-Time CDP makes smarter, faster work easier. Here's what it will do for you:
 
Audience creation and activation – Discover missed segments and automatically create new audiences. 
Generative playbooks – Enhance use-case templates by simulating customer journeys using past campaign performance and profile preferences. 
Segment refinement – Use conversational insights to continuously integrate and improve audience definitions and outcomes.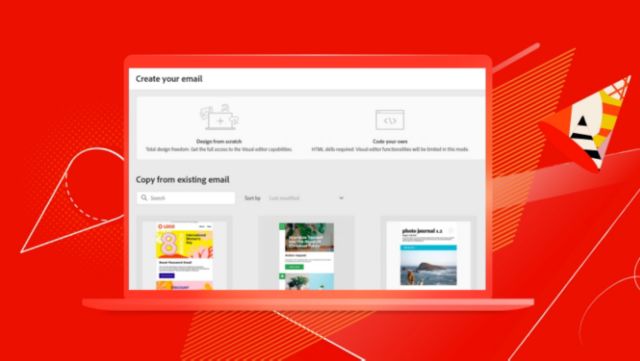 Real-Time CDP + Adobe Journey Optimizer
Bring the strengths of these two products together to create end-to-end, real-time customer experiences. Build unified profiles and actionable audiences while you also create, orchestrate, and deliver personalized customer experiences from a single platform.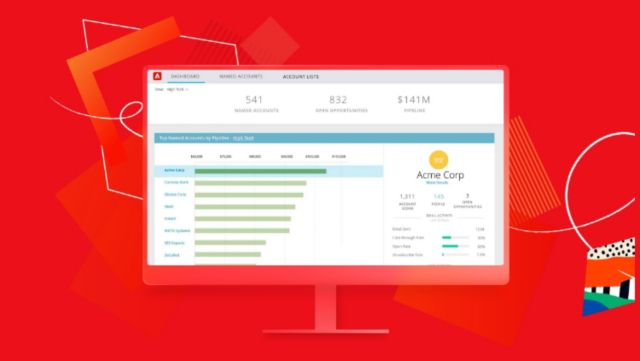 Real-Time CDP + Adobe Marketo Engage
Combine Marketo Engage data with all other B2B data in Real-Time CDP to create complete real-time lead, account, and opportunity profiles. Then activate those profiles with Marketo Engage for personalized lead- and account-based engagement.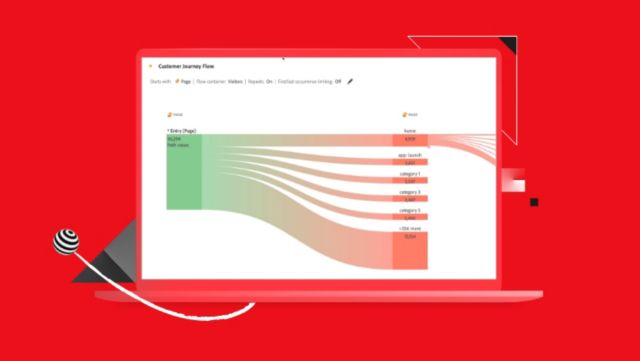 Real-Time CDP + Adobe Analytics
Quickly move from insights to activation with native connectivity. Insights generated in Analytics are unified with your other data sources in Real-Time CDP, creating actionable unified profiles for personalization at scale.
See how Real-Time CDP can help you make better experiences.
Questions? We have answers.
A customer data platform (CDP) is a software solution that centralizes your data across multiple channels and systems to create a single unified customer profile. This integrated database pairs real-time insights from customer interactions with scalable management tools to create more meaningful experiences for your customers.
Adobe Real-Time CDP is an application service built on top of Adobe Experience Platform that brings together known and unknown customer data to create trusted customer profiles with simplified integration, intelligent segmentation, and real-time activation across the digital customer journey.
Consumer data integration is a series of protocols and processes that combine and organize customer data from multiple sources. CDI connects with multiple databases and imports the information into a single silo.
Information gathered in one place is easier to manage, access, and secure. Even more importantly, customer data gathered in one place enhances the organization's ability to analyze and visualize the data — and do so in minimal time.
CDI is a crucial component of any business strategy that seeks to make decisions based on consumer behavior.
The main difference between a DMP, CDP, and CRM is the primary purpose for which customer data is stored and organized. Between managing existing customers, marketing to potential customers, or integrating that information to create a unified customer profile, each platform uses data in different ways.
A customer data platform (CDP) builds a robust, varied picture of customers by collecting data from a wide array of sources. A CDP combines customer data from your website, customer service interactions, mobile app visits, physical visits to a store, and even a CRM or DMP.
The focus of a customer relationship management (CRM) platform is managing relationships with existing customers and leads. It helps organize data such as purchase history, customer contact information, and any communications that might have happened with that individual.
A data management platform (DMP) pulls user data from third parties to target audiences more efficiently and segment key attributes. It captures user data, anonymizes it, and then exchanges it with other companies for targeted advertising.
Yes. Adobe Real-Time Customer Data Platform (CDP) is a single system for customer data management across the customer lifecycle — from a prospect that has never engaged with the brand before to a first-time site visitor, return visitor, converted customer, and loyal frequent customer of various products or services across lines of business.
Major League Baseball trademarks and copyrights are used with permission of Major League Baseball. Visit MLB.com.