Ciblez les bons clients avec des publicités personnalisées pertinentes, où qu'ils soient sur le web. 
---
Convertissez davantage de clients ici et maintenant.
Dans un monde où les utilisateurs sont assaillis de publicités digitales, l'unique moyen de capter leur attention est de s'adresser à eux en leur donnant le sentiment que personne d'autre ne compte. Il s'agit donc de savoir à quel moment votre audience fréquente telle ou telle plateforme pour être en mesure de lui présenter du contenu pertinent en fonction de l'étape à laquelle elle se trouve dans son parcours client.
Adobe Marketo Engage vous aide à proposer des publicités digitales personnalisées efficaces à vos clients les plus prometteurs, là où ils s'attardent sur le web. Segmentez vos audiences par centres d'intérêt et préférences, puis exploitez ces segments sur les plateformes publicitaires les plus connues dans le monde, comme Facebook, Google et LinkedIn, pour proposer des publicités display efficaces et attrayantes. Isolez les annonces publicitaires qui, dans le cadre d'une campagne de référencement payant, attirent les clients les plus intéressants en captant les conversations en ligne et hors ligne, de manière à pouvoir optimiser vos dépenses publicitaires. Enfin, utilisez les insights d'Audience Hub pour recibler les visiteurs authentifiés et anonymes par le biais de nouvelles publicités optimisées favorisant leur conversion en clients fidèles.
Découvrez les avantages de cette fonctionnalité.
Activez les leads et les comptes grâce aux intégrations natives avec Google AdWords, Facebook Ads et LinkedIn. 
Orchestrez aisément les campagnes publicitaires d'acquisition, de reciblage et de sensibilisation depuis un emplacement centralisé.
Automatisation des expériences personnalisées
Synchronisez les audiences sur les réseaux publicitaires pour recibler les visiteurs anonymes et authentifiés par le biais de publicités personnalisées. 
Intégrez des formulaires publicitaires de génération de leads pour charger automatiquement les données soumises et déclencher des campagnes par e-mail et de maturation.
Transférez automatiquement les données de conversion marketing hors ligne vers les outils paid media afin d'optimiser les dépenses pour les publicités les plus performantes. 
Importez des données sur les performances publicitaires dans les modèles d'attribution multipoint d'Adobe Bizible afin de mieux cerner les contenus les plus efficaces.
Ciblez et reciblez les clients sur YouTube, Google Search, Gmail, etc. en tirant parti d'Adwords et de sa suite d'outils de création d'audiences similaires et de ciblage.
En savoir plus sur la publicité digitale dans Marketo Engage
Devenez un leader de la publicité digitale à fort impact.
Lisez The Definitive Guide to Digital Advertising et découvrez comment élaborer une stratégie pour créer des publicités digitales plus personnalisées, et comment tester et optimiser ces dernières de manière à proposer systématiquement le contenu le plus pertinent à votre audience.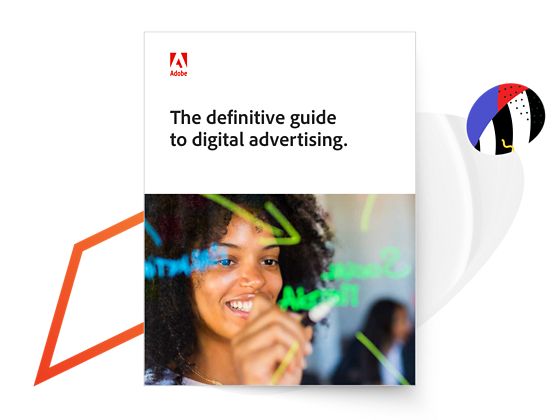 Please make sure that the "dexter.base.react.umd" and "dexter.base.consonantcardcollection" clientlibs have been added to the template's Page Policy
Voyons ensemble comment Adobe Marketo Engage peut aider votre entreprise.